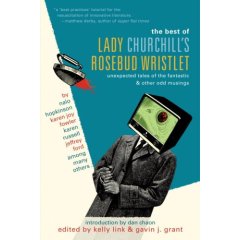 Doing a zine is hard work. I should know. But the hard work is worth it when it results in a book deal. But I wouldn't know about that. Yet.
For married writers Kelly Link and Gavin J. Grant, all that blood, sweat and Xerox bills pays off with the publication of THE BEST OF LADY CHURCHILL'S ROSEBUD WRISTLET, collecting the cream of the crop from their biannually published zine's first decade. Certainly this is one of the strangest anthologies of the year, and at times, one of the most rewarding.
Although you'll also find poetry, film reviews, fake advice columns, random lists and other miscellany within, WRISTLET is mostly about short fiction, and – no surprise for anyone familiar with the editors' own work or that of their famous friends they've called upon to contribute – speculative fiction at that.
Novelist Dan Chaon provides an introduction, but really, no introduction can quite prepare you for the celebrated mix of insane ideas that await in the pages, ready to pounce. Link herself delivers the first, a modern-day revisionist fairy tale titled "Travels with the Snow Queen." Karen Joy Fowler's "Heartland," about doomed young love amongst fast-food employees, is a heartbreaker, and among the book's early highlights.
Ray Vukcevich's "Pretending" places five atheists in a missile silo over the Christmas holiday, and they decide to play a game: whoever draws the short straw has to be a ghost, and the others will try to will that person away so he/she actually becomes a ghost. This skewed, haunted story has an intriguing setup and a terrific ending to match.
It find its equal in "What's Sure to Come," Jeffrey Ford's nostalgic look back at a childhood spent in a neighborhood drugstore, reading comics, wondering about those Playboy issues on the higher shelf, and witnessing suspect card games in the back room. Catching you off-guard is "Happier Days," in which Jan Lars Jensen details a series of high school reunions that devolve into a twisted parody of civilization. Ditto for "The Red Phone," John Kessel's table-turning three-pager about phone sex of the future.
Among the non-fiction, Grant waxes poetic on scotch ("the water of life," he calls it) while Richard Butner does the same for martinis; Margaret Muirhead writes an open letter to corporations, seeking sponsorship for a child she otherwise cannot afford to have; and William Smith provides essays on the movies DON'T LOOK NOW and GREASER'S PALACE.
Now, not all of the "unexpected tales of the fantastic & other odd musings" are great. Some are so wrapped up in their own fragmented cleverness that they neglect to tell a story. But the ones who do, do so with amazing imagination. –Rod Lott