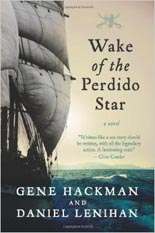 In 1805, a young American family is hounded out of Hamden, Connecticut, for a variety of reasons. The mother is of Cuban stock; their religion is Catholicism; and the father, while displaying the egalitarianism of the Founding Fathers, matches it with a rough temper and the inability to make peace.
His bristling at the elitism of the town's elders breaks their hold on the community, and so they decide to make their way south to Habana. Father Ethan, mother Pilar and their son Jack wind their way to Salem and seek to board the Perdido Star to find their new home in Cuba.
WAKE OF THE PERDIDO STAR is the debut novel of writing team Gene Hackman and Daniel Lenihan. Yes, that Gene Hackman. They've gone on to write two additional historical novels and Hackman also has a solo effort. It's a strange thing to read a book written by the guy you remember as Jimmy "Popeye" Doyle or Norman Dale, but this blustery naval adventure is surprisingly readable.
After the family reaches Cuba, a horrific act of brutality forces Jack to return to the ship in order to find some sense of security. The final two-thirds of the book concern his time onboard and his plan for revenge back in Cuba.
While the book seems a bit long, and there's quite a bit of fluffernutting over the details of rigging and how the crew manages to discover the secrets of deep-water diving after being stranded, this should all appeal to fans of naval stories and picaresque tales.
Jack's story is nicely self-contained (there's no series in the works as the writing duo have gone on to other eras); dialogue is believable; and the descriptive passages aren't too tedious. It's not the best thing I've read this month, but it's not bad, either. You end up caring about Jack and the men he befriends onboard the boat, and you continue reading to make sure that it all ends up satisfactorily. And Hackman and Lenihan certainly do that. —Mark Rose