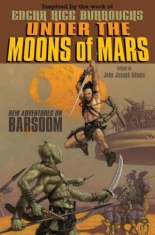 The influence of Edgar Rice Burroughs is almost incalculable. Nearly every major science-fiction author whose work would define the Golden Age was swept away in their youth by A PRINCESS OF MARS and the other author's books chronicling the heroic adventures of Civil War veteran John Carter on the red planet Barsoom — or Mars, as we Earthlings call it.
To this day, readers continue to discover the Barsoom stories — via interviews or articles about their favorite contemporary fantasy or sci-fi writers and their list of recommended reading — and understand how they touched nearly everything that followed.
So it's fitting that, on both the occasion of the 100th anniversary of the publication of A PRINCESS OF MARS in 1912, as well as next month's release of the Disney/Pixar movie adaptation of JOHN CARTER, we have various authors paying homage to Burroughs with all-new Barsoom stories in UNDER THE MOONS OF MARS, collected by seasoned anthologist John Joseph Adams. Whatever the reason for its publication, it is a collection filled with creative fun, fast-paced action, and even a speculative philosophical moment or two.
A few of the contributors, as Adams notes in his introduction, chose to carry on the Carter adventures in the traditional Burroughs manner. The best of these is "The Metal Men of Mars," by Joe R. Lansdale, who marvelously channels Burroughs' voice and ambience as a bored, adventure-hungry Carter leaves the comforts of his home in Helium, only to be captured by metal-covered, steam-hissing humanoids that carry him to a huge underground city. Here, Carter discovers, the bodies and brains of various trapped Martians are being harvested and transferred into an army of metal warriors, led by an evil scientist bent on controlling the entire planet.
 
Other authors focus on the various secondary characters from the Barsoom population and present their stories. Notable among these is "Coming of Age on Barsoom" where Catherynne M. Valente creatively and probingly presents another, unseen side of the six-armed Green Men, their culture and their struggle to survive.
 
With "The Ape-Man of Mars," popular fantasist Peter S, Beagle fulfills the speculation of many readers when he brings Burroughs' most popular literary creation, Tarzan, to Barsoom to join Carter in a memorable adventure — a feat many felt Burroughs himself would have accomplished, only if he had lived long enough. Rounding out the collection is "The Death Song of Dwar Guntha," Jonathan Maberry's meditation of a future Barsoom and Carter's final effort to bring a lasting peace to the war-torn world.
Each tale is enhanced by wonderful black-and-white illustrations by various artists. Along with biographies of each contributor, there is also Richard A. Lupoff's "Barsoomian Gazetteer," which helpfully reminds us of the various characters and customs of Burroughs's sometimes complicated world.
 
As much fun as it undoubtedly is, readers who somehow never got around to reading the original John Carter stories should really treat themselves, minimally, to A PRINCESS OF MARS before enjoying this new collection. Various editions are still in print, including a newly published hardcover edition from the Library of America.
Thanks to collections like this, and the imagination of its diverse contributors, John Carter and Barsoom might be around to entertain and inspire readers for another 100 years. —Alan Cranis