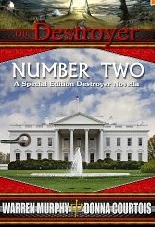 With e-books gaining more and more ground, the old men's adventure books are making a comeback of sorts. First, long out-of-print titles are finding new audiences, which is what is happening with THE DESTROYER series as, slowly but surely, some of the old catalog is brought to digital life.
But that's not all. DESTROYER co-creator Warren Murphy has taken up writing new novellas strictly for e-book readers. From what I understand, most people who have these readers agree that a book of 100 pages or less is perfect, and that is the case with this new line of stories.
In these new works, Murphy writes with a variety of co-authors. In NUMBER TWO, Murphy teams with a longtime fan of the series, Donna Courtois. And to be honest, it reads like an old-school story, just minus the long narrative.
For those who still have not read a DESTROYER adventure starring Remo Williams, let me make one thing clear as glass: They tend to lean to the right politically, so some people might get their feathers ruffled. And if this one's cover art and title don't clue you in about the subject matter, the prelude surely will.
The story deals with a series of accidents happening around the vice president of the United States, with the most recent causing the death of a young intern on his first day. This of course does not sit well with Dr. Smith, who begrudgingly he sends his men to protect and investigate.
For its super-brief length, Murphy and Courtois have fun putting the White House administration through a typical DESTROYER send-up, especially two certain people who really get the full treatment. This is a fun little entry in the DESTROYER canon, and hopefully, Murphy and company will continue with these bite-sized reads. —Bruce Grossman