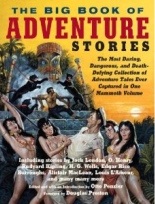 Just in time for the start of summer arrives editor Otto Penzler's latest big-as-a-brick anthology, THE BIG BOOK OF ADVENTURE STORIES. If you buy only one piece of fiction for the season, make it this one. It's full of awesomeness, and at 900 pages, it's going to take you a lot of laying out by the pool or on the beach.
The press materials peg as "destined to be the greatest collection of adventure stories ever compiled," and I would not disagree. Penzler has assembled some of the genre's greatest authors, greatest characters and greatest —yes — adventures for an overview that stands essential, whether you grew up on this stuff or are just getting ready to.
Among the contents, you get a full Tarzan novel from Edgar Rice Burroughs, and nearly 50 other entries, from the expected classics (Richard Connell's "The Most Dangerous Game") to left-field surprises (The Spider's first outing, Grant Stockbridge's "The Wings of Kali"). Penzler organizes them among themed chapters, such as "Man vs. Nature," "I Spy," "Sword & Sorcery," "Future Shock" and so on, with each containing anywhere between two and seven tales.
Consider the stellar lineup of authors: H.G. Wells, Jack London, Rudyard Kipling, Louis L'Amour, Alistair MacLean, H. Rider Haggard, O. Henry, Fritz Leiber. Not convincing enough? How about Sax Rohmer, Rafael Sabatini, Clark Ashton Smith, Damon Knight, Saki, Carl Stephenson, Edgar Wallace and Cornell Woolrich? Oh, there are many more.
Robert E. Howard is represented by a Conan story, "The Golden Snare," and Doc Savage daddy Lester Dent by the never-before-published "Hell Cay." Mexico's No. 1 swashbuckling superhero appears via Johnston McCulley's "Zorro Deals with Treason," and a certain giant ape by way of Philip José Farmer's oddball, satirical "After King Kong Fell." And Gabriel Hunt — aka Charles Ardai — is the newest pup of the literary little, with a short story that was tacked on to the tail end of the HUNT THROUGH THE CRADLE OF FEAR pulp paperback from two summers ago.
This delightfully welcome BIG BOOK is put together in the same manner as Penzler's other recent wrist-strainers, THE BLACK LIZARD BIG BOOK OF PULPS, THE BLACK LIZARD BIG BOOK OF BLACK MASK STORIES and THE VAMPIRE ARCHIVES. Own any of those? Then you know exactly what to expect: a no-brainer of a buy and a volume to treasure for generations. Seriously.
The best anthologist in the biz's next big project? Oh, just 1,056 pages on ZOMBIES! ZOMBIES! ZOMBIES! You'll likely nom-nom-nom that as much as you will this. —Rod Lott