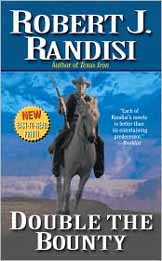 I never tire of reading a good Western, and Robert J. Randisi usually provides those hours of enjoyment. DOUBLE THE BOUNTY and THE LAWMAN are reprints of two of his books featuring bounty hunter Decker, who seems to be an amalgam of some spaghetti Western heroes. He's slightly different, in that he uses a sawed-off shotgun and carries on his horse a noose, which is fine by me, since I know going in that it will deliver some great Western action.
From 1987, DOUBLE THE BOUNTY deals with a legend of his own time: bank robber Brian Foxx. By all accounts, Foxx has been witnessed robbing two banks in two different states on the same day. How can that be? Well, Foxx has an identical twin named Brent pulling off the other robberies, making sure everyone gets a good look at both of them to expound these stories of his amazing crimes.
The problem is that Brian just likes to rob, never trying to hurt anyone, while brother Brent has an itchy trigger finger and lets it be known. But Decker believes he is only after one man. It's not until he meets a 14-year-old girl named Felecia who thinks of herself as a reporter, and has a theory of how these robberies are happening, that he understands.
Randisi is playing in the modern-day dime novels that are brought up in this story: tales of derring-do and bounty hunters who have an air of mystery about them. The story moves so quickly, you'll want to start another book once it's finished, especially with the few twists Randisi provides and shows that not all bad guys don't have a conscience. The book might not be as bloody as some in the Western genre, but it provides enough fresh material for readers to revisit this character.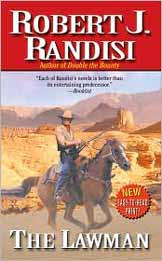 Released the same year, THE LAWMAN, the second book in the trilogy, does not skip a step … or hoof, as the case might be. Again, Decker is on the hunt for a bank robber, but this one is a bit different, since it was Sheriff Red Moran who does the robbing.
Moran has a habit of taking the position of sheriff in a small town for a while, and then once he has settled, decides it's time to take the town's money and head off to Mexico. He has been pretty successful at this operation, which has drawn the ire of lawmen who actually do their jobs correctly. Also of note early in the story, Randisi has a bit of fun naming two characters after his compatriots: I mean, who are Eddie Gorman and Joel Lansdale supposed to be based on?
Decker comes off the same he did in DOUBLE, except there is no mention of the noose he travels with. But he is still the determined bounty hunter who get his man. As he follows Moran's trail, he gets involved with a small, sleepy Mexican town that is being roughshod over by a pair of brother-and-sister bandidos, which delays his hunting. He also reunites with a former bounty hunter he used to partner with.
While all this is happening, Moran is offered the job of sheriff in the Mexican town he has run to countless times before. He figures "why not" and sets up his new life with the added bonus of a fellow gringo: a fiery redhead named Crystal, who sees Moran as her benefactor in her new business operation. All these plots and characters meet up in this town for a final showdown.
Randisi knows whose his audience is and gives them plenty to chew on before it all comes to a head, which is the best way these type of Westerns work. There are one or two suprises the reader won't see coming, but then, in the Westerns Randisi crafted, that should be a given. —Bruce Grossman
OTHER BOOKGASM REVIEWS OF THIS AUTHOR:
• LONE STAR LAW edited by Robert J. Randisi
• THE GUNSMITH #23: THE RIVERBOAT GANG by Robert J. Randisi
• THE GUNSMITH #44: THE SCARLET GUN by Robert J. Randisi
• THE GUNSMITH #128: THE CALIENTE GOLD ROBBERY by Robert J. Randisi
• THE PICASSO FLOP by Vince Van Patten and Robert J. Randisi
• SHELTER #2: HANGING MOON by Robert J. Randisi