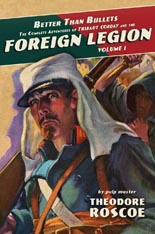 Continuing with the riches of the ebook world, this time out we tackle a true boon for those e-reading machines: the world of reprinted old pulps. Now, there are a few publishers out there doing their darndest to get as much material out there as possible. What is a boon for these little machines also points out something else: As much as I wanted to read these books in print format, the prices could get a little steep. But thankfully, the ebook prices are rather reasonable for the amount of material you get. Let's check out some of these reprints and also a series that is trying to recapture those good ol' days.
BETTER THAN BULLETS: THE COMPLETE ADVENTURES OF THIBAUT CORDAY AND THE FOREIGN LEGION, VOLUME 1 by Theodore Roscoe — I knew nothing about this character or series. I was totally flying blind. But seeing the cover and the subject matter, I figured it was worth a shot. I was not disappointed. Take the idea of the French Foreign Legion and have a character like Thibaut Corday regale his compatriots of the good ol' days.
Yes, all the stories are told from the perspective of an aging narrator talking of his past glories, good and bad. It's one part Commander McBragg and a dash of BEAU GESTE. The McBragg reference is to the fact that Corday seems to stretch the truth a bit, with a few flourishes. Still, it never goes so over-the-top that the readers will be like, "Yeah, sure, okay, Gramps."
BETTER THAN BULLETS features six stories, with the final two being the longest and most involved. The stories range from Corday and a few of his cohorts fighting off a band of marauders with only wine bottles to stories like "Dance of Seven Veils," which has a surprise of sorts for most readers. Then some really go into that Commander McBragg territory like "An Eye for an Eye." You'll see what I mean when you reach the ending. But then there are the longer pieces like "The Bearded Slayer," where a fellow officer is killed by a brutal stabbing and the only suspects are his fellow Legionnaires. So it's up to Corday to find the real killer.
All of these stories were originally published in ARGOSY magazine. And for material that originally came out in the early '30s, it's not as dated as you would think. Altus Press has collected all of these stories into four volumes. I totally took a chance on subject matter and cover and will gladly grab the other three later on. There is plenty of other pulp to go 'round before that, though. Again, the ebook prices are a much better deal than the hard copy.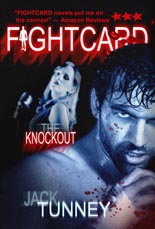 FIGHT CARD: THE KNOCKOUT by Jack Tunney — The brain child of authors Paul Bishop and Mel Odom, the FIGHT CARD books are an old idea in a new format. The idea of the boxing stories goes back to the glory days of the pulps. And now with e-readers of all sorts, doing a series of boxing novellas all written under the pen name of Jack Tunney is a true K.O. Not only does this give a chance for writers to tackle subject matter they might never have approached, but gives readers a chance to discover some writers they might not have heard of.
Now I've got four of the FIGHT CARD books on my Kindle, and I was totally surprised to see that the man behind Jack Tunney for this 2012 round was column favorite Robert J. Randisi, who is best known for his long list of Westerns and mysteries. It seems the connecting factor behind theses stories is not only the house name but how all the characters seem to have grown up in an orphanage run by a fighting priest.
This story deals with a former boxer turned P.I. named Frankie "The Piston" Corleone. Frankie, in his early days of a pro fighter, broke his hand to the point it threw him out of the squared circle for good. Now he makes his living looking for cases and taking an occasional sparing job from his old pal Cappy O'Brien, whose days of a top-notch trainer are behind him. He only has one fighter in his stable, but this one might be the ticket. His name is Candy Marquez.
But this being a tale of boxing with a P.I., something bad has got to happen. Boy, does it. O'Brien's gym is set on fire with O'Brien still in it. Frankie tries to do the heroic thing, but fails. That leaves Frankie on his mission to find out who caused the fire and why.
Randisi in this short tale packs a wallop. This story could have easily have fit into those boxing pulps of old. The readers not only get a solid mystery, but some great boxing action. The scene where Frankie has to go three rounds with an up-and-comer for info has a great payoff. I get the feeling you will be seeing more of the FIGHT CARD books featured in this column.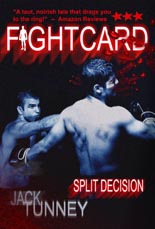 FIGHT CARD: SPLIT DECISION by Jack Tunney — Continuing in the world of boxing and the FIGHT CARD series is this 2012 tale, as long as time will tell. The setting is Kansas City in the early 1950s. Jimmy Wyler is an average boxer at best. A man destined for the middle. The type whose career is there to have others gain ground on.
But Jimmy is happy. He's got his best girl, Lola, and plans to get her a ring for her pretty finger. After another typical nothing-ventured-nothing-gained fight, Jimmy is approached by a local mobster named Cardone. He wants Jimmy to make some quick cash by following his rules. His rules, of course, deal with a fixed fight. Jimmy sees this as easy money and a chance to earn so he can finally set up house with Lola.
Things work out great for that first fight. A little too good. Since the day after, Jimmy is approached by another mobster who has his own ideas. Now, these ideas of course conflict with the ones Cardone wants done. What's a punch-drunk lug to do? Well, author Eric Beetner has taken these ideas that we have seen in countless film noirs over the years, but he does put a little spin on the action, especially when it comes to the fight where Jimmy has to cross one of those two men.
But who? Well, read the damn book. It won't take very long. And just like the other FIGHT CARD entry, it's all about being lean and mean. This round actually has a sequel called A MOUTH FULL OF BLOOD. We'll get to that one at a later time, but I've been told by some it's probably the best one in all of the series. That's a pretty bold statement. But the person who told me was Paul Bishop, who set up this round robin of writing.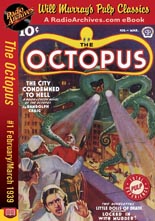 THE OCTOPUS NO. 1: THE CITY CONDEMNED TO HELL by Randall Craig — This 1939 story is truly pulp at its pulpiest. You have a character who has about three different identities in what is essentially the first entry in the series. A villain that is super over-the-top with the monsters he creates. Oh, yes, I said monsters.
Jeffrey Fairchild has a few secrets. That being of his secret identities. There is the kindly Dr. Skull. Now how awesome is that name? And there is the other personality of the Skull Killer, a fighter against evil who marks his victims with an acid-filled ring. I know that all sound a bit confusing, but it all works in the pulp format. We actually first meet him in the Dr. Skull persona until he changes into Johnny, a much younger and more athletic figure. He goes up against The Octopus, an evil menace who is turning people into these blood-craving monsters.
Sadly, this series was a one-and-done. For some reason, it never continued. But thankfully, it's been reissued along with a novella called "The Little Dolls of Death" that deals with bones melting inside bodies. And "Detour to the Grave" and "Locked in with Murder," these also go for the super-violent pulp bend. And are all freaking awesome reads. So a big thanks to Will Murray for putting this collection out for the ebook market. —Bruce Grossman