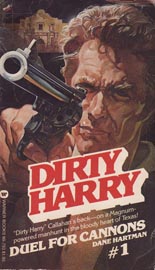 And with this column title, that will be the only wrestling reference I ever make. (Cactus Jack was the coolest.) I know its been a while, but after making a very productive trip to one of my favorite spots, I came across a book that demanded a review in this column. And the reason the second book was picked was so I could place a musical interlude. Don't worry — it's the furthest thing from the Grateful Dead. But back to the first book: He's a cinematic icon who inspired countless rip-offs. Ladies and gentlemen, I present the one and only Dirty Harry.
DIRTY HARRY #1: DUEL FOR CANNONS by Dane Hartman — This is one of those book series I've heard of, but had never come across a copy or even knew anyone who had any. So imagine my luck when I was browsing the stacks, and here was this 1981 paperback staring me in the face.
If you know those great Clint Eastwood movies, you will not be disappointed. The book is even more violent, starting off with what could be best described as a bloodbath at an amusement park in California. One of the victims was a Texas sheriff on vacation with his family — and oh, yeah, he is also one of the few people Harry Callahan considers a friend.
This is only the start to what will become the epic showdown the cover promises. Not to go further into details of how Harry ends up in Texas, but once there, he finds out that the new man in charge is as crooked as they come. With the bulk of the police force on the take, it's up to Harry to clear things up, including taking on the killer of his friend.
This DUEL is all kinds of awesome. There are more than a few references to the movies, primarily the 1971 original and MAGNUM FORCE. The real author of this book, it seems, is Ric Meyers, whose work I've had a love/hate relationship. But this one is a must-read — just don't overpay for it. My copy cost a whole dollar and was worth ever penny. Now I'll be on the hunt for others.
And before I forget, yes, that very famous piece of Dirty Harry dialogue is in the book, during the final showdown.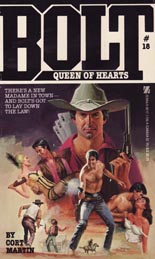 BOLT #18: QUEEN OF HEARTS by Cort Martin — Ah, the adult Western: a book that promises both kinds of action. I've never read any of the BOLT series before, and after reading this 1985 one, I won't be making any return trips.
QUEEN OF HEARTS has no idea what it wants to be. Sure, it's a Western and there is a gunfight early on, but after that, it becomes AS THE TUMBLEWEED TURNS, with the reader having to go through page after page of Jared Bolt deal with problems straight out a low-grade soap opera.
Bolt and his partner, Tom, own a ranch where Bolt also owns a bordello. When it's discovered that the land is worth money, the daughter of the former owner claims she is the rightful owner. The bulk of this story is that and, worst of all, we have to read through a court case.
With this being an adult Western and all, the book takes some extreme turns. Bolt's scenes with the ladies of the town are super-graphic, and even for a Western, the potty talk is way over-the-top. I'm not trying to be a prude about swearing, but holy moly does the F-word fly!
I'm guessing that Cort Martin has to be Samuel Morse in disguise, since this whole book is so telegraphed. I knew at page 100 exactly what was going to happen the rest of the way. The only twist was an introduction of a railroad man and his 18-year-old daughter; I think you can figure out what will happen.
What really drove me nuts was that the story pretty much ruins the previous few books, giving away plots and outcomes. Again, I won't be revisiting this trip to Western fantasy land, and to be honest, the only reason I even chose this book was to listen to this happy little ditty:
MACK BOLAN #78: DEATH GAMES by Don Pendleton — There is one reason and one reason alone I wanted to read this Bolan entry from 1985: the cover! Let me repeat: Look at that cover! Bolan in a biplane with a rocket launcher. And it actually happens in the book!
The story is a mixture of Bolan and Able Team action, with Bolan surveying an Able Team mission from a distance because he feels like something fishy is going down. That's a bit of an understatement. The Able Team was sent to retrieve the daughter of a U.S. senator, but don't know what Bolan does: that she has been programmed to kill.
"Who is her target?" is the big question. But things turn rather ugly rather quickly, when the helicopter that is to take them away has been shot down and the pilot captured by Russians. Able Team has the senator's daughter and tries to make a break for it, while Bolan heads into the belly of the beast to retrieve the pilot.
DEATH GAMES follows these two plots for the rest of the time, with the Bolan portion being far superior; it's the one with the most over-the-top action. This is around the point in the series that Bolan is no longer persona non grata with the U.S. government, which is made clear when they find out he is involved. The story is blast of action and fun. It takes no time to read and you won't be disappointed.
Finally, let me repeat: Look at that cover! It happens! 'Nuff said. —Bruce Grossman