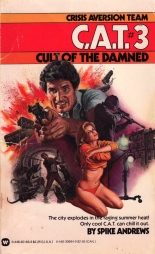 This week's column goes back to the bread and butter of my reading pile: mindless paperbacks that were once commonplace in racks at truck stops. These are books with covers that promise the world, but can they deliver? Let's find out …
C.A.T. #3: CULT OF THE DAMNED by Spike Andrews — Sometimes, there's a cover you stare in amazement. This 1983 work is one of those: a guy fighting what looks like giant rats, a girl getting naked, a sniper, trains exploding, and one pissed-off dude. Well, 90 percent of that makes it into the story, which is also the problem: You have three storylines to follow, and they combine at the end in a rather forced manner.
C.A.T. stands for Crisis Aversion Team, considered the lowest of the low on the police force, which makes zero sense since the two cops assigned to it have three major cases to solve: a photographer who dupes models into showing up at a sleazy motel, where they are raped, beaten and killed; a sniper with some extreme religious beliefs, hence the book's subtitle; and finally, an Arab overlord being hunted by his former countrymen.
Storylines one and three get mashed up together toward the end. Sorry to ruin the surprise. The second is there just to fill up pages. Across all, at no point will the reader care for one character. The cops are one-dimensional types that are common in such adventures: you know, super cops who will jump on top of cars while chasing a suspect, and bedding any pretty lady they might come across.
This book is a mish-mash of ideas. It seems a dartboard was used to set up plot points, all the while, Andrew was counting his words so he could collect a check. On the whole, it took me a total of an hour to read, and was forgotten 30 minutes later. If you can find it on the cheap, sure, try it out. But don't expect much.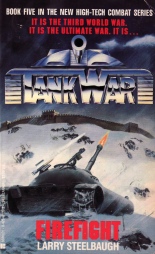 TANK WAR V: FIREFIGHT by Larry Steelbaugh — To quote Johnny Rotten, "Ever get the feeling you've been cheated?" That sums up my opinion to this 1992 book, in which there is so little going on, you feel as if golf were a contact sport.
The cover promises what looks like a tank attacking the Great Wall of China. Well, there are a few tanks in the book, and the enemy is Chinese, but that's about it. The book first ties up all the loose ends from the previous installment, TANK WAR IV, so you can skip those 11 pages. Then it moves into the tank command team comprised by people with the following names: Titz, Fruits, Ham and Giesla. I'm totally serious.
The tank itself is called No Slack Too. Then add to the fact they get a few new tanks called Terrapins. I know of two Terrapins the team that plays for Maryland and the two that dance in front of a train station on a Grateful Dead album.
I should have bailed when I had the chance — like, at page 12. The bulk of the book has our group of "soldiers" meeting up with a Russian group to take on a Chinese outfit in Mongolia. Add maybe a page of action, and that's FIREFIGHT, folks.
Look, I was not expecting some detailed battle that would make Rommel wet himself. But just one little, y'know, firefight would have done wonders for my attention. I have no idea how the other entries in this series are, and if my money is at stake, I'll never know. WAITING FOR GODOT WITH TANKS would have been a better title or, for that matter, a better read.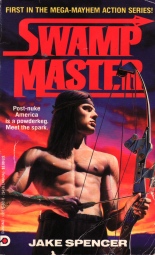 SWAMP MASTER by Jake Spencer — For a book that had the lamest cover of this week's three, I thought this 1992 effort was going to be the low point of the column. In actuality, this is the best book of the bunch, to the point I ordered books two and three in the series. But I'm getting way ahead of myself.
This one has it all. Allow me a quick rundown of some of the high points. We are introduced to John Firecloud, who has been trained by ancient shaman in a post-nuked America with an over-the-top general bent on domination. Now he wants to nuke what is now called Free Atlanta, filled with white-trash mutants. The hillbillies from DELIVERANCE come off as Mensa members compared to these creatures. Then there is a Chinese female badass who is teamed up with twins named Marcus One and Marcus Two.
The book follows two plots that never meet. Since this is the first of a series, plenty of groundwork is laid, while one thread follows the crazed general who holds a dinner party with a surprise guest. The other storyline follows Firecloud and his band of merry men as they try to free a scientist from a bizarre circus run by mutants.
There isn't much more I can discuss without dropping spoilers, especially the shocking ending. Well, it's a shock if you don't pay attention to everything that precedes it. In other words, the revelation is so telegraphed that you should kick yourself if you don't figure it out. Still, I'm super-psyched to read the sequels. I also get the feeling Spencer is probably a pseudonym for a name author slumming for a quick buck. Come on, certainly someone who reads this column must know. —Bruce Grossman