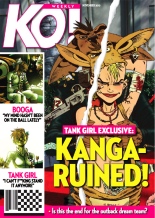 And now for something completely different …
To spread word about Alan Martin and Rufus Dayglo's TANK GIRL: BAD WIND RISING comics, Titan Magazines has unleashed quite the exclusive: an issue of KO! WEEKLY magazine detailing the painful breakup between Tank Girl and Booga, her mutant kangaroo boyfriend.
The first issue of BAD WIND RISING goes on sale Nov. 9, but you can read all about the split right effing now in KO! WEEKLY, which is free for your downloading pleasure.