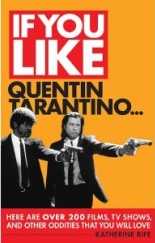 Limelight Editions' latest entry in its IF YOU LOVE … entertainment series is a cinephile's dream: Katherine Rife's IF YOU LIKE QUENTIN TARANTINO … HERE ARE OVER 200 FILMS, TV SHOWS, AND OTHER ODDITIES THAT YOU WILL LOVE, now available. Until our review hits, enjoy this excerpt from the RESERVOIR DOGS chapter, in which she traces the influences of Tarantino's explosive directorial debut of 1992.
I don't care if you want to make a buddy-cop movie starring Queen Latifah and a talking fire truck, or a portrait of a marriage in crisis influenced by the works of Eric Rohmer. If you've ever written a screenplay and sent it out into the world (or even thought about it), you've daydreamed about this scenario:
You wrote a screenplay, and a friend of a friend gave it to one of her friends. This friend of a friend of a friend is a famous actor who would be perfect for your movie. But this is Hollywood, and this script was passed on through highly unorthodox means, and so odds are this famous actor is just going to throw your script away. So you move on, like a grown up, and think realistically. You make plans to make the movie with your friends on a small budget …at least that way it'll happen.
But the call does come. Not only does this famous actor want to be in your movie, he wants to help you raise the money for it. This famous actor's involvement takes you from a budget of $30,000 to $1.5 million, and your movie is finally getting somewhere. That movie goes on to become the talk of Sundance and a sleeper hit. A whole wave of movies aping the style of your film—starring guys who talk and act and even dress like the guys in your film—comes out, and your reputation as Hollywood's newest and coolest indie provocateur is established.
That's the dream, right?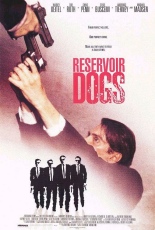 Well, for a former video-store clerk and fledgling screenwriter from Torrance, California, named Quentin Tarantino, that dream was realized when Harvey Keitel called him up (yeah, yeah, their agents probably called each other, but it's more cinematic my way) and expressed interest in his screenplay Reservoir Dogs. With his characteristic self-assurance (this is a guy who often, and I mean more than a couple of times, responds to interview questions about his scripts with "Well, I'm a good writer"), Tarantino had been planning on just making the movie himself with the $30,000 he received for his screenplay True Romance. But his friend and producer Lawrence Bender asked him to wait just a little bit longer and gave the script to his friend, who just happened to be the aerobics instructor of Harvey Keitel's wife, Lorraine Bracco. Bender's friend then gave the script to Bracco, who gave it to Keitel, who in a fantastically lucky turn of events didn't throw away this random script given to him by his very-soon-to-be (like two-weeks soon) ex-wife. He read it, he loved it, and suddenly Reservoir Dogs, as we know it, was a reality.
Tarantino's inspiration for this miraculous script was an observation that heist movies, which had been around in one form or another since the silent era of filmmaking, had fallen out of fashion. So he set out to do his version of a heist movie. He borrowed the framework of Stanley Kubrick's classic The Killing; as he told the Seattle Times in 1993, "I didn't go out of my way to do a rip-off of 'The Killing,' but I did think of it as my 'Killing,' my take on that kind of heist movie." Then he added nods to the mannered films of Jean-Pierre Melville and Melville's hyperstylized devotee John Woo. After that came Woo's contemporary Ringo Lam and Lam's movie City on Fire, the '70s classic The Taking of Pelham 123, and the tough-guy legacy of New York filmmakers Abel Ferrara and Martin Scorsese. All this and more—because Tarantino is the kind of guy who remembers more about movies he saw twenty years ago than most people do about their freshman year of college—was put into the blender, and the result was a heist movie without a heist, a unique take on the crime film that would set the tone for an entire decade's worth of cinema.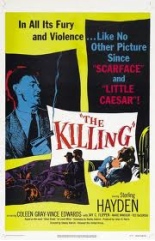 THE KILLING
This complex and fractured 1956 film, which the Chicago Reader's Jonathan Rosenbaum calls "arguably Stanley Kubrick's most perfectly conceived and executed film," was the movie that announced 2001: A Space Odyssey and A Clockwork Orange's Stanley Kubrick as a major filmmaking force. Stanley Kubrick's talent was such that he could make the kind of masterpiece most directors strive for their entire careers on the first try, then get bored and move on to the next genre. And indeed, after executing one of the finest heist films ever made with The Killing, he never worked in the genre again.
Quintessential square-jawed tough guy Sterling Hayden stars as fast-talking career criminal Johnny Clay, who is plotting an elaborate heist to rip off a racetrack, the proverbial "one last job" (does that ever work?) before jetting off to a tropical paradise to marry his doting girlfriend Fay (Colleen Gray). Johnny has planned every detail of the robbery down to the second, but there's one thing he can't account for: that his more amateurish cohorts do what they're told. Timid hangdog cashier George Peatty (Elisha Cook Jr.) is the first to slip up. He tells his manipulative and coldhearted wife, Sharon (Marie Windsor, a lifelong Mormon who was so often cast as a double-crossing dame or adulterous wife that she received Bibles in the mail with passages underlined condemning the "sins" she had committed onscreen), that he's gonna be rich soon and she'll love him then, by golly! Sharon, who regards George as something between dirt on her shoe and a bug to be squashed, sees her chance to rip off her despised hubby and get rich at the same time. But Sharon's not the only one with an angle. Unlike in Reservoir Dogs, we do actually get to see the heist in this one, and it plays out in a sequence edited together with hair-splitting precision. But that sadistic bastard, Fate, comes back to haunt Johnny in the movie's devilishly ironic punch line, which (obviously) I won't give away here but casts everything that happened before it in a new light.
The Killing was shot on a shoestring budget on an accelerated schedule; Marie Windsor claims production only lasted twenty-one days. This would be impressive for anybody, but it's downright shocking for famous control freak Stanley Kubrick. Legend has it that Kubrick intentionally drove star Shelley Duvall insane on the set of The Shining by berating her, belittling her, and forcing her to repeat the same hysterical lines over and over until she actually had an emotional breakdown. For one famous scene where she swings a baseball bat at Jack Nicholson, he shot 127 takes. One hundred twenty-seven takes. Why? So she would convincingly portray an emotionally fragile woman being tortured by a psychopath, of course. So if this same guy, the guy who once made actor Sydney Pollack do a shot where he gets up from his chair and opens a door for two solid days, completed an entire feature film in just twenty-one, you know his grip must have been tight.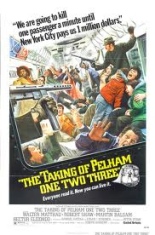 THE TAKING OF PELHAM 123
Released in 1974, The Taking of Pelham 123 is also one of the best heist movies ever made. Like The Killing, it's wound tighter than Jim Cramer after four espressos, and it doesn't waste a moment of its economical but highly suspenseful plot, helped along by smart writing and great editing. (Editing is absolutely essential to a good action movie. If you've ever sat through a scene where cars are exploding, bad guys are shooting, and our hero just jumped a semi on a motorcycle, but you're still bored senseless, that's at least partially the editor's fault.)
Anyway, The Taking of Pelham 123 is caked with the gritty realism that was so popular in the '70s, shot on location in New York City. And my god, the New Yorkiness of it all . . . it's not every day you get a room full of overweight, loudmouthed MTA employees screaming at each other to "wait a coupla two tree minutes" in a movie. (The overwhelming '70s-ness of it all is similarly fantastic—just check out some of the fashions on the passengers of Pelham 123!)
Three men dressed in matching tweed coats, hats, glasses, and mustaches get onto a subway train (the 6, if you're interested) with large matching packages (that contain guns, duh). They are Mr. Blue (Robert Shaw), the leader and hardened professional mercenary whose last gig was leading militias in Africa; his loyal comrade-in-arms, Mr. Brown (Earl Hindman); Mr. Green (Martin Balsam), a disgraced former subway driver; and Mr. Grey (Hector Elizondo), a wild card who got kicked out of the Mob for being too sadistic. There is no Mr. Pink though. Tarantino added that one.
Our color-coded criminals hijack the train, Pelham 123, and demand a ransom for the passengers on board: "We are going to kill one passenger a minute until New York City pays us one million dollars," Mr. Blue tells the hapless employee on the other end of the radio. That hapless employee is Lieutenant Zachary Garber (Walter Matthau), head subway cop, who must figure out a way to cut through the red tape of city bureaucracy and save the passengers of Pelham 123 without letting the killers escape. Opposing him are not only the kidnappers but also his fellow transit employees, who are more concerned with making sure the trains run on time than saving the hostages. But have you ever been on a subway platform when the train is running thirty minutes late? It's not a pretty sight. —Katherine Rife