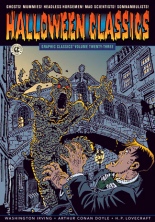 Coming in September from the GRAPHIC CLASSICS line is HALLOWEEN CLASSICS, a full-color, 144-page collection of five scary tales in the EC Comics tradition, complete with a horror host! Featured are adaptations of:
• Washington Irving's "The Legend of Sleepy Hollow,"
• Mark Twain's "A Curious Dream,"
• Sir Arthur Conan Doyle's "Lot No. 249,"
• H.P. Lovecraft's "Cool Air" and
• the surreal, silent film classic THE CABINET OF DR. CALIGARI.
The 23rd volume in the series includes art and adaptations by Al Feldstein, Simon Gane, Mort Castle, Kevin Atkinson, Jeffrey Johannes, Ben Avery, Shepherd Hendrix, Antonella Caputo, Nick Miller, Criag Wilson, Matt Howarth and yours truly! Get a glimpse of art from all five tales and the wrap-around story after the jump. —Rod Lott