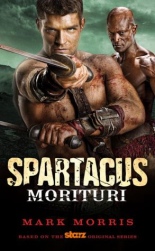 She's back each Tuesday, pimpin' out notable new releases to place on your radar, so let the tempting, publisher-provided plot descriptions begin!
SPARTACUS: MORITURI by Mark Morris — Batiatus and Solonius vie with each other for the favor of one Marcus Licinius Crassus, an Equites who aims at the Praetorship. Thrilled by the bloody violence of the fights, Crassus decides to set up his own gladiatorial school. In the arena, the Batiati are ground down by injury and death, while Crassus' numbers never seem to shrink. Can the ludus survive against such odds?
RESIDENT EVIL: RETRIBUTION by John Shirley — In this official novelization, Alice fights alongside a resistance movement in the continuing battle against the Umbrella Corporation and the undead.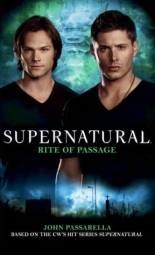 SUPERNATURAL: RITE OF PASSAGE by John Passarella — Thirty years ago, Sam and Dean Winchester lost their mother to a demonic supernatural force. Following the tragedy, their father taught the boys everything about the paranormal evil that lives in the dark corners of America … and how to kill it. Laurel Hill, New Jersey is beginning to look like one of the unluckiest places on Earth when a series of mishaps hit the town. But Sam and Dean suspect it's more than just bad luck. Along with Bobby Singer, the brothers soon realize that a powerful Japanese demon is encouraging the chaos. But the demon has bigger plans and they are going to need to make their own luck to stop it.