She's back each Tuesday, pimpin' out notable new releases to place on your radar, so let the tempting plot descriptions begin!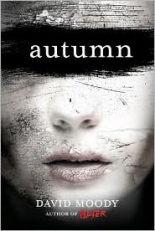 AUTUMN by David Moody — AUTUMN chronicles the struggle of a small group of survivors forced to contend with a world torn apart by a deadly disease. After 99% of the population of the planet is killed in less than 24 hours, for the very few who have managed to stay alive, things are about to get much worse. Animated by "phase two" of some unknown contagion, the dead begin to rise. At first slow, blind, dumb and lumbering, quickly the bodies regain their most basic senses and abilities, as well as the instinct toward aggression and violence.  Held back only by the restraints of their rapidly decomposing flesh, the dead have the goal to lumber forth and destroy the sole remaining attraction in the silent, lifeless world: those who have survived the plague, who now find themselves outnumbered 1,000,000 to 1.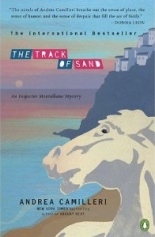 THE TRACK OF SAND by Andrea Camilleri — Inspector Salvatore Montalbano wakes from strange dreams to find a gruesomely bludgeoned horse carcass in front of his seaside home. When his men came to investigate, the carcass has disappeared, leaving only a trail in the sand. Then his home is ransacked and the inspector is certain that the crimes are linked. As he negotiates both the glittering underworld of horseracing and the Mafia's connection to it, Montalbano is aided by his illiterate housekeeper, Adelina, and a Proustian memory of linguate fritte.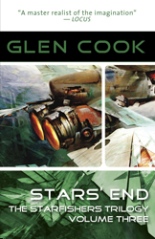 STARS' END by Glen Cook — At the edge of the galaxy lay the Fortress known as Stars' End, a mysterious planet bristling with deadly automated weapons systems, programmed to slaughter anyone fool enough to come within range. But who built this strange planet of death, placing it within view of the Milky Way's great lens … and tantalizingly close to the hydrogen-filled feeding grounds of the interstellar dragons known as Starfish and the priceless ambergris they create?