She's back, pimpin' out notable new releases to place on your radar!
THE BREACH by Patrick Lee — Trying to regain his life in the Alaskan wilds, ex-con/ex-cop Travis Chase stumbles upon an impossible scene: a crashed 747 passenger jet filled with the murdered dead, including the wife of the President of the United States. Though a nightmare of monumental proportions, it pales before the terror to come, as Chase is dragged into a battle for the future that revolves around an amazing artifact. Allied with a beautiful covert operative whose life he saved, Chase must now play the role he's been destined for — a pawn of incomprehensible forces or humankind's final hope — as the race toward Apocalypse begins in earnest. Because something is loose in the world. And doomsday is not only possible … it is inevitable.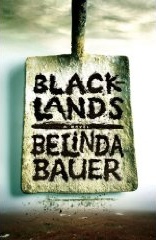 BLACKLANDS by Belinda Bauer — Eighteen years ago, Billy Peters disappeared. Everyone in town believes Billy was murdered — after all, serial killer Arnold Avery later admitted killing six other children and burying them on the same desolate moor that surrounds their small English village. Only Billy's mother is convinced he is alive. She still stands lonely guard at her home, waiting for her son to return, while her remaining family fragments around her. But her 12-year-old grandson, Steven, is determined to heal the cracks that gape between them. Steven desperately wants to bring his family closure, and if that means personally finding his uncle's corpse, he'll do it. Spending his spare time digging holes all over the moor in the hope of turning up a body is a long shot, but at least it gives his life purpose.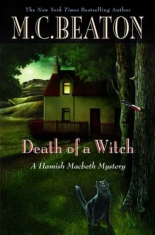 DEATH OF A WITCH by M.C. Beaton — Returning from a foreign holiday, Hamish Macbeth is worried because he senses a dark cloud of evil hanging over the Highland village of Lochdubh. He learns that a newcomer, Catriona Beldame, is regarded as a witch and various men have been seen visiting her. Hamish himself is charmed by her until he finds out she has been supplying dangerous potions. At first the villagers won't listen to him, saying that the loveless Hamish has turned against all women. He threatens to kill her so that when she is found murdered, he must clear his name and then work to solve yet another murder to bring peace and quiet back to his beloved village. His investigations are complicated by a romance with a female forensic expert.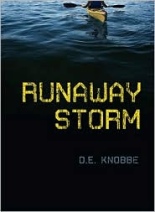 RUNAWAY STORM by D.E. Knobbe — Nate stole the kayak … sort of. His parents don't know where he is, and that's just fine with him. He's made it to the chain of sparsely populated islands off the coast of Vancouver, his kayaking dream come true. So what could possibly go wrong? For starters, he hadn't counted on real runaways making him feel like a fraud or on the cops chasing him into a wild and deadly storm. Nate hadn't planned to shipwreck on a deserted island either, or to have a run-in with a crazed drug smuggler, who drifted into the bay on a crippled Sailboat, ready to protect his stash with a loaded gun.