All the news that's fit to capsulize!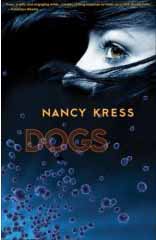 GOING TO THE 'DOGS'
To promote Nancy Kress' upcoming sci-fi novel DOGS, Tachyon Publications is holding a contest, seeking photos of readers with their beloved canines. Three lucky owners will be picked to win a gift pack, including a signed copy of the book and special treats for the pup. Pics may be submitted by July 31 via Flickr or e-mail.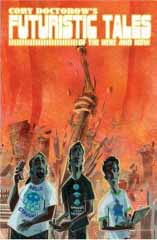 WHO WANTS HOT LINKS?
• If you're pathetic enough to have a PC instead of a Mac, at least you can take solace in your misery by reading at work, thanks to a nifty website from the New Zealand Book Council that disguises novels and short stories into a faux Windows desktop. Genius! Eat that, The Man!
• God bless Cory Doctorow for releasing his IDW sci-fi comic series CORY DOCTOROW'S FUTURISTIC TALES OF THE HERE AND NOW as a free downloadable e-book.
• Self-explanatory, sacrilegious and side-splitting: the top 10 Amazon reviews of The Bible.
• Random House Children's Books has launched Vronegard Academy, an immersive online game tied to the September release of Christopher Paolini's newest fantasy novel BRISINGR.
• Athena's Bookshelf wonders, "What makes a writer 'gifted'?" Discuss.
• Mystery Readers International has spoken, and its nominees for the 2008 Macavity Awards are …
AND THE CASE OF THE HIGH-TECH OVERHAUL
Nancy Drew and The Hardy Boys have gone mobile, now that graphic novel publisher Papercutz has teamed with uclick to provide their illustrated mysteries as digital comics readable on most cell phones. New chapters will be released weekly, reachable through m.gocomics.com. Said uclick CEO Chris Pizey, "Papercutz has done an incredible job producing Nancy Drew and The Hardy Boys stories that appeal to a modern, tech-savvy audience, and we're thrilled to be a part of their efforts to reach new readers through mobile phones."
AND IF IT'S GOOD ENOUGH FOR THE HARDY BOYS …
… then it's good enough for John Steinbeck. The legendary author now has 11 titles issued to an e-book format for the first time, under the Penguin Classics imprint, including such classics as THE GRAPES OF WRATH and OF MICE AND MEN. All are now available.
—Rod Lott