All the news that's fit to capsulize!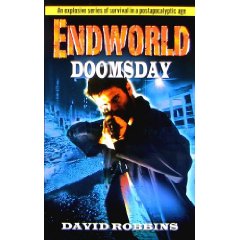 BEGINNING OF THE 'END'
Remember David Robbins' ENDWORLD series from the late '80s? Dorchester Publishing is rebooting the sci-fi adventure with an all-new prequel called ENDWORLD: DOOMSDAY. It comes out next April, but if you're one of the first 25 people to egalloway (at) dorchesterpub.com with ENDWORLD: DOOMSDAY as the subject line, an advanced copy will be yours. All you have to do is promise to spread the word via reviews, blogs and old-fashioned word of mouth. And there'll be word to be spread, as Dorchester will follow DOOMSDAY with ENDWORLD reissues every three months, alternating with the new pulp series THE ADVENTURES OF GABRIEL HUNT.
WHAT 'FREE' WILL GETCHA
With Free Comic Book Day 2009 set for May 2, the list of titles has been announced. Up for grabs will be Dark Horse's STAR WARS: THE CLONE WARS and ALIEN/PREDATOR, DC's BLACKEST NIGHT #0 and DC KIDS MEGA SAMPLER, IDW's TRANSFORMERS ANIMATED/G.I. JOE, Marvel's THE AVENGERS and WOLVERINE: ORIGIN OF AN X-MAN, Red 5's ATOMIC ROBO AND FRIENDS, and many, many more.
VIZ + WHV
Manga outfit VIZ Media has inked a deal to allow Warner Home Video to distribute DVDs based upon some of its core comics franchises, including DEATH NOTE, NARUTO and BLEACH. The first two releases will be NARUTO UNCUT BOX SET 13 and HUNTER X HUNTER BOX SET VOLUME 2, both on April 7 of next year.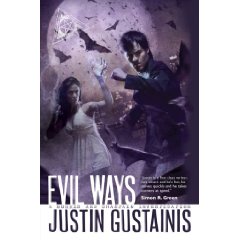 WHO WANTS HOT LINKS?
• To mark its 10th anniversary in 2009, PS Publishing will start offering free shipping for any preordered titles, starting on New Year's Day.
• EOS' latest free e-book is Adam-Troy Castro's EMISSARIES FROM THE DEAD, available now for a limited time.
• Halloween Comics is offering a free download of HALLOWEEN: SAM, a short story about Michael Myers and Dr. Sam Loomis.
• Bookspot Central has an exclusive excerpt of Justin Gustainis' EVIL WAYS, the second in his "Quincey Morris Supernatural Investigation" series, following BLACK MAGIC WOMAN.
• The Unusual Times is giving away a 7-volume, leather-bound set of F. Scott Fitzgerald classics — valued at $500 — to one lucky reader. —Rod Lott