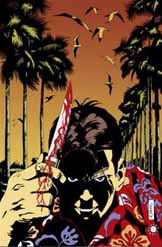 This week, not only do we have three copies of IDW Publishing's SCARFACE: DEVIL IN DISGUISE to give away, but they're also autographed by writer Joshua Jabcuga. The trade paperback collects all four issues of Jabcuga and artist Alberto Dose's recent comic-book miniseries, which serves as a prequel to the cult film.
To be eligible to win, just answer this question: For which summer 2008 movie is Jabcuga currently scripting a tie-in comic, also to be released by IDW? Sleuth away and send your answer along with your name and mailing address to editor@bookgasm.com. From all correct entries, we'll pick the lucky winners at random and announce them on the morning of Friday, March 7.
If you don't wanna wait, you can always buy it at Amazon.