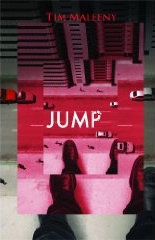 Mystery author on the rise Tim Maleeny takes a break from his Cape Weathers detective series to pay homage to Agatha Christie in his latest novel, JUMP. Whodunit lovers will no doubt leap for this one, and we've got three copies to give away, all autographed by Mr. Maleeny himself.
Here's who gets to jump for joy for JUMP:
• Keith Rawson of Gilbert, Ariz.
• Geoff Schilz of Minneapolis, Minn.
• Kenny Treger of Buffalo, N.Y.