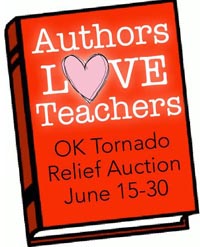 On May 20, the city of Moore, Okla. (part of the Oklahoma City metro area in which BOOKGASM is located), was decimated by an EF5 tornado that killed 24 people, including seven children hunkered down at Plaza Towers Elementary School. Briarwood Elementary School also was among the hardest-hit areas.
To help the teachers of Plaza Towers and Briarwood restock the school supplies they lost (much of which comes out of their own pockets), our sister site of Buzz Books USA has organized the Authors Love Teachers OK Tornado Relief Auction, and BOOKGASM is a co-sponsor.
Starting today and ending June 30, you have the opportunity to bid on autographed books and bundles graciously donated and signed by roughly two dozen authors, and every penny earned will be used to purchase school supplies on the teachers' wish list. Shipping is free.
You can see the full list here, but BOOKGASM readers might find these items of particular interest:
• Douglas Preston and Lincoln Child's TWO GRAVES and GIDEON'S SWORD
• Max Allan Collins' "Butcher's Dozen Book Box" including ROAD TO PERDITION, ROAD TO PURGATORY, ROAD TO PARADISE, KISS HER GOODBYE, THE BIG BANG, STRIP FOR MURDER, A KILLING IN COMICS, NO ONE WILL HEAR YOU and many more!
• Ed Gorman's BAD MOON RISING, CAGE OF NIGHT and FOOLS RUSH IN
• Lou Berney's WHIPLASH RIVER and GUTSHOT STRAIGHT
• William Bernhardt's CAPITOL BETRAYAL, CAPITOL DEFENSE and CAPITOL CONSPIRACY
Other authors include such best-sellers as Lily Koppel, Jane Porter, Beth Hoffman and Julia London. We hope you'll bid — and bid generously — or at least spread the word!