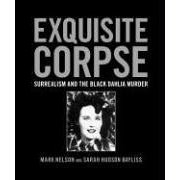 While Brian De Palma's THE BLACK DAHLIA tanks in theaters, readers can explore a very different aspect of Hollywood's most notorious unsolved murder in Mark Nelson and Sarah Hudson Bayliss' EXQUISITE CORPSE: SURREALISM AND THE BLACK DAHLIA MURDER. Be warned: It ain't pretty.
The hubbub began with the Jan. 15, 1947 discovery of the body of Elizabeth Short, so distorted and mangled that she "looked like a disassembled mannequin or a discarded marionette." Nelson and Bayliss briefly recount the facts and theories of the case – enough to give you a background without giving you too much – before delving into their true thesis, as it were: That several surrealist artists of the time found inspiration in Short's tragedy, and furthermore, this connection may actually hold the key to its resolution.
If it all sounds strange, the proof is on the page. EXQUISITE CORPSE includes several actual crime-scene photographs, which – even decades removed – prove mega-disturbing. Compare these with the subsequent select works of such notable artists as Pablo Picasso, Salvador Dali, Max Ernst, Man Ray and Marcel Duchamp; this amounts to oft-segmented nudes, oddly posed dolls and visages of minotaurs – enough similar imagery that the influence cannot be discounted.
To see a book double as a true-crime tale and an art-history essay is jarring, but in a good way; it's definitely a take I've not seen before. The fact that it's presented in the coffee-table format both speaks to the true artistic nature of the subject as well as a streak of bad taste. Let's just say if you showcase this title on your furniture, you might be busy wiping up a lot of spilt Sanka and regurgitated breakfasts. It's fascinating stuff – and not out of the question, given the research – but a study you might want to keep to yourself. –Rod Lott