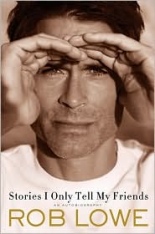 I think it's safe to say that Rob Lowe and I are about as different as two life forms can be and still be classified as belonging to the same species. It is equally safe to say that given the evolutionary choice, nature would definitely select him over me. This should make me resent him, and I do (I really, really do!), but not enough for me to not recommend his very entertaining new autobiography.
Beyond having a title guaranteed to encouraging legions of stalkers to show up at his house, STORIES I ONLY TELL MY FRIENDS also manages to pull off the nigh impossible trick of being extremely likable for a memoir detailing the supermodel-humping adventures of the prettiest of all pretty-boy Brat Packers.
Lowe achieves this mostly by refusing to acknowledge the inescapable realities of his visage in favor of describing a childhood spent as self-described drama geek. Transplanted to California following the divorce of his parents, Lowe found that his theatrical experience scored him little points amongst Malibu's popular teenage surfing clique.
Those of us, however, who actually were geeks in high school probably will suspect that Lowe protests too much, especially when his pubescent charms lead to such memorable early experiences as visits to the sets of STAR WARS and THE MUPPET MOVIE, the latter of which occurred after he met and impressed Richard Hunt (the puppeteer responsible for Scooter and Janice) at a Dodgers game.
Lowe fails to mention that Hunt was gay (or even his last name, for that matter), implying that the invitation resulted purely as the result of Lowe's pluck and their mutual devotion to the same baseball team. That he actually seems to believe this is an essential part of the book's charm. At times, Lowe comes across as the male equivalent of one of those ever-happy hot girls who believe the world is a wonderful place because everyone is just so gosh-darned nice to them.
I like those girls. I find their naïveté charming. Plus they're hot.
In a book filled with gripping chapters, perhaps the best is the long section dedicated to his role in Francis Ford Coppola's epic ode to cute thugs from the wrong side of the tracks, THE OUTSIDERS. Having not seen the movie in decades, I struggled to remember Lowe being in it.
Turns out there's a good reason for this, as Lowe describes the sensation of spending months giving his heart and soul to the project, only to discover that his part was almost completely cut out during post-production. It's a reality of Hollywood life that you frequently hear about in passing, but seldom get to read about in such excruciating detail. You can tell that it still bothers him even 30 years later.
Equally enjoyable for film buffs are his behind-the-scenes tales of roles he didn't take in what would eventually become some of the biggest flops of all time. Offered the part Kyle MacLachlan played in DUNE, he balked at the contractually obligated sequel commitment, especially when he found out his character's head was replaced by a sandworm's in the third book in the series. And his tale of meeting with Roman Polanski in Paris about starring in PIRATES (back when it was supposed to star Jack Nicholson instead of Walter Matthau) is made memorable by a chance encounter with Bill Murray, whose loneliness while filming THE RAZOR'S EDGE leads to Lowe receiving a special gift.
To his credit, he doesn't gloss over his failures, cheerfully devoting several pages to projects most other memoirists would dismiss in a single sentence. Instead of skipping past a debacle like Peter Bogdanovich's ILLEGALLY YOURS (the 1988 fiasco that halted the momentum of both of their careers), he bravely digs in and describes what he thought went wrong. In this case, Bogdanovich — riding high on the success of MASK — decided to trust his own genius (which had served him so well on DAISY MILLER and AT LONG LAST LOVE) and cast Colleen Camp against type as Lowe's love interest and rewrote the script to give his talentless, 20-year-old girlfriend (who just happened to be the sister of his murdered centerfold lover) a featured role.
Sadly, not all is smooth sailing as you glide through Lowe's prose. Throughout the book, he repeatedly commits what has to be one of the most aggravating literary crimes a celebrity memoirist can commit: waiting until the end of an anecdote to reveal the identity of another famous person, even though we already guessed who they were the second they were introduced. At least a half-dozen times in the course of STORIES, you will experience moments like this (please note these are not direct quotes):
Lowe: My agent asked me to have lunch with a young actress from New York who was currently playing the lead role in ANNIE on Broadway.
Me: Hmm, he wouldn't be telling us this unless that young actress eventually became someone famous. … Who's the most famous person to have ever played Annie on Broadway? Oh! It has to be Sarah Jessica Parker!
Lowe: I went to the restaurant with my girlfriend, and we met a pretty girl with curly brown hair named Sarah.
Me: I knew it! It is Sarah Jessica Parker
Lowe: My girlfriend quickly grew bored as the two of us talked about acting and the theater. Sarah asked me if I was going to keep on being an actor when I grew up. I said wasn't sure. She said she was. "I love acting more than anything," she told me.
Me: We know she does. She's a big star. She's Sarah Jessica Parker.
Lowe: We left the restaurant and said goodbye to each other.
Me: Only to meet again years later when you're Rob Lowe and she's Sarah Jessica Parker? Am I right?
Lowe: Twenty-five years later, I would see her —
Me: Who? SARAH JESSICA PARKER?!?!?
Lowe: — again when I was nominated for a Golden Globe for THE WEST WING —
Me: And she was nominated for SEX AND THE CITY, because she's Carrie fucking Bradshaw!
Lowe: — and I watched as Sarah Jessica Parker ascended the stage to accept her award for best actress in a TV comedy.
Me: FUCK YOU, ROB LOWE!
I admit this might seem like I'm over-reacting, but Lowe does this a lot in STORIES I ONLY TELL MY FRIENDS. So much so I think I kinda earned the right to sucker-punch him at least once if we ever met.
That said, his memoir is as honest and humble as any book written by a guy who got laid more in a long weekend than most of us will in our lifetime could be. Filled with tons of memorable stories and fun insider details, this is a must-read for any fan of celebrity bios or '80s pop culture.
Plus, as the title clearly indicates, Rob and I are now close enough for me to crash at his place whenever I'm in Santa Barbara! —Allan Mott