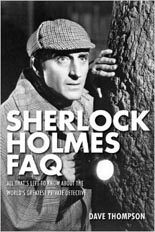 Having just detailed all that was "left to know" about DOCTOR WHO, music journalist Dave Thompson drills deep into another British icon with SHERLOCK HOLMES FAQ, another entry into Applause Theatre & Cinema Books' ever-expanding FAQ series.
The time for such a title is now, with Sir Arthur Conan Doyle's master detective enjoying a cultural resurgence thanks to two Robert Downey Jr. vehicles making millions on the big screen and the three seasons of the BBC's delightful SHERLOCK bringing millions of viewers to the small one. Sad as it may seem to book lovers, most viewers have never read a single Sherlock story; such books like this aim to keep "have never" from evolving into "will never."
As such, this paperback primer deals primarily with Doyle's official Holmes output — the "canon" of four novels and 56 short stories — with livelier-than-usual synopses and commentary on the times in which they were written, both at-large and in Doyle's personal life. Longtime Holmes fans will appreciate such behind-the-scenes facts as how long Doyle took to write each story (one week) and how many STRAND subscribers wrote cancellation letters after Doyle "killed" Holmes (20,000!) in 1893's "The Final Problem."
Bookending this meat are a condensed biography of Doyle and, my favorite portion, a run-through of the various film and television adaptations, from the great to the god-awful. Plenty of both exist.
As is key to the FAQ series, Thompson's entry comes loaded with vintage illustrations from a variety of sources. —Rod Lott