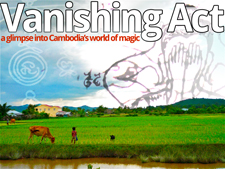 Hi, BOOKGASM Loyalists,
It's me, sci-fi reviewer Ryun Patterson. It's been awhile, I know. It's not you; it's me: work, parenthood and, like, 50,000 other perfectly good excuses have kept me away from reviewing books and contributing to the Solar Plexus Watch.
"WTF is this about?" you ask.
Well, it's pretty simple, and I think it's right up your alley. If you don't know (it's not like I ever shut up about it), I was a journalist in Cambodia from 1999 to 2003. There are a million fascinating things in Cambodia, both good and bad, but the big thing, for me, was the fact that here was a country where "sorcerer" is an actual profession, and people take magic very seriously. There are spirit mediums, magical tattooists and mystics who have led amazing lives just so they can practice a brand of magic that just isn't anywhere else.
A couple of years ago, I got a magical tattoo in a Cambodian temple, and the monks who enchanted the ink told me that the heyday of magic is over, and Cambodia's magical traditions are fading. So I decided to write a book about it. Not just words, though — it'll be an ebook full of photos, video and environmental audio as I cross Cambodia tracking down Cambodia's remaining Sorcerers Supreme.
This is a new type of book, so I've decided to seek a new type of funding for the project: Kickstarter. We've made great progress so far, but I could use your support. So if you enjoyed my reviews, my best sci-fi yearly lists or my uninformed take on GOODNIGHT MOON, take a look at VANISHING ACT: A GLIMPSE INTO CAMBODIA'S WORLD OF MAGIC. You can get enchanted amulets, photos and more for your support — and if you don't particularly like me, you can make me eat a spider on video. Thanks! —Ryun Patterson