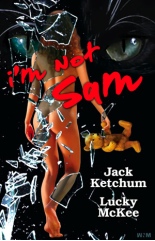 I'M NOT SAM is a horror novel by Jack Ketchum and Lucky McKee can be purchased in hardcover from Cemetery Dance and in paperback from Sinister Grin Press. They've even got a contest giveawaygoing on, so enter! In the meantime, enjoy this exclusive essay in which Ketchum reveals a disturbing dream that he and McKee used in their novel.
Not long before my well-loved cat, Zoey, died at the age of twenty in December of last year, I had a dream in which I woke to see her walking the ledge outside my open living room window, me asleep on the couch, the window never open in reality without a screen, the drop to the street not twenty floors as in the dream but only two.
But I awoke in utter terror. She'd gone along the ledge beyond the window and I could see the confusion on her face. She wanted out of this place but didn't know how. All she had to do was back up, really, then step inside but she didn't seem to realize that, she tried to turn around instead but the ledge was far too narrow. And as I leapt reaching for her from the couch she fell off into empty space.
When I really woke, I was shouting.
I knew what the dream was about of course. I could "read" every instant of it. Her health been failing for quite a while by then. But she was my cat, and to the very end I'd want to try to save her. Yet there was nothing I could do to stop that fall either. Even in my dreams I knew it.
To break up or destroy the tranquility or settled state of.
That's one definition of disturbing.
My household with a healthy Zoey in it was quite settled, very tranquil. And it would be again one day I knew, some time after she was gone. But for now, with her loss of appetite, her hind legs going, and then because she was a diabetic, me watching over my shoulder while at the computer whenever I heard her in the litter box in the bathroom so I could quickly Diastix her urine to evaluate her blood sugar and thus shoot her up with the appropriate amount of insulin — flying blind some days, guessing at the correct dose if I missed her in there — for now it definitely wasn't tranquil.
Some days she'd piss over the lip of the box onto the bathroom floor, because she couldn't hunch down low enough soon enough. Some days I got so frustrated and I yelled at her. Dammit, Zoey! And then felt like the worst kind of prick in the world. It wasn't her fault.
Zoey was on a ledge and couldn't back up. Couldn't turn around.
And I could only do what I always did. Give her comfort, food and love.
Beyond that I was unable to reach.
There's a terrible sense of impotence that comes with this. A sense of something which is out of your hands and which is slowly winding away, inevitable, slowly spinning out of control.
You want things to be like they used to be. Like they'll never be again.
You want that control back. But life rips it away from you.
Finally, it always does.
We used a variation on this this dream of mine in I'M NOT SAM and Zoey as our fictive cat's name.
That, and the sense of a life spinning, falling away.
To somewhere unseen far below.
…TO BE CONTINUED… —Jack Ketchum
And here's our I'M NOT SAM 2012 Blog Tour Schedule. Have fun!
Tour Stop 1: 9/10 at LitReactor
Tour Stop 2: 9/11 at Mary San Giovanni
Tour Stop 3: 9/12 at Brian Keene
Tour Stop 4: 9/13 at Bookgasm
Tour Stop 5: 9/14 at Horror World