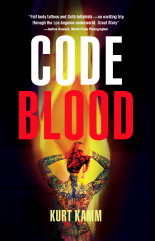 Kurt Kamm's new novel, CODE BLOOD, tracks rookie fire paramedic Colt Lewis through the corridors of high-stakes medical research laboratories, the shadow world of body parts dealers and the underground Goth clubs of Los Angeles, in which he uncovers a tangled maze of needles, drugs and maniacal ritual, all of which lead to death. But what led to writing the book? Here, Kamm gives us the lowdown.
In 2008, I moved to Malibu, California. The city is well known for its beautiful beaches, beautiful people and multimillion-dollar homes. What is less known is that Malibu suffers devastating wildfires on a regular basis. Twelve months of warmth and sunshine every year results in incredible brush growth in the hills.
Shortly after I moved in, a fallen power line and 70-mph winds set off a fire which roared through our canyon. At 4:30 a.m., we had 15 minutes to evacuate. Two homes and a church on my street burned. The fire burned to my front door. A month later, a campfire started a fire in the next canyon that destroyed almost 100 homes and did $500 million in damage.
I decided I had to learn about the lives of firefighters.
Since 2008, I have been privileged to spend time with the Los Angeles County Fire Department and CalFire. Both organizations have let me attend their training academies, meet their personnel, do ride-alongs, and face some real fires.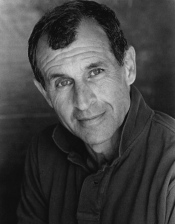 I went through the training academy at Camp 8, where wildland firefighters are based with Blackhawk fire helicopters for quick response. I have visited Camp 13, where female inmates are trained to respond to wildfires. The result was my book ONE FOOT IN THE BLACK: A WILDLAND FIREFIGHTER'S STORY. This was a story about a young man who trains at Camp 8 and loses his captain in a burnover on a mountainside.
I had the opportunity to attend a weeklong CalFire training session for arson investigators, and had the chance to go out into the field with LA County arson investigators as well. As a result, I was able to write RED FLAG WARNING: A SERIAL ARSON MYSTERY. This story tells of a deranged arsonist trying to burn down Malibu. (There are people like that!)
I have just finished a stint with the fire paramedics, riding with them, visiting emergency rooms at local hospitals, the county morgue, and the UCLA Paramedic Training Center. As a result, I was able to write CODE BLOOD, my new novel about a fire paramedic who loses his first patient in an accident where her foot is severed and cannot be found. He sets out to find it and discovers an underworld in Los Angeles.
I am now attending hazardous material response classes and am writing my fourth novel, HAZARDOUS MATERIAL, about a firefighter who gets involved with biker gangs and meth labs.
I have had the incredible good fortune to spend time with hundreds of first responders. They are all dedicated, hard-working people whose mission is to save and help others. As a result, I have written books about these people based on my experiences. I'm writing what I know … and I am learning every day. —Kurt Kamm