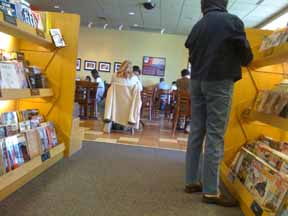 Few things are as peaceful or enjoyable to me as just hanging out at the bookstore for a while. Unless you're there. And by "you," I mean one of the nine groups of people on this list, increasingly driving me toward Amazon. You are, in no particular order of annoyance …
COFFEE DRINKERS
Who goes for a bookstore just to get coffee? Isn't that like going to an AutoZone for a Coke? I don't do the java, so I'm more than a little put off by how fucking noisily you drink it. But, hey, at least you're buying something to compensate for all those magazines you hauled over to your table to read while you suck down the joe. Just please stop smacking after every slurp. And since coffee moves the bowels, something tells me you're part of the next group, too.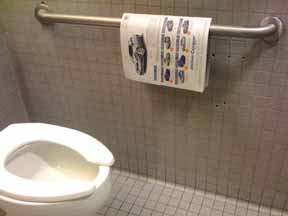 DUMPERS
If I'm going to be browsing at a bookstore for a bit, I'll run into the restroom to pee so I'm not dancing around the aisles uncomfortably. But every damn time, you're there sitting in the stall, voiding your bowels, offending my nose, ears and very being. Unless there's some stomach virus epidemic, isn't this something that could wait for the privacy of your own home? Did you have to have the Grand Slam Breakfast just before coming over? It'd be one thing if you'd just get your business done and get out, but instead, you smuggled in newspapers, magazines and even entire books to read as you poo leisurely, as if you were under your own roof. Once you're done wiping, who will want to buy those things you touched? Answer: nobody. (I'm bringing my own LumaLight.)
OVERLY EAGER EMPLOYEES
No, I don't need your help, but thanks. (Five minutes pass.) No, I still don't need your help. I mean, you're still shelving books in alphabetical order, right? However, I think there's a first-timer coming in the doors now that probably only reads books recommended by Oprah. What's a first-timer, you ask? Easy …
FIRST-TIMERS
Hey, you who stormed in. Have you really never been to a bookstore before, or do you just enjoy drawing attention? You remind me of the old people I see at the post office who make buying a roll of stamps a 10-minute process of discovery and indecision. You gaze around in faux confusion for a moment before making a beeline for the help desk –  or, aggravatingly to those of us waiting patiently in line, the checkout counter – and half-angrily ask, "Where's (insert title here)?" as if you just arrived at the hospital emergency room and were looking for your trauma-victim daughter. Hey, Magellan, see those big signs hanging from the ceiling that point out the subject sections? That's where you'll find it. You're in a nicely organized bookstore, not a vast warehouse of a Sam's Club or Costco.
AISLE SITTERS
I'd love to look at those books on that shelf right there, but you're sitting in front of it, your back leaning against it, reading material in your hand, making yourself perfectly comfortable. Odds are, your coat and purse/backpack and whatever else you can litter about your person are. Can't you at least be like our next group and get out of the way?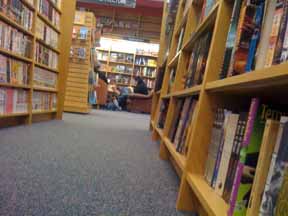 COUCH SITTERS
But don't think you're immune to my ire, all of you who plop your fat ass on a couch, next to a pile of stuff – often manga, for some reason – you have every intention of reading and no intention of buying. This isn't a library.
STUDY GROUPS
Didn't you hear me? I said this isn't a library! How can you study any way when all you're doing is talking? Shouldn't you buy something to make nice for that free wifi you're using and all the space you're taking up for hours and hours?
HALITOSIS CHECKOUT GUY
Dude, you really gotta do something about that. They have books on it, you know. You could get one cheap with your employee discount.
OL' WHISTLENOSE
What's wrong with your honker, old man? I can hear air literally whistling in and out of it as you breathe. The first time I heard you, it was so ominous as your two-note snout song grew ever so closer to me as you proceeded aisle by aisle. Now, I can't escape you, because no matter where I am in the place, your repetitive nostril ballad follows. Please, at least work up a chorus. –Rod Lott