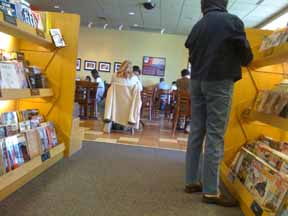 Having recently read our editor's highly controversial list of "The 9 Most Annoying People I Always See at the Bookstore," I couldn't help but assume that its composition was the direct result of his chronic back pain (which, I admit, he'd probably prefer I not mention) . It's a serious issue that can make people seriously grouchy –  enough so that simply seeing others drinking coffee is enough to fuel up their internal rage machine and get them in front of that keyboard to vent.
That's why it's up to those of us who don't know the terrible torment of constant agony to take up the slack and offer up the sunnier view. To that end I have composed my own list of the "The 9 Least Annoying People I Occasionally See at the Bookstore."
TEA DRINKERS
Who doesn't love tea? No one, that's who! Oh, some may scoff and insist that they abhor the taste of brewed leaves, but they are liars and everything they say is not to be trusted. There's something wonderfully reassuring about watching people dunk and bob their tea bags into boiling water that always make me feel good about the books I'm on my way to purchase. I don't know why exactly, but it does.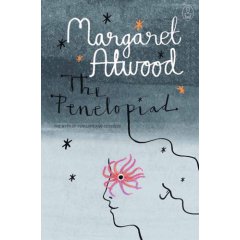 JUMPERS
There's just something so life-affirming about watching someone jump up and down with joy because the new Margaret Atwood book has finally arrived. I know it definitely puts a spring into my step.
CHRONICALLY DEPRESSED EMPLOYEES
Is there anything that makes a person feel better about themselves than being served by someone who's clearly lost all will to live? No matter how hopeless or suicidal I may feel when I walk into my neighborhood Chapters (a Canadian chain for those of you who like to learn something new every day), I know that by the time I walk out, the sight of dozens of poor, pasty bastards whose lives are clearly much, much, much worse than my own never fails to reinvigorate my soul!
FIRST-TIME CENTERFOLDS
Don't you love it when you're browsing the magazine aisle for the latest editions of Maxim, Dude! and Total Douchebag Monthly, and notice that the hot chick on the cover is standing right next to you, excitedly buying every copy she can to give to her friends and family? I know I do!
AISLE PROPHETS
One can learn so much from these wild-haired, seemingly insane homeless men who wander the aisles, shouting about the dangers of fluoride and the upcoming return of Michael Landon that shall serve as the first sign of the apocalypse. Often hearing one of their rants will inspire me to pick up a book on the very subject they are ranting about, so I can learn even more about it. Did you know that Michael Landon was Jewish? He was!
COUCH FILLERS
Like a lot of book readers, I'm a fat, lazy bastard, which means I often try to sit as much as I possibly can. That's why those couches found in bookstores present such a great temptation and why I'm grateful when they are filled by kind souls who have decided to sacrifice their own health so I can stay on my feet and get some exercise. Couch fillers? More like Couch angels!
STUDLY GROUPS
Whenever I see a collection of handsome men discussing the latest releases in the "gay literature" section, it makes me feel good to know how far our once-intolerant society has come.

FRUIT-SCENTED-SHAMPOO CHECKOUT GIRL
You smell like strawberries! I could buy books from you all day!
OL' MILFINTIGHTPANTS
Is that a book on proper oral technique you're flipping through? I see the recent divorce has made you focus on your wild side! –Allan Mott