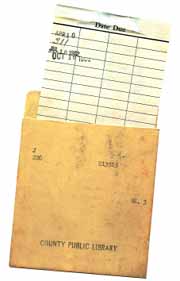 Throughout high school and some of college, I worked for a public library. While the hours were flexible and the rules lax (sleeping downstairs was a personal work habit of mine), it was during this time that I came to learn just what a travesty of public funding libraries really are – what antiquated hovels they've become.
You have to take two tests to get a driver's license. You can't drink alcohol until you're 21. Hell, it takes a credit card and eight other forms of I.D. to get a Blockbuster card. But all you need to get a library card is your signature and a pulse — and even then, sometimes that's not necessary. Yep, libraries are required to take in anyone and everyone, and it's due to these ultra-easy membership guidelines that I started to hate the library. Loathe the library. Fear the library.
When BOOKGASM's editor recently published his list of the nine most annoying bookstore patrons, it reminded me of my tour of duty at the library and why only very rarely, in the most extreme of cases, have I used them since. Unlike bookstores, which can refuse service to anyone because they are a business, libraries don't have the same luxury, and here are the five kinds that ruin it for everyone:
THE HOMELESS
Let's be honest: Even just walking down the street, the homeless are an eyesore. You do everything possible to avoid making eye contact with them, trying your best to avoid their dry-heave-inducing scent. But hey, it's a city street and they have every right to drink themselves into a deathly stupor there. More power to them!
But given those free, wide-open concrete beddings, why must they filthy up my local library? And even worse, why have we becomes such a bleeding-heart, politically correct society that refuses to call the cops and throw those bums out as soon as they walk in through the automatic sliding doors? I don't care if it's freezing cold or sweltering hot – libraries are not shelters!
Libraries smell bad enough already, don't they? The moldy books, the musty air-conditioner, the Fritos corn-chip-like stench that seems to emanate from every children's section – add to that a dirty hobo who just shit his pants and I'm ready to take my money from that bond issue back! I would much rather spend that cash to construct a shanty-town of sorts, on the outskirts of town, surrounded by barbed wire and armed guards, allowing the homeless to form their own community, possibly with their own libraries. I've got a garage full of Readers' Digest Condensed Books that I'd be more than happy to donate.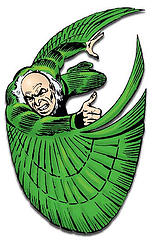 THE PERVERTED
I originally wanted to title this category "The Single Guys," but really, who's more single than the sexually perverted elderly man who hangs out in stacks all day long, hoping to catch a quick upskirt? They are usually easy to spot, with many either looking like Spider-Man's nemesis The Vulture or, even worse, character actor Pruitt Taylor Vince.
They always act like they are "looking" for a hard-to-find book, but more often than not are instead peering through the shelves at their masturbatorial prey. They stalk, they hunt and, when caught, they quickly look the other way, as if to appear inconspicuous. But we all know what they're doing.
And if this all weren't bad enough, then they stay in the bathroom for long periods of time. I know that our esteemed editor is against "dumping" at the bookstore, but when you are working on a time-consuming project at the library, sometimes a dump is inescapable. But, instead, you have to keel over and squirm with poop-cramps in your chair as the pervo locks himself in the stall and has no intention of coming out. Not even the not-so-subtle, loud throat-clearing will drive this creep out of his makeshift sexual habitat.
Here's a tip, though: I have found that if you pretend to talk on your cell phone in the restroom, saying things like, "Yeah, there's this creepy pedophile dude walking around. … I think I might use the Internet to look up the local sex offender registry," they clear out pretty quickly. Just wipe down the seat.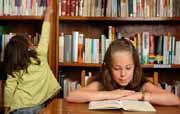 THE MOTHERS
We live in a day and age where too many mothers have become lazy, aging tweens, unwilling to take care of their own kids if it infringes upon their "me time." Now, I can only imagine what their "me time" exactly entails, but I do know that it involves dropping the poor lil' bastards off in the children's section and leaving them there for hours on end. Sure, I'm all for children's storytimes – a little Curious George and a Styrofoam cup of apple juice is good for the kiddie soul – but don't desert them for six hours before the thing. How irresponsible are you? Oh, yeah: Very.
The bigger question is why, if your "me time" is so important, do you even bother to have children? Are they the human equivalent of Paris Hilton's chihuahua? Are they nothing more than an accessory that you have to clothe and feed? Not to sound like an old fuddy-duddy, but I remember a time when not only did moms (or gay single dads, for you liberals) sit and enjoy reading time with their tots, but before and after, they also read with them themselves. It was fun family "us time."
But, in this era of parental selfishness, those days are dead, and it is really showing, as more and more children are growing up to be "guyliner"-wearing emo assholes who wear extremely tight pants and cut themselves. Thanks, Mom!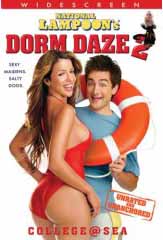 THE MOVIE-RENTERS
I won't hold back on this one: If you use the library exclusively to rent movies, you are human garbage. No other library patron causes me more anger than those who use the public library as their own personal Blockbuster. It has always infuriated me that libraries have video rentals to begin with; what better way to make sure people won't read than to give them the movie instead?
When libraries started to carry videos, they opened up a whole new clientele to the system that guaranteed I'd never go back: white trash. They are so eager to get their tapes – just watch their grubby little, puke-stained brats run from the entrance right to the movies, stumbling and tripping over each other. "Y'all only get five moobies each now, you hear!" their extremely obese mother calls out as she walks to the counter to return her (of course, overdue) movies, upon which during checkout, she'll fight the charges with every ounce of strength in her KFC Famous Bowl-covered heart.
What's worse is that for a library to carry a movie, they no longer have to have any literary merit at all. In the past, all most libraries had was the complete 27-volume BRIDESHEAD REVISITED miniseries and maybe a couple of documentaries about traveling to Belgium. Now, most libraries do away with the education factor, instead stocking movies like THE MATRIX RELOADED, WILD WILD WEST, or, in the case of my local library, NATIONAL LAMPOON'S DORM DAZE 2. I shit you not. I say get rid of all VHS and DVD from public libraries and spend that money on better, more up-to-date books and reading programs.
Besides, poor people, we already have a library for those types of media: It's called fucking Blockbuster Video! Sell some food stamps if you need a movie that bad.
(NOTE: This also goes for people who use the library exclusively for the Internet as well.)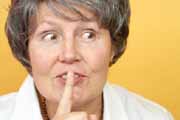 THE MANNISH, BITTER 65-YEAR-OLD LIBRARIAN
Everyone – well, most dudes, at least – have this fantasy of the repressed-yet-ultimately sexually voracious librarian, who, once her hair comes down from its bun, is a Dewey Decimalized sex machine. Too bad this could not be further from the truth, regardless of what the Suicide Girls' bios' say.
No, most librarians are very bitter, very mannish 65-year-olds who hate you for your unwasted youth and vitality, and show it by acting completely resentful when you ask them to do some semblance of work. Like postal workers, I'm sure they got into library sciences for a cool summertime gig, but, when life continued to pass them by like out of a scene in George Pal's THE TIME MACHINE (picture it!), they found themselves on the brink of death and have nothing better in their lives than to take it out on you. It's like living in a waking nightmare, I'm sure.
Luckily, in the next 20 to 30 years, through the use of computers, we'll happily phase out the librarian and their sourpuss mugs. Electronic search systems will help us find the book, and, much like in many grocery stores now, you'll self-checkout the book. Yes, at least in this respect, the future of your local library just got a little bit brighter.
But, like I said, that's still a good two or three decades out. So while you wait, exclusively shop at local bookstores, buying the books you want. If you want them at cheap prices, order them from Amazon's marketplace. The next time there's a vote to increase funding for public libraries, vote against it! It's up to you to shut these dens of literary inequity down. After all, they did bring it upon themselves. –Louis Fowler