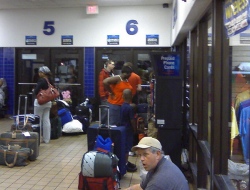 Like most Americans, every chance I get, I go on vacation. Unlike most Americans, however, my preferred mode of travel is via Greyhound. I know how that must make me look in your eyes.
And with good reason: Every Greyhound bus is basically an unemployment office on wheels, filled to capacity with the teeming lower classes that many of you walk by everyday on the street, desperately avoiding eye contact with for fear of either being asked for a quarter or being raped — your pick. It's a dangerous, diseased form of travel. It's also the only one that makes me feel alive and human again.
We've gotten soft. We've gotten complacent. A Greyhound ticket is roughly the same price as an airplane ticket, but, with the exception of the possibility of another government-staged terrorist attack of some sort, there's no adventure, no danger in flying the friendly skies. I'd rather be braving the deadly roads of America, sleeping with one eye open, clutching tightly to my backpack as I'm circled by loitering Crips in a badly lit bus station in East St. Louis at 3:38 a.m. It gives me an adrenaline erection covered in fear sweat just thinking about it.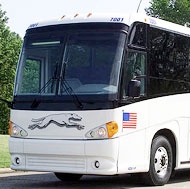 That said, there's also a lot of downtime on a Greyhound where, as most are wont to do, you can relax and let the road roll on by, letting it gently lull you off to a distorted slumber wherein you might wake to find your pants unbuttoned and missing a shoe. Those times are few and far between for me, as I suffer from sleep apnea. Yes, if I go to sleep without my trusty CPAP machine, chances are I will choke to death and die mid-snore, and I'm sorry, but if I die on a Greyhound, it ain't gonna be from snoozing like some punk-ass bitch.
So I read. For miles. For hours.
Whenever you travel by airplane, you're likely to find just about every beautiful, well-to-do white person using an e-reader like a Nook or a Kindle. Being able to download your favorite reading material into one slim, portable digital device must be nice. I don't own one.
No, I'm still an analog reader, preferring to hold the actual archaic tomeage in my hands. This, of course, causes numerous back problems from carrying stacks in my backpack, as well as making me out as an obvious easy mark, because, when it comes to the typical Greyhound passenger, their reading materials typically consist of the back of a Cheetos bag and a knife. I pretty much get what I deserve for knowing how to read.
I recently traveled (round trip) from Colorado to Indiana for a Horrorhound Weekend convention and thought that this would be a great time to get all those review books I had sitting on my shelf out of the way in one fell swoop. I succeeded, mostly.
DENVER, COLO.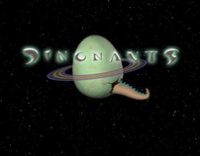 After a teenage girl from Utah overdosed on Xanax and had to be carried off the bus at the Denver station, I figured I'd start off with something light, something like cult filmmaker Mike Pacitto's fantastically fun foray into the world of children's fiction, DINONAUTS.
I am a firm believer in the idea that a grown man should not own or read children's literature because — and let's be honest — the only reason a 35-year-old man owns a copy of HARRY POTTER is to entice children into his house so he can molest them. Lucky for me that, while DINONAUTS may be marketed as kids' fare, it reads more like a serialized, sci-fi yarn from a rather lighthearted issue of HEAVY METAL JR. magazine.
It's the story of a monkey named Rufus who befriends a T-Rex in the middle of a brain operation that grants him anthropomorphic abilities like firing guns and bon mots alike. They traverse the galaxy, gathering other dinosaur warriors, waging a never-ending battle against the Mecha-Unagi and other grotesque alien life-forms.
Way violent and wonderfully sarcastic, DINONAUTS reads more like the outline to a kick-ass Ralph Bakshi movie than a typical children's book. Chock-full of pop-culture references that undoubtedly will go over most little one's heads, it's probably more fun for adults anyway. Kids are stupid like that.
BURLINGTON, COLO.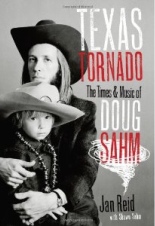 Yes, it took me a few hours to finish a 150-plus-page children's book (with pictures). Sorry, but we all can't be cybernetically enhanced robo-readers like BOOKGASM editor Rod Lott. Some of us have to take our time to actually absorb and analyze what we're reading.
Moving onto more adult material, I finally dug into TEXAS TORNADO: THE TIME AND MUSIC OF DOUG SAHM, by Jan Reid with Shawn Sahm.
Over the past few years, my tastes in music have veered wildly in an unexpected direction. After hosting the DAMAGED HEARING radio show for so long, I have heard it all and played it all. And, recently, I've become bored by it all. One of the few things that has kept me going, kept me inspired, is the music of Tejano supergroup the Texas Tornados and, as of late, the '70s solo work of Tex-Mex rocker Doug Sahm.
From his work in the groundbreaking Sir Douglas Quintet, to his trippy-hippie '70s excursions, on up to the aforementioned Tornados and his death in 1999, TEXAS TORNADO is a warts-and-all bio of the man, co-written by his son Shawn who, while reverential to his father, is also honest about who he really was.
It's one of the most noteworthy rock bios I've read in a long time, one that actually depends on truly interesting anecdotes and music-geek behind-the-scenes facts rather than half-remembered, pseudo-salacious, druggy recollections to further one's own fading legend. Keith Richards, I'm looking in your direction.
ST. LOUIS, MISS.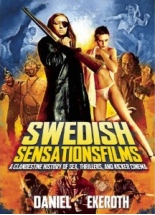 Although, on a classist basis, they aren't really deserving of it, I still try to show my bus-riding neighbors a certain sense of morality-based respect. I wouldn't want to have a guy sitting next to me reading proletariat smut like HUSTLER'S BEAVER HUNT out in the open, and, in return, I'm sure that he wouldn't want to see sexy stills from obscure Swedish flicks like MERA UR KÄRLEKENS SPRÅK or EVA — DEN UTSTÖTTA.
That made the reading of the absolutely seminal SWEDISH SENSATIONSFILMS: A CLANDESTINE HISTORY OF SEX, THRILLERS, AND KICKER CINEMA a bit challenging, forcing me to sit in obtuse, neck-cricking angles against the window, lest someone's sensibilities be offended.
An exhaustive catalog of every type of Swedish exploitation flick you never even knew existed, Daniel Ekeroth has written and curated the only book you ever need on the subject, one that will do nothing but damage to your wallet as you scour badly formatted foreign websites to purchase half of the movies featured in the thing.
Based on his reviews alone, I've been looking for the complete filmography of Mats-Helge Olsson — Sweden's most reviled (and, now, my most loved) action filmmaker — and anything that featured the ultraviolent street-gang "kickers" obsession, where angry youths kicked the shit out of phone booths for, well, kicks.
As I was reading SWEDISH SENSATIONSFILMS, I couldn't help but think that this needs to be made into a NOT QUITE HOLLYWOOD-like documentary, and fast! It's the most important film guide you can buy this year. Possibly next year, too.
INDIANAPOLIS, IND.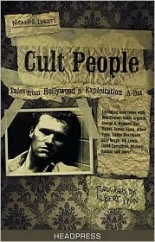 Dirty, tired and hungover, there I was, sitting in the Indianapolis bus station. My weekend was over and I had a 24-hour bus ride ahead of me. I just wanted to sleep, but it wasn't happening, so I chugged two, warm, $4 Rockstars back-to-back, but all that did was put me into a faux, adrenaline-fueled frenzy, with my already well-worn heart beating at a million miles a minute. I thought I was going to die.
"This would be a great time to start Nicanor Loreti's CULT PEOPLE: TALES FROM HOLLYWOOD'S EXPLOITATION A-LIST," I thought. What better way than to read interviews with Michael Rooker, Billy Drago, Wes Craven, etc. than in a pulse-pounding fever pitch?
It didn't help as much as I thought it would. While I have read Loreti's interviews in zines like SHOCK CINEMA for years now, when I read them back-to-back-to-back here, I started to realize not only how boring a writer he is, but how boring all of his subjects are. He asks the typical, uninspired questions — "How did you get started?" and "What are your inspirations?" — and gets the same continually and monotonously rote answers.
Does anyone really need another interview with Dario Argento or Ted Raimi? Even his interviews with outré gods like Ken Russell and Paul Naschy are just …bleh. Chances are, you've read and heard all this before and honestly don't need to again.
HAYES, KAN.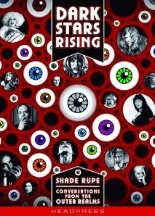 The title is DARK STARS RISING: CONVERSATIONS FROM THE OUTER REALMS. Before you even continue on reading this piece, I want you to click the link above and just order it.
Don't think about it; don't hesitate; just order it.
Done? Okay. Now this is how you put together a book of collected interviews, succeeding on every front where CULT PEOPLE failed for the simple reason that Shade Rupe talks to people no one else does and asks them the personal questions no one else will. He's the Barbara Walters of transgression.
Richard Kern, Peter Sotos, Hermann Nitsch, Udo Kier — every dark, dangerous, utterly fringe pop-culture celebrity, none of them expected, has his or her psyche conversationally explored in-depth, actually introducing the reader to neglected art forms and subversive ideas that he or she probably never said out loud for fear of societal reprisal. Thanks, society, you asshole.
As I was finishing up the final interview with Crispin Glover — possibly the biggest name in the book, mind you — the Greyhound pulled into Denver proper and that was the cue for the older gentleman who had been sitting across from me to change his sweatpants because, apparently, somewhere back in Limon, Colo., he pissed them. The wetness covered the plush seat and, as he started to head for the bathroom, I noticed his soaked seat was … moving. I rubbed my eyes, thinking my sleep deprivation had taken its toll but, holding my nose as not to quaff any errant urine, I leaned in closer to notice that, yep, it was bedbugs. Dude had bedbugs.
I'm all for danger and excitement, but bedbugs? You're on your own on that one, Greyhound. —Louis Fowler