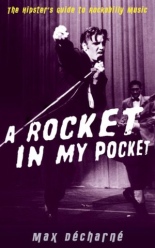 Best Nonfiction 
A ROCKET IN MY POCKET, Max Decharne's energetic, in-depth appreciation of rockabilly manages to cover the genre from both personal and historical angle. It roams from detailing one-shot curios like Jerry "The Phantom" Lott to excavating the genius of Charlie Feathers. That it spends time appreciating the Tav Falco and The Cramps is just icing on the BBQ. Superbly paced and deeply appreciative of the more eccentric side of the field, this book is all killer, no filler.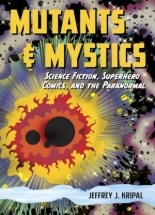 Also, given my interest in the oddball fringe sciences and forteana, there's no time like now to mention the book I'm currently reading: Jeffrey J. Kripal's MUTANTS & MYSTICS: SCIENCE FICTION, SUPERHERO COMICS, AND THE PARANORMAL. It spends a dozen pages on Philip K. Dick's pink-beam experience, hops over to compare John Keel to Jack Kirby with uncanny insights, wanders about into psychedelic research and Ray Palmer's connection to the UFO subculture while pondering on the connective tissue between paranormal and religious experiences and how they often are linked to creative genius (Dick, Barry Windsor-Smith, Grant Morrison and Alan Moore, to name just a few). I'll be spending quality time with this beautifully designed tome, but it's by far the most fascinating book on any subject I've had a chance to read this year.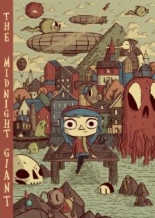 Best Euro Comics
More than anything else, I read comic books and graphic novels this year. Among the many greats out this year, Luke Pearson's delightful HILDA AND THE MIDNIGHT GIANT stands on the top of the heap. This large-size hardcover from Nobrow is, whether it sells a million copies or not, a rare case of an instant all-ages classic. If you enjoy Miyazaki-style whimsy and can find a copy, grab it.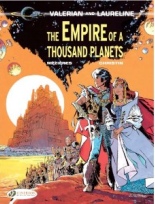 Cinebook kept its pace of publishing an array of classic bandes-dessinees in affordable editions. THE EMPIRE OF A THOUSAND PLANETS by Jean-Claude Mezieres and Pierre Christin was one of the many highlights of the season, eclipsed only by the latest Blake & Mortimer adventure, GONDWANA SHRINE, (which may be the best episode yet in this 65-year old series!) from Yves Sante and Andre Juillard.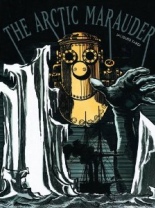 Fantagraphics continued its Jacques Tardi lineup, and I was particularly delighted by the proto-steampunk THE ARCTIC MARAUDER, although I think one should own every single book in the series. I was also happy to see some less well-known artists get their chance, and both SIBYL-ANNE VS. RATTICUS by R. Macherot and MURDER BY HIGH TIDE by Maurice Tilleux were wonderful surprises in the classic Franco-Belgian "bigfoot" style. Fantagraphics is quickly becoming the Criterion Collection of comics publishing.
Humanoids spearheaded its METAL HURLANT-inspired lineup with a reprint of THE COMPLETE INCAL by Moebius and Alexandro Jodorowsky, but the new Jodo-penned Western, BOUNCER, was almost equally wonderful. I couldn't afford some of Humanoids' ultra-deluxe reprints and am waiting for some trade-edition treats out next year.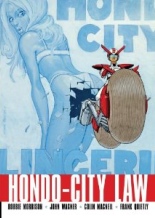 Finally, Rebellion brought several classic 2000 AD books to the US market, including the JUDGE DREDD COMPLETE CASE FILES series. As wonderful as those were, I was taken off-guard by HONDO-CITY LAW which compiled numerous adventures set in the Japanese equivalent of Dredd's Mega City. Despite having numerous different artists, the contents were uniformly great and give me enduring hope for the future of this long-standing UK publication.
All of these publishers, except for Fantagraphics, seem to be coming in under the radar in the U.S., and I'd urge you to seek out and investigate each and every one.
Best e-books
I'm biased. Go Blasted Heath. So sue me.
And the WORST of the year?
All the books I didn't bother finishing. You know who you are. —JT Lindroos