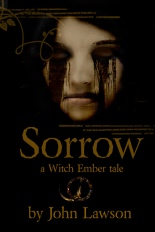 For the inaugural installment of BOOKGASM's "WTF Q&A," in which we hurl at an author random questions having nothing to do with his/her book, we recruited John Lawson, writer of SORROW, a dark fantasy about a mysterious and evil assassin.
BOOKGASM: What's your favorite flavor of Hostess Zinger Iced Snack Cake? Don't say raspberry. Defend your answer.
LAWSON: I've never had a Zinger. Ever. Eating a Zinger is a wasted opportunity to eat a Twinkie.
BOOKGASM: Barbra Streisand sang, "People who need people are the luckiest people in the world." But what about leprechauns?
LAWSON: Relatives of the clurichuan, leprechauns are renown for being solitary creatures. If two got together, their greed and mutual distrust would ultimately cause conflict and violence as the two attempted to steal the treasure of the other. A leprechaun that needs another leprechaun would be a very unhappy creature indeed.

BOOKGASM: Disprove the Pythagorean theorem. Go on, I dare you.
LAWSON: A triangle drawn onto the surface of a globe violates this theorem, as the surface is a non-Euclidean object and the angles of said triangle add up to more than 180 degrees.
BOOKGASM: Tell me how am I supposed to live without you? Now that I've been lovin' you so long, how am I supposed to live without you? How am I supposed to carry on when all that I've been livin' for is gone?
LAWSON: Buy my books. Unlike me, they'll never disappoint you.
BOOKGASM: In your opinion, what is the main lesson of THE FRIDAY NIGHT KNITTING CLUB?
LAWSON: If I really wanted to be a successful author, I should have written overly sentimental, chick-flick glurge instead of shockingly realistic novels set an intricate, living, breathing, dark-fantasy world.
Or porn. I should have written porn. —Rod Lott
Buy it at John Lawson or Amazon.