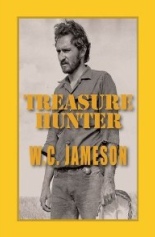 Since the Oct. 3 release of TREASURE HUNTER: CACHES, CURSES, AND DEADLY CONFRONTATIONS, a number of media outlets have requested interviews. Normally reclusive and not inclined to answer such requests, noted treasure hunter and author W.C. Jameson has agreed to use this space to respond to selected questions.
BOOKGASM: TREASURE HUNTER is an adventure memoir of some of your most memorable expeditions. Why did you write it?
JAMESON: At first, I did not want to write TREASURE HUNTER. The principal reason is related to the fact that one of the best advantages a professional treasure hunter can have is anonymity. The truth is, most of what I do as a professional treasure hunter is illegal; therefore, the less that is known about me and what I am involved with, the better.
My wife has encouraged me for years to write about my adventures as a treasure hunter. I resisted, but finally gave in a few years ago for a couple of reasons. Because of age and increasing obligations relative to writing, speaking and other things, I am no longer as active as I once was. The partners I worked with for years are either dead or have moved on to other things. Most of my recovery expeditions required the cooperation of several men — since they are no longer active, I have cut back on my own my involvement.
While I still have a couple of treasure recovery projects on the burner, neither is likely to be affected by the release of this book.
BOOKGASM: You mentioned most of what you do is illegal. How so?
JAMESON: Because so much land is private or government-owned property, I am often involved in trespassing. Furthermore, national and state salvage and recovery laws, which cover removing lost treasure, are often restrictive and, in some cases, don't allow the finder to keep anything. If one finds and removes a historic treasure cache from private or government-owned property without permission, it is technically stealing. If one locates treasure in a foreign country and returns with it to the United States, it becomes smuggling.
BOOKGASM: Do you plan a sequel?
JAMESON: There has been talk of a sequel, but at this point, I am not certain whether I want to write one or not. As a result of the successes of my other books, I have been offered contracts for several more. These will keep me busy for quite a while. If the right offer comes along, I may consider it.
BOOKGASM: Do you still hunt for lost mines and buried treasures?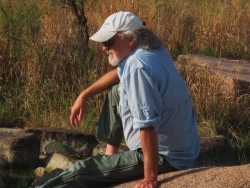 JAMESON: Yes. I have a couple of ongoing projects I won't discuss. In addition, there are still a number of caches of Spanish gold and silver we had to abandon in Mexico for a variety of reasons. I am tempted to try to go back and retrieve some of those, but recovering and transporting such things in Mexico is very difficult these days.
JAMESON: One of my current projects is located in Arizona, another in Texas. That's all I'm going to say about that.
BOOKGASM: Are you still conducting research on lost mines and buried treasures?
JAMESON: Yes. I have been doing so for over 50 years and can't seem to stop. I have file cabinets filled with information on these subjects, and I receive more information and insight from other professional treasure hunters almost on a weekly basis. I continue to be challenged by the possibility of going in search of some of these mines or caches.
BOOKGASM: What is your next book?
JAMESON: At this writing. I am awaiting the release of three books: LOST MINES AND BURIED TREASURES OF ARKANSAS, LOST MINES AND BURIED TREASURES OF MISSOURI and BILLY THE KID: THE LOST INTERVIEWS.
BILLY THE KID: THE LOST INTERVIEWS can be considered a sequel to my best-selling BILLY THE KID: BEYOND THE GRAVE. Searching for lost or missing people is very similar to researching about and searching for a lost treasure cache. In this case, the man we searched for was the outlaw Billy the Kid who, in truth, was never killed by Sheriff Pat Garrett, but went on to live in hiding for another 69 years.
The evidence for this is found in BILLY THE KID: BEYOND THE GRAVE. A few so-called experts on historical American outlaws have gotten upset at my findings. They have been challenged to debate me for years, but none have responded.
BOOKGASM: You are regarded as the best-selling treasure author in the world. How many books about the subject have you written?
JAMESON: Of my 70 books, at least 22 have dealt with lost mines and buried treasures. The first was published in 1988. All but two are still in print. During the next few years, at least 12 more will be released.
I have had the good fortune of publishers contacting me about writing books for them. These books sell well and make the publishers money. With a renewed interest in this country about searching for lost mines and buried treasures, the books are in demand.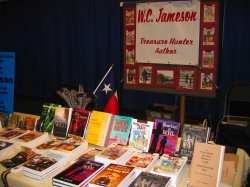 BOOKGASM: Has anyone ever found treasure by using one of your books?
JAMESON: Yes, on several occasions.
There are a number of professional treasure hunters in this country and elsewhere who employ my books as a starting point for their own searches for certain lost mines and buried treasures. They know that I do a considerable amount of research, including site visits and analyses, that saves them a lot of time and trouble.
Treasure hunters have gone into places where I have searched for years and have managed to locate caches that eluded me. Everyone looks at a site differently, and sometimes it just takes another person's perspective to solve a mystery relative to where something might be buried.
A recent discovery wherein the finder used information in one of my books may eventually yield as much as $200 million in gold and silver.
BOOKGASM: Does it bother you that someone may locate a treasure that you have sought for years?
JAMESON: Not at all. There's plenty of treasure out there. We know this because, in addition to finding some of it myself, I know others who have had successes. Several of us exchange information relative to treasure sites.
For the most part, we professional treasure hunters have the notion that we are all in this together, and that we sometimes succeed as a result of assistance or contributions from others. I have provided information on several occasions that led to discoveries of lost caches. In just about every case, I was paid a finder's fee.
BOOKGASM: What is the largest treasure you have ever found?
Hard to tell. Over the years I, along with my partners, have found caches of Spanish gold and silver that amounted to several millions of dollars each. What the average person does not realize, however, is that finding something is often a lot easier than returning home with it.
We have found valuable caches in places so remote one cannot get a vehicle into them, and sometimes not even a horse or mule. Some of these locations are far from sources of food and water. What we carry out sometimes is a function of how much we can tote in a backpack. When you consider that an ingot of gold can weight 25 to 40 pounds or more, by the time you load two of them, you have a full pack. You are often forced to trade precious food and water for gold. Then, you are faced with walking miles to wherever you parked your vehicle. We have done this on numerous occasions, but it limits how much you can remove.
We have removed bars of gold in this manner from a cache that contained over 500 of them. To the best of my recollection, there are still 465 ingots left. In another case, we found 880 bars of silver in a cave in Mexico. Over two trips, we carried out a total of 60 ingots on foot and via horseback. The rest are still there.
BOOKGASM: What have you done with the treasure you have found?
That's personal and private. I can tell you that in some cases, I have converted it to cash that I used to pay off houses, vehicles and send my children to college. One almost needs to find a lost treasure cache to fund a college or university education these days. In many cases, the profits from one expedition went to fund the next.
BOOKGASM: Because of your fame and notoriety as a treasure hunter, you have served as a consultant for television and film. Any plans for more?
Most of those gigs have come about by accident. I don't seek them, don't even particularly enjoy them. Between September 2010 and June 2011, I turned down four offers to be involved with television shows about lost mines and buried treasures. I didn't like any of their ideas, and the programs seemed silly. I am in dialogue right now with producers for the National Geographic Channel about a series based on one of my books, but don't know where that will go, if anywhere.
Author photo by K. Horner.