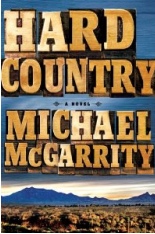 Having written a dozen contemporary Western crime novels featuring law enforcement officer Kevin Kerney, Michael McGarrity turns the clock back to tell a sweeping backstory of Kerney's family. The first part of the trilogy, HARD COUNTRY, due out May 10. Here, the author discusses this undertaking.
BOOKGASM: What inspired you to begin you a trilogy, particularly one set from the 1870s and through World War I?
MCGARRITY: When I first put Kevin Kerney on the page as the protagonist in my crime novels, I was already imagining his family history back several generations or more. I would conjure up images of his ancestors and speculate about their lives.
It helped me define him, and as the series progressed and Kerney grew and developed, I knew I would someday have to tell his family's story generation by generation. I never once entertained the notion of simply writing the back story of Kerney's life prior to his introduction my debut novel, TULAROSA. That seemed too mundane.
BOOKGASM: HARD COUNTRY seems to be a mix of a historical saga and a true Western. How would you describe it?
MCGARRITY: You're right that it's a historical family saga and a Western in the sense of setting and era. The book covers a slice of American history filled with drama and conflict. From the post-Civil War expansion west, the Indian Wars, the growth of the cattle industry, Apache raids, the Spanish-America War, years of devastating drought and lawlessness, periods of economic boom and bust, and the horrors of World War I, readers will hopefully be caught up in the Kerney family's struggle to survive and endure on one of the most beautiful and sun-blasted landscapes in the West.
To my way of thinking, HARD COUNTRY is first and foremost an historical novel. What genre best describes it will hopefully become completely insignificant to readers.
BOOKGASM: I'm assuming you did a lot of research.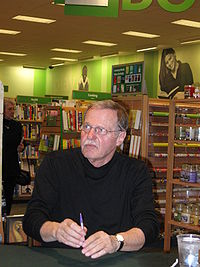 MCGARRITY: My research was extensive both in terms of on the ground exploration and historical references and documents. I've posted a select bibliography on my website, www.michaelmcgarrity.com, that will give you a good idea of what went into it.
One of the richest sources of research came from the personal writings of pioneers, settlers, cattlemen and other immigrants who wrote of their adventures and experiences in a new land. Many of those books were published privately and were found in restricted Southwest research collections, on the shelves of small, rural, volunteer-run libraries, or in bookstores that specialized in rare and collectable Western literature and history. They were treasures that helped me bring the world of HARD COUNTRY to life.
BOOKGASM: Did you come across anything in particular that surprised you?
MCGARRITY: Exploring different versions of historical events sometimes raised questions about what really happened. The recollections of different historical figures didn't always jibe. It made me more and more willing to question "official" history written by the academics.
Or occasionally, I'd find a strand in some primary source material that raised suspicions about certain aspects of motivation apparently overlooked in other reference materials. It made for some interesting hours speculating about what the truth of the matter might have been. What I came away with was the rock-solid belief that the Western code of standing by a friend no matter what almost always trumped truth.
BOOKGASM: And I'm guessing that being a former deputy sheriff and investigator yourself had to be a big help.
MCGARRITY: They do so mightily. Accuracy and authenticity are vital to good storytelling; otherwise readers get easily pulled right out of the book. I spent a quarter of a century working in the field of criminal justice in one capacity or another and I've often said it served as an apprenticeship for my career as a writer.
With HARD COUNTRY, the challenge was learning and integrating what law enforcement in the Southwest was like a hundred or more years ago. That meant gaining insight into the cultural mindset as to how people viewed the law and justice on the frontier. I learned very quickly that friendship meant more than the rule of law, that most folks were law abiding and civil, and the true test of a man's character was his trustworthiness.
BOOKGASM: Why do you think Old West is so important to our American history?
MCGARRITY: Rugged individualism, self-reliance, survival, courage, and resilience played an important part in the expansion of the country. Those traits are now part of an idealized version of whom and what we are, whether true or false. It's part of a modern mythology.
I also think that physical strength and mental toughness were absolute necessities back in the pre-industrial, agrarian world of the great Southwest. We're a much softer society now. Perhaps we still unconsciously yearn for an identity more directly connected to the land and the rewards of hard, physical work.
BOOKGASM: With the Coen brothers remaking TRUE GRIT into a huge hit, and the FX series JUSTIFIED enjoying big ratings and awards, the Western genre appears to be experiencing a resurgence. Do you agree?
MCGARRITY: The Western contains all the stuff of legend and fable about the human drama that holds our interest. The popularity of the genre may ebb and flow but it will live on for generations to come. Right now, the Western is on the upswing, I think, because we need reassuring reminders of something heroic and larger than ourselves, especially in a time when our wars never seem to end, the influence of the rich and powerful never seems to wane, and the vast majority of our citizenry is protected from mandatory national service and sacrifice.
BOOKGASM: What's next for the rest of the trilogy?
MCGARRITY: One thing I learned from writing HARD COUNTRY is facing the difficulty of deciding what has to be left out of the rest of the Kerney family saga. There is simply too much local, national and international history that impacts the 50-year span from 1920 to the 1970 that I can't possibly get it all in.
There will be key events that affect the Kerneys: drought, the Great Depression, the arrival of nesters, World War II, the government seizure of the Tularosa, the search for Spanish riches on the Tularosa, and finally, Vietnam. Throughout it all, the Kerney clan will continue to face hardship, strife and family conflicts, suffer personal losses, and perhaps find love in a world rapidly changing around them.