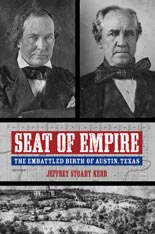 In his third book on the history of the city that keeps the Lone Star State weird, SEAT OF EMPIRE: THE EMBATTLED BIRTH OF AUSTIN, TEXAS, author Jeffrey Stuart Kerr focuses specifically on its colorful founding. Learn more in this interview with Kerr, an Austinite himself.
BOOKGASM: SEAT OF EMPIRE is your third book about the history of Austin, Texas. Why explore this subject?
KERR: I heard a story about Mirabeau Lamar shooting a buffalo at what is now 8th and Congress in Austin in 1838. I went down to that intersection and tried to imagine how the landscape looked in those days. As I stood there watching traffic I realized that the camera was invented about the time of Austin's founding.
Curiosity took me to the Austin History Center, where I found photographs of the city as far back as 1850. I began visiting some of the sites depicted and taking my own photographs for comparison. One night around the family dinner table, as I attempted to describe what I had found to my wife and a couple of bored teenagers, my son blurted out, "Well, Dad, why don't you just write a book?" So I did!
BOOKGASM: And you self-published it?
KERR: Yes. My agent, Kathleen Niendorff, suggested self-publication as the quickest way of getting the book to readers. I was nervous about the initial up-front cost, but I regained my investment in about six months. Since the book's 2004 release, I have sold about 7,500 copies. I'm also proud to tell you that AUSTIN, TEXAS THEN AND NOW became a finalist for the Writers League of Texas Book Award.
BOOKGASM: After that, how did you decide on a follow-up?
KERR: I had the idea of writing a history about the founding of Austin as the capital of the Republic of Texas. During my research, I encountered a number of anecdotes that, while interesting, were not crucial to the founding story. I showed them to my agent, who had just been appointed director of Waterloo Press, the publishing arm of the Austin History Center Association. She expressed interest in publishing these stories through Waterloo. The result was THE REPUBLIC OF AUSTIN. The initial print run of a thousand copies sold out within a few months. It has been reprinted twice since then.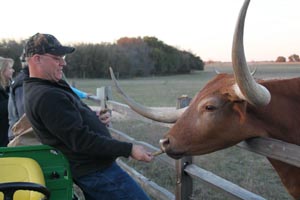 BOOKGASM: What's your favorite story from that one?
KERR: That would have to be the tale of poor Josiah Wilbarger, who in 1883 was scalped and left for dead by Indians in what is now a park across the street from the Mueller Airport development in east Austin. During the night he received a vision of his sister telling him to take heart and wait for the help that would come the next day.
Meanwhile, Sarah Hornsby, a neighbor of Wilbarger's, dreamed that Josiah was injured and needed help. She rousted her husband Reuben out of bed. He thought she was crazy to think that Josiah hadn't been killed in the attack they had heard about from survivors but evidently knew better than to argue with his wife about a dream! He and several other men rode out, found Josiah, and brought him back to the Hornsby place.
BOOKGASM: Did he live?
KERR: He did indeed. I like to imagine the conversation between Sarah and Reuben upon Reuben's arrival with Josiah. I would guess that the phrase "I told you so" was used more than once! Anyway, Sarah nursed Josiah back to health and he lived another 12 years.
His story spread and by the time of Austin's construction in 1839, he was enough of a celebrity that everyone traveling to the new city stopped at the Wilbarger's to hear him tell the tale. The best part, though, is the letter the family received from Missouri about two months after the attack. Josiah's sister, the one he had seen in the woods while waiting for help to arrive, had died. Was it her ghost that appeared to him? Maybe so!
BOOKGASM: About the third book, SEAT OF EMPIRE, what does the title mean exactly?
KERR: After Mirabeau Lamar shot his trophy buffalo at the future intersection of 8th and Congress, he and his fellow hunters gathered at the top of the hill on which the modern Capitol building sits. Lamar, who was to become President of the Republic in a few weeks, had dreams of extending Texas all the way to the Pacific Ocean. As he gazed from the hilltop at the beautiful Colorado River valley below him he supposedly announced, "This should be the seat of future empire!"
BOOKGASM: In your opinion, what makes the story of Austin's founding so compelling?
KERR: The fight over where to put a permanent Texas capital triggered one of the first great political battles in the Republic's history. On one side were Sam Houston and his followers, who believed it best to place the seat of government in the eastern, more settled portion of the country. Mirabeau Lamar and his followers wanted it as far west as possible. They saw this not only as a way to encourage western expansion but also as a means of placing the capital in what would eventually be a more central location.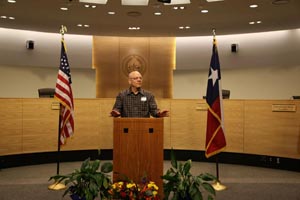 BOOKGASM: Did Lamar really believe that Texas would one day extend to the Pacific Ocean?
KERR: He saw it as a distinct possibility. The first step in his plan involved capturing the lucrative trade passing between the Mexican town of Santa Fe and the United States. These goods travelled overland from Santa Fe to St. Louis, a long, dangerous journey. In Lamar's optimistic view, goods could travel overland from Santa Fe to Austin, loaded on barges and floated down the Colorado to the Gulf, transferred to ships, and delivered to east coast American markets. Once Santa Fe merchants realized the greater profit to be made from what Lamar thought would be a shorter, safer journey, they would demand that New Mexico break away from Mexico and join the Republic of Texas.
BOOKGASM: Why didn't it work?
KERR: Every assumption that Lamar made turned out to be wrong. The overland trip from Austin to Santa Fe proved to be longer by several hundred miles than believed at the time. It was also dangerous. The Santa Fe Expedition that Lamar sent in 1841 nearly starved en route. Indians constantly harassed the caravan once it moved beyond territory controlled by Anglo-Texans. And, contrary to Lamar's belief of what would happen, the governor of New Mexico greeted the Texans not as liberators, but as invaders. The effort was a fiasco and did much to color Lamar's presidency as a complete failure.
BOOKGASM: What part does Sam Houston play in the city's start?
KERR: Although there were no organized political parties in Texas at the time, the two main camps were referred to as the Houston party and the anti-Houston party. Houston and Lamar disagreed on just about every significant political issue of the day. Lamar saw Houston as his main political obstacle to the achievement of his goals.
The two men were not only political, but personal enemies. Lamar detested Sam Houston, thinking him a lying, drunken reprobate. Houston saw Lamar as a self-righteous, incompetent dullard who was in over his head. Their feud spilled over to the general population. Few Anglo-Texans at the time admired both men.
In my view, Sam Houston was a political genius. He had that thick skin so crucial to a successful politician and, for the most part, was able to see personal attacks for what they were, an attempt to sway public opinion. Compared to many of his contemporaries, he was also the adult in the room who kept a calm head as others allowed emotions to influence their actions. On more than one occasion during his two presidencies, Houston squelched or deflected efforts to respond militarily to perceived insults from Mexico.
Lamar was more apt to yield to his impulses, convinced as he was of the purity of his motives. As proven by the Santa Fe fiasco, he was also prone to self-delusion and miscalculation. Of the two men, I therefore find Sam Houston's legacy to be more positive.
BOOKGASM: Who do you think your audience is for SEAT OF EMPIRE?
KERR: Austin's founding story should be of interest not only to Texans, but to anyone wishing to know more about the American West. Texas's role in influencing American history is, in my opinion, underrated. What if Santa Anna had won at San Jacinto? What if the Santa Fe Expedition had succeeded? What if Sam Houston had run for president of the United States, as he came close to doing?
SEAT OF EMPIRE not only tells an entertaining tale, but relates events that helped define how we live today. To understand the modern world, you have to know American history. To understand American history, you have to know Texas history. And to understand Texas history, you have to know the history of Austin. That's where SEAT OF EMPIRE fits in. I hope your readers and mine will agree.
Photos: Jeffrey Stuart Kerr