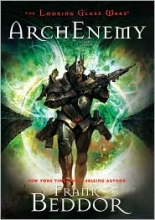 Since THE LOOKING GLASS WARS debuted in 2006, author Frank Beddor has gone down the rabbit hole several times since for his ALICE IN WONDERLAND-inspired fantasy series. The LGW trilogy recently concluded with ARCHENEMY, but the franchise lives on in spin-off graphic novels, such as the new HATTER M: MAD WITH WONDER — VOLUME TWO. The ever-busy Beddor (also a filmmaker; he produced THERE'S SOMETHING ABOUT MARY) talked with us about his series' genesis and future plans.
BOOKGASM: With ARCHENEMY wrapping up the trilogy, are you committed to keeping things at that, or can another set of adventures spring forth at some point?
BEDDOR: The HATTER M series continues with MAD WITH WONDER — VOLUME TWO, available now. I plan to complete a total of five HATTER M geo-graphic novels to document his 13 years searching our world for Alyss. I'm not sure if you are familiar with the Hatter M Institute for Paranormal Travel, but even as we speak, this group of radical cartographers and astral historians are working nonstop to piece together the arc of Hatter's travels.
Through the Institute's work and communiqués from readers around the world, new evidence of Wonderland's existence and effect on our world continues to mount, so you never really know where the portals will take you. Since the beginning of this journey, I have repeatedly uncovered lost and hidden evidence of Wonderland. It seems the more I write, the more I discover, which naturally leads to additional material to be written.
Through a series of fortunate discoveries, I released PRINCESS ALYSS OF WONDERLAND, which features the lost art and journals of Princess Alyss Heart while she was exiled here in our world. In turn, the information uncovered in these journals opened several fascinating pathways, which lead me to deduce Alyss was not the only princess to have been exiled; in fact, evidence suggests that there is actually a league of exiled princesses spread across our world right now.
BOOKGASM: To what do you attribute THE LOOKING GLASS WARS' success? There are too many fantasy series for young adults out there, so it's not all that easy to break through.
BEDDOR: Obviously, having ALICE IN WONDERLAND as the springboard into my series helped immeasurably in attracting curious readers. But that was really only applicable to the first book in the series. A lot of projects try to tag to something established, but don't enhance or enlarge the mythos — so there is a finite capacity and the projects eventually reach stasis.
With THE LOOKING GLASS WARS, I continually add to the mythos, so there is an ever-expanding universe to explore. Fans of ALICE IN WONDERLAND who first came to me looking for another take on Alice have stayed and championed the LGW and HATTER M for the enrichment it brought to their childhood notions of Wonderland.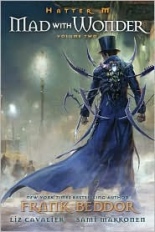 BOOKGASM: Why tell more stories of HATTER M through graphic novels? What makes them better suited in the illustrated format?
BEDDOR: As readers know from THE LOOKING GLASS WARS, Lewis Carroll took it upon himself to change everything Alyss had told him about Wonderland, including the identity of Royal Bodyguard Hatter Madigan. In fact, Hatter Madigan was an expert blades man, a ranking High Cut of the Wonderland Millinery and not the tea-guzzling madman of Lewis Carroll lit.
Coming from Wonderland, Hatter must learn to navigate our world. But while he begins his search intent upon the single purpose of finding the lost princess, he gradually comes to discover that his travels have a purpose above and beyond this initial motivation, and that purpose is to protect and serve Imagination. As revealed in THE LOOKING GLASS WARS, Wonderland's great gift to our world is Imagination.
As a traveler from the source of all wonder, Hatter will continually find himself facing off against those who wish to either suppress Wonderland's gift or channel the flipside of Dark Imagination for their own diabolical use. This discovery and service to humanity will act upon Hatter and his own humanity as he continues to develop throughout the series.
HATTER M as a graphic novel just seemed like a necessary, organic progression from all of the work I did with artists on THE LOOKING GLASS WARS. In LGW book 1, Hatter M was introduced, but his story was only explored for about four chapters. There was so much more to tell about his mad search for Alyss that I realized he needed his own forum, and graphic novels would allow this dark, compelling, more mature story to be told best.
BOOKGASM: When you first set out to tell these stories, why did you choose to go for younger audiences rather than adults?
BEDDOR: I was following the trajectory of Lewis Carroll's ALICE IN WONDERLAND. I saw the LGW series being written for children, but able to capture the imaginations of adults as well. Additionally, since I was finally writing the story that Alyss Heart had told Lewis Carroll and begged him to write, I knew it should be for YA readers since it was "Alyss' book."
BOOKGASM: I know you've been trying to launch a LOOKING GLASS WARS movie for quite some time. Does Tim Burton's upcoming ALICE IN WONDERLAND film put a crimp in those plans?
BEDDOR: Tim Burton's movie is coming out in the next few months, but the LGW movie won't be in theaters for three years, so I don't see it as a crimp in my plans. If anything, I should buy Tim a roller coaster for keeping Lewis Carroll's myth of Wonderland front and center in the pop consciousness. The film can remind everyone just what Alyss had to put up with!
BOOKGASM: What's next for you, writing-wise?
BEDDOR: Well, as I mentioned, I do have three more volumes of HATTER M to write to complete the series. Additionally, I am working on the LOOKING GLASS WARS screenplay, as well as new information that has recently come to me with regard to Redd possibly having an heir and Hatter's school records from his boyhood days as a cadet at Wonderland's Millinery. —Rod Lott
OTHER RECENT BOOKGASM AUTHOR INTERVIEWS:
• Q&A with I HOPE THEY SERVE BEER IN HELL's Tucker Max
• Q&A with THE LOST THRONE's Chris Kuzneski
• Q&A with TIME OF THE RANGERS' Mike Cox
OTHER BOOKGASM REVIEWS OF THIS AUTHOR:
• ARCHENEMY by Frank Beddor
• HATTER M: THE LOOKING GLASS WARS – VOL. 1 by Frank Beddor and Ben Templesmith
• HATTER M: MAD WITH WONDER — VOLUME TWO by Frank Beddor and Liz Cavalier
• THE LOOKING GLASS WARS by Frank Beddor
• SEEING REDD by Frank Beddor