One of the newest names in adventure thrillers is David Angsten, but we at BOOKGASM think his profile is too low for such a high talent. In DARK GOLD and now the new NIGHT OF THE FURIES, he's already carved a noticeable chunk into the pop-lit landscape. Here, he discusses the genesis and inspiration of his mythic tales of travel and terror.
BOOKGASM: Legends figure heavily into your work, from urban to mythological. What is it about these that you find so alluring as a writer?
ANGSTEN: These myths are strange and mysterious, but also feel somehow familiar and true. There's something at the core of them you recognize intuitively, but can't quite put your finger on. The story circles this hidden center, mesmerizing you, but the essence, the truth, remains transcendent and invisible. You could give it a name, but it would only be a word, like the story, like the finger pointing at the moon. Looking for the inner truth of a myth is like looking for the inner essence of a diamond: You only catch it in flashes of insight.
BOOKGASM: Your plots are high-concept, yet your skill level in writing sits on a much higher plane of intelligence. Who do you consider your audience to be? Someone looking for a cheap thrill? A smart adventure? A little of both?
ANGSTEN: If a thrill is cheap, it's usually too skimpy to be genuinely thrilling. And if an adventure isn't smart, it's dumb. I never understood why there had to be this choice between "literary" vs. "genre." It's a dichotomy foisted on a gullible public by snooty academics and newspaper critics, many of them frustrated writers. Too many authors of "literary" fiction cannot tell a story, and too many genre writers lack any artistic sense. The literary writer says she can't be bothered with something as mundane as a plot, and the genre writer insists nothing matters but his story. There's good reason for each to make excuses: It's difficult to construct a proper story, and it's equally difficult to write it well. I think you have to try to do both.
Look at the original "novel": Homer's ODYSSEY. Great action-adventure story, thrillingly plotted, and all told with beautifully poetic imagery and language. Shakespeare, same thing. He loved the cries for blood from the crowd, and the hearty guffaws from the groundlings, but he also liked the soft gasp of pleasure from the queen.
BOOKGASM: With novels set in Mexico and now Greece, I have to ask if you an adventurer/traveler yourself?
ANGSTEN: When I was a kid, every spring my father used to drive us up to go fishing in the wilderness of Canada. We'd travel as far north as the roads would take us. Then the mosquitoes would pick us up and carry us even farther. In college, I climbed the peak of the Grand Teton, and I hitchhiked back roads through France and Spain. I've scuba dived in the Caribbean and off the Pacific Coast, and for a while, I shot documentaries in various parts of the world. But in no way would I consider myself in the league of adventurers like Jack and Dan Duran. Jack is my alter ego, and Dan is my wandering shadow. They go places and take risks I would never dare myself.
So I'm no bullfighting Ernest Hemingway, but I'm not a housebound Emily Dickinson, either — though she certainly wrote incredible poetry. James Michener — no slouch when it came to traveling — said the really great writers were the ones like Emily Brontë who sit in a room and write "out of their limited experience and unlimited imagination." The work of the two Emilys proves that talent trumps travel.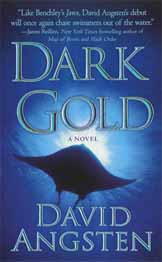 BOOKGASM: Any particular authors or thrillers that inform or inspire your work?

ANGSTEN: The authors that inspire me are the ones I read as a kid: Edgar Allan Poe, Arthur Conan Doyle, Bram Stoker, H.G. Wells, Ambrose Bierce. I think the thing they all have in common is a fascination with consciousness and the nature of "reality." Nabokov — my favorite writer as an adult — said "reality" is one of the few words that mean nothing without quotes.
BOOKGASM: What can we expect from the third book of the trilogy? And beyond that?
ANGSTEN: Jack is heading east into Asia. His brother has disappeared again — searching for soma, the psychoactive plant that inspired the Sanskrit Vedas of ancient India, the oldest sacred texts in the world. It leads the brothers — and a character from their past — to the source of the legend of Shambhala, the utopian kingdom of Tibetan Buddhism.
In NIGHT OF THE FURIES, Jack confronts the extreme of the Dionysian — the chaos of absolute freedom. In the final part of the trilogy, SHADOWS OF SHAMBHALA, he faces the opposite end of the spectrum — the Apollonian impulse toward conformity and order — in the form of Islamofascists. Struggling between these two opposites, Jack will reach for some sort of synthesis, and hopefully bring the trilogy to a thrilling and elegant end.
What's beyond that lies off the map for the moment. I'll have to head out there on my next fishing trip. As the boat captain warned in DARK GOLD, "There be dragons." —Rod Lott
OTHER RECENT BOOKGASM AUTHOR INTERVIEWS:
• Q&A with HALLOWEEN AND OTHER SEASONS' Al Sarrantonio
• Q&A with MY BRAIN IS HANGING UPSIDE DOWN's David Heatley
• Q&A with VAMPIRE ZERO's David Wellington
OTHER BOOKGASM REVIEWS OF THIS AUTHOR:
• DARK GOLD by David Angsten
• NIGHT OF THE FURIES by David Angsten