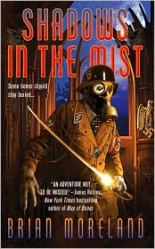 Most self-published books are self-published for a reason: Because no one else wants them. Brian Moreland's SHADOWS IN THE MIST is an exception. After a successful run on its own in 2006, the occult horror thriller got a second chance last fall when Berkley issued it as a paperback original. Moreland tells BOOKGASM how the book that sits on the shelves today got there, and the changes it encountered along the way.
BOOKGASM: Not a ton of novels get a second chance at being published by the majors after being published by the minors. What is it about SHADOWS IN THE MIST that made it worthy?

MORELAND: I think it was a combination of hard work, persistence and luck. I had written a World War II thriller about the Nazis and the occult that I was passionate about getting published. After years of rejections from literary agents, I decided to put the destiny of my writing career into my own hands.
So I originally self-published my novel. I put a lot of effort into producing a book that would compete in the marketplace. I hired a quality editor to help polish my writing and work out any issues with the plot. I hired a top-notch book cover designer and an award-winning illustrator, Les Edwards, to paint the cover. Together, we produced a book that bookstores would stock.
My next challenge was that I was an unknown author. So I was very persistent about getting the book out to reviewers to expand my audience. I did a small book tour and hired a publicist to get me into newspapers. Shortly after I launched the book, SHADOWS IN THE MIST hit #1 on Amazon.com's "Bestselling Thrillers" list. At that time, THE DA VINCI CODE was #4. I believe that was due to heavy marketing and an eye-catching cover. I entered the book in the 2007 Independent Publisher Book Awards. It won a gold medal for Best Horror Novel.
Since the novel is set in WWII Europe, I decided to see if I could sell the book to foreign publishers. I put it on display at the International Book Fair in Frankfurt, Germany. A Czech publisher from Prague showed some interest, so I contacted a foreign rights agent in New York. She agreed to represent my book. Within a few months, my agent told me that an editor at Berkley/Penguin was looking for a fresh horror novel and happened to love WWII novels. Mine combines both war and supernatural suspense, much like F. Paul Wilson's THE KEEP.
Within less than a year of self-publishing, I was offered a book deal from a major house. I had finally achieved a goal that I had set when I first decided to write a novel. I never gave up on my dream. When you're an unknown author, there's a lot of work that goes into positioning your book in front of the right people, but I believe with enough persistence, you're eventually bound to meet up with Lady Luck.
BOOKGASM: Why did you go the independent route at first? Why not go directly to Berkley
MORELAND: Large publishers like Berkley will only look at manuscripts submitted by literary agents. I spent years trying to get agents to represent me. I submitted query letters and then played the waiting game, often waiting four months before I finally got a rejection letter. I could wallpaper a bathroom with the number of rejection letters I received. Most of these agents never even read a page of my manuscript. They just read my query letter and said, "We're going to have to pass on this book. Best of luck." Without an agent, I couldn't even get my novel in the door of a major house. I got so frustrated with the publishing system that I began to seek out other avenues.
I've always been an entrepreneur and a bit stubborn, so when someone won't help me accomplish my goals, I look for ways to do it myself. I began to research self-publishing. I learned that bestselling author Christopher Paolini self-published ERAGON, and it built up a huge following, as did James Redfield, who wrote THE CELESTINE PROPHECY. John Grisham, before he became a mega-seller, sold his first novel, A TIME TO KILL, out of the trunk of his car.
In Dallas, where I live, author Will Clarke sold his self-published novel LORD VISHNU'S LOVE HANDLES to a major publisher and got a movie deal to boot. Clarke told me how easy it was to set up my book as a print-on-demand. I did this through Lightning Source, a book printer who is owned by Ingram, the wholesaler for all bookstores. When I finally developed a good model for self-publishing, I decided to try the independent route. I knew if I could get the book successful on my own that eventually a major house like Berkley would offer me a deal. The gamble paid off.
BOOKGASM: You said the new paperback is not the same as the earlier version. What precipitated the edits?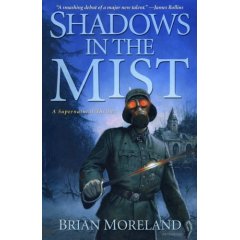 MORELAND: One of the benefits of self-publishing is that an author can test the market and get feedback from reviewers and readers. Most everyone loved the occult mystery, all the characters in Lt. Jack Chambers' platoon, and praised the second half of the novel. But the book still had some sticking points. When you reviewed my book here at BOOKGASM, you were spot-on in your critique that some of the setup of the WWII scenes caused the plot to lag in places. When I signed on with Berkley, I was assigned an editor to take the novel through another stage of editing. She pointed out the same scenes that you had. When enough people point out the same issues with your plot, you see clearly that those scenes need to go.
BOOKGASM: Without getting into specifics of plot detail, what's different? 


MORELAND: The new version is much tighter. My editor and I trimmed quite a bit of the setup so that the plot is constantly moving. Lt. Jack Chambers and his platoon get their mission, enter the foggy German forest, and then all hell starts breaking loose. We actually made very few changes on the back half of the book.
BOOKGASM: How hard was it for you to make those edits? 


MORELAND: It was easy. My editor mailed me a printed copy that she had line-edited. A paragraph here, a page there. All I had to do was approve the edit or write a note to keep it. I respected her opinion, and I was looking for ways to make this novel even tighter.
BOOKGASM: More importantly, do you think the book is now better for it?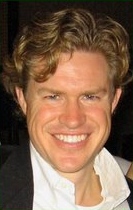 MORELAND: Absolutely. The hardest part of editing is for a writer to let go of scenes that he loves. I did have an emotional attachment to a few passages. We cut a heavy dialogue scene between the platoon that I thought offered some comic relief and gave more background about each of the supporting characters. But when I pulled back and looked at the book as a whole, I agreed that certain scenes and passages slowed down the plot. My ultimate goal was to keep readers on the edge of their seat, gripping the book with white knuckles. With this updated book, reviewers and fans have been writing rave reviews.
BOOKGASM: What's next for you?
MORELAND: I'm currently writing my next novel, DEAD OF WINTER. This one is another cross-genre novel that mixes history, horror, romance and the detective novel. The story takes place in the late 1800s in Montreal and the wilderness of Ontario. Something in the woods is stalking an isolated fur-trading fort and spreading a vicious disease. It's based on a Native Canadian legend and a horrifying mystery that mortified the Jesuit missionaries. At this moment, I don't have a publishing date yet, because I'm still writing the second half of the book. I can't wait to find out how this novel is going to end.
In the meantime, I'm busy promoting my first novel. I have a group on Facebook called "Horror SHADOWS IN THE MIST" that is growing daily, and I enjoy interacting with readers and writers. I write a blog, ADVENTURES IN WRITING, where I share my experiences. I've also expanded my career to coaching writers to be successful. And my most exciting venture is I'm developing writer's retreats that I will lead in Costa Rica and Hawaii.
This is an exciting time to be a writer. With so many ways to reach readers, now more than ever, a writer can steer the destiny of his career. —Rod Lott
OTHER RECENT BOOKGASM AUTHOR INTERVIEWS:
• Q&A with CAPITOL REFLECTIONS' Jonathan Javitt
• Q&A with SKELETON CREEK's Patrick Carman
• Q&A with Underland Press' Victoria Blake