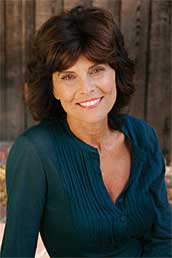 People always seemed to be surprised when they hear that an actor has written a novel, as if a talent in one field precludes having one in another. Personally, I'm far more surprised that more actors don't try their hand at fiction, considering how the nature of their craft allows them to get into the heads of characters whose behavior and attitudes are often anathema to their own.
That and they often have a lot of free time on their hands.
Still, despite this there is an annoying tendency to treat novels written by actors as amusing novelties rather than as serious works of genuine merit. Hopefully the efforts of celebrated cult movie actress Adrienne Barbeau will go some way toward changing that.
Getting her literary start with her entertaining memoir, THERE ARE WORSE THINGS I COULD DO, Barbeau found herself encouraged to try her hand at fiction and the two resulting novels, VAMPYRES OF HOLLYWOOD and LOVE BITES, aren't merely good for having been written by a celebrity, they're as good as anything else you'll find on bookshelves written by some homely author who never guest-starred on THE LOVE BOAT or made sweet cinematic love to a SWAMP THING.
Ms. Barbeau was kind enough to (patiently) answer some questions I sent to her via e-mail. I had the option of talking to her on the phone, but feared that such an interaction might devolve into a very pathetic recreation of THE CHRIS FARLEY SHOW sketch. Turns out, with one question at least, this pretty much happened anyway.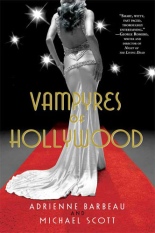 BOOKGASM: Your first novel, VAMPYRES OF HOLLYWOOD, was a collaboration between yourself and Irish writer Michael Scott (THE SORCERESS). How did the two of you end up working together and what made you decide to tackle the sequel, LOVE BITES, as a solo project?
BARBEAU: Michael approached me after WORSE THINGS made the L.A. Times bestseller list. He has a background in sales and he told me he thought I'd written the wrong book, that I should write a horror novel for all the fans of the many horror films I've done. I'd never thought about it before and I expressed some hesitation about writing a novel. I knew I could write the dialogue and the characters, but I wasn't so sure about plot. He said he'd do it with me, and VAMPRYES OF HOLLYWOOD was born. When time came to write the second book in the series, Michael was busy with other commitments, so I took it on by myself.
BOOKGASM: Both of your novels "star" Ovsanna Moore, the 500-year-old "Chatelaine" of Los Angeles, who moonlights as a cinematic "scream queen" and CEO of Anticipation Studios. Which do you think makes her more fantastic: her ability to turn into a dragon or her ability (as an actress of a "certain age") to develop her own film projects?
BARBEAU: Lot harder to get a movie made than morph into a dragon. You haven't seen VAMPYRES OF HOLLYWOOD onscreen yet, have you?
BOOKGASM: The title of your first novel refers to a group of Hollywood legends who were all forced to fake their own deaths to avoid revealing their true blood-sucking nature. What made you choose those specific icons and why do you think you found yourself drawing more from the 1920s and '30s than other eras?
BARBEAU: I did as much research as I could to select film icons whose lives (and deaths) could satisfy the logic of the vampire existence as we had created it. I don't remember now if Michael chose some of them, but I do remember sitting at my computer in some hotel when I was working on location and scouring the Internet for celebrities who met my criteria. And most of them had to have been successful in the '20s and '30s because they are all the elders of the clan.
BOOKGASM: With her dark curly hair, Armenian heritage, preference for calf-length boots and natural curves it's hard not to notice a distinct physical resemblance between Ovsanna and the sexy star of such films as CANNIBAL WOMEN IN THE AVOCADO JUNGLE OF DEATH and BURIAL OF THE RATS. Coincidence? Seriously, though, as wildly different as you and your protagonist are in real life, is it difficult not to picture yourself when you're writing about her?
BARBEAU: Well, they say write what you know. There's definitely a lot of me in Ovsanna. And actually, I'd like to think Ovsanna and I aren't that wildly different. I'd love to think that I have half her fearlessness and at least some of her strength. If only I had her skin.
BOOKGASM: One of the major plot threads of LOVE BITES is whether or not Ovsanna will ever be able to physically consummate her nascent relationship with Beverly Hills police detective Peter King, so when it does finally happen, it really happens. Did you look forward to writing this sequence or dread it? Did you have to push yourself to go farther or hold yourself back from going too far?
BARBEAU: You know, I honestly don't remember. I think I worried a bit about it before I got to it, and I remember being much more aware of how other authors I read handled those kinds of "culmination" scenes. I knew what I didn't want on the page, that's for sure. And once I got into it, it just sort of came naturally, if you'll pardon the pun.
BOOKGASM: Both of your novels are filled with references to your friends and family. Did you choose to surprise them or warn them ahead time? Have you heard any feedback from them? I'm especially curious to know how a certain music composer living in Tokyo feels about his mom using her protagonist to shamelessly brag about his talent or how the star of NIGHT OF THE CREEPS feels about his unexpected (but delightful) cameo in LOVE BITES.
BARBEAU: I did call Tom (Atkins) to tell him I wanted to use him as himself in LOVE BITES. And when I'd written his scenes, I sent them to him to make sure he didn't mind. I hope he got a kick out of it; I can't wait to hear what his fans say to him when they read it. And as for Cody (Carpenter), well, he read the first draft for me and he never objected, so I guess he wasn't too embarrassed. But hey, that's what I learned about writing fiction: You can tell any tales you want, and boy, is that fun.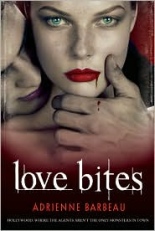 BOOKGASM: How much do you know what is going to happen in your novels when you begin them? Do you map out every plot twist or do you allow yourself to be surprised?
BARBEAU: I'm still surprised. I go back and read what I've written and there's a lot of it that I would swear didn't come from my fingers on the keys; I don't have any recollection of writing it. With LOVE BITES, I knew how I wanted to begin and I knew the relationships I wanted to explore and I knew where I needed to end up. I plotted sections of it at a time and then my outline kept changing as the logic of my characters demanded following. Logic is very important to me.
BOOKGASM: Both of the novels are written as a "he said/she said," alternating between Ovsanna and Peter King. Do you find writing in Peter's male voice to be more unnatural than writing in Ovsanna's, or do you even notice a difference at all?
BARBEAU: I think once I had a strong sense of who I wanted Peter to be, his voice came pretty easily. That's probably where my acting chops come in handy; I've spent most of my life dealing with dialogue.
BOOKGASM: Despite the conventional horror trappings of your novels, they seem to have much more in common with the thriller/crime novels both of your protagonists enjoy reading. Which authors would you name as your most direct literary influences?
BARBEAU: When I started on VAMPYRES OF HOLLYWOOD, I'd only read one vampire novel in my life: FEVRE DREAM by George R.R. Martin. I am a series thriller/crime novel junkie. I don't know if the authors I mention in LOVE BITES are my literary influences, but they are my idols.
If I could write like John Sandford or Lee Child or Randy Wayne White, or Robert B. Parker, Robert Crais, Alex Berenson … well, the list goes on and on, and if I could write one iota as well as one of them, I'd never act another day in my life. Uh … maybe that's a bit of an exaggeration, but I'd damn well be writing a lot more!
BOOKGASM: LOVE BITES features a moment where we see Orson Welles disguised as a chauffeur singing the theme song to STAR WARS. That isn't a question, but it was awesome and I wanted to point it out.
BARBEAU: Well, thank you! I honestly don't know how or why that came out of me, but there was no question in my mind that that's what he'd be singing in that situation. It wasn't a case of thinking "Oh, what song would work here?" I just heard him singing that theme as I saw him driving up the road.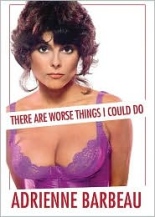 BOOKGASM: The general consensus at BOOKGASM is that your memoir has what can be considered one of the greatest covers in publishing history. So much so that I briefly questioned purchasing the book because I feared the attractive young woman behind the register might assume I was doing so for decidedly unwholesome reasons. Yet that same book features a chapter where you question your status as a sex symbol. Seriously?
BARBEAU: Yep. Well, I explain it all in the book. I mean, come on, until CARNIVALE in 2005, the only love scene I'd ever done on film was with a huge, green monster in the middle of a swamp. I guess it all comes down to your definition of a sex symbol.—Allan Mott
Photo by Pamela Springsteen