Author Joshua Jabcuga delves into horror, where every Friday is Friday the 13th!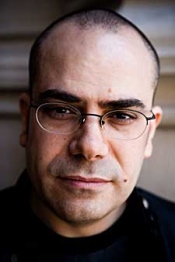 Bob Fingerman's novel PARIAH was given the prestigious honor of being named "Zombie Book of the Year" in the 2010 'Cuga's Cuts year-end awards. I have no doubt that that was the highlight of his year. PARIAH also received quite a bit of buzz from other places as diverse as ENTERTAINMENT WEEKLY (an A- review), to FANGORIA ("Book of the Month"), as well as blurbs from Robert Kirkman, Brian Keene, Jonathan Lethem, Trey Parker and Augusten Burroughs.
BOOKGASM: The success of PARIAH clearly demonstrates the crossover appeal of your writing. You couldn't ask for a better response from critics and your peers. Now that the dust has settled, do you think the book has found its audience?
FINGERMAN: After that wonderful buildup, I hate to sound negative, but no. The praise it's gotten is wonderful, but I feel PARIAH could and should reach a much larger audience than it has, thus far. I'm sure every author feels that way about his or her work, but publishing is such a weird state of affairs at the moment, it's hard to figure out how to find your audience or, more to the point, have them find you.
That said, it's not doing badly. I don't expect to sell Stephen King numbers, but I would like a more robust readership. I think that opportunity is coming, though, as the mass-market paperback is coming out on June 28, so that will put it in a lot more outlets at a cheaper price. Hopefully, that will encourage more people to pick it up and read it. I need bigger numbers so I can do the sequels, which I'm dying to do.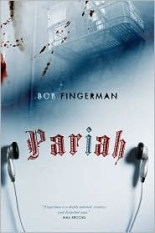 BOOKGASM: Time is definitely on your side, Bob. Not to sound cliché, but zombies are hotter than ever. I believe much of this has to do with AMC airing THE WALKING DEAD. It's as if the mainstream finally "gets" it. If I had to pinpoint when this "new wave" started, at least in terms of publishing, I'd have to give credit to one of the relatively newer masters of horror, Brian Keene, and the essential THE RISING. In my opinion, that's basically the launching pad.
FINGERMAN: It's always hard to pinpoint that kind of thing. I read and thoroughly enjoyed Keene's zombie offerings, as well as Dave Wellington's. Theirs are more magicky takes on the subject matter. More metaphysical and paranormal. Ancient spirits guiding the undead. I thought that was interesting as it's completely at odds with what I do.
One of the reasons I've always responded favorably to David Cronenberg's work was he always went for a more scientific-type approach. That's not to say the "science" wasn't totally sketchy, but it made the horror easier to swallow for me. That's why as much as I admire Stephen King's work, the presence of the divine always ruins it a bit. God can always come to the rescue and the devil or his evil lackeys are almost always to blame. Cronenberg really nailed the "disease of the cell" approach in modern horror.
I got there a little before the curve, but zombies in the late '90s weren't hot. PARIAH is actually a sequel, pretty much, to the zombie graphic novel I wrote in 1997 for Dark Horse Comics, WINTER'S DREGS, for their abortive ZOMBIE WORLD series. PARIAH was pitched first, but the editor wanted a prequel, and by the time I was ready to do PARIAH, the series was cancelled.
Just was well. It worked better as a novel. Much better.
BOOKGASM: You worked for Harvey Kurtzman on NUTS!, Al Goldstein's SCREW, HEAVY METAL, NATIONAL LAMPOON and HIGH TIMES, just to name a few. I'd imagine that provided some invaluable lessons for you as a young writer in the trenches. And it is an amazing portfolio and a snapshot at a different era, really. Do you look back at those experiences fondly?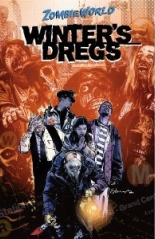 FINGERMAN: I'm actually planning on writing a straight literary novel based on my experiences at SCREW. That was quite an office. I'll tell you, in retrospect, I'm glad that I worked for all those places, especially the seedier ones. They had color. At the time, I wasn't so happy about it. I mean, I liked the people I worked with, but those weren't exactly tony employers to add to your CV or portfolio.
Some classier clientele would have been sweet, but you can't put a price on the outsized characters I met over the years at those joints. But those places paid my bills. I wish I'd had my skill set where it is now to work for LAMPOON. I revere that magazine, but only did one job for it and it wasn't really up to snuff. Still, I tried.
BOOKGASM: I was at a Joe Hill reading — actually, it was his first Comic-Con "panel" ever — and someone was looking for advice on writing. If I remember correctly, I believe Joe said he wrote about a million words before he felt he found his voice. He certainly paid his dues, though from what I understand, writing runs in that family — wink. At what point do you think you found your voice, and who were some of your influences?
FINGERMAN: I think I've always had a voice, for better or worse. I have what you might call a "strong personality." I've always had a thing for words, since way back. But as to my voice, I think there's a through line in all my work. Like there's "that Barton Fink feeling," I think there's a Bob Fingerman feeling, too. Maybe it's the initials.
That said, sure I've got influences: Terry Southern, Bruce Jay Friedman, Donald Westlake, Phil Dick, to go back a ways. Chuck Palahniuk is a contemporary influence. But my innate narcissism calls the shots and dictates how I put it down on paper. I don't want to imitate anyone. For better or worse, I want it to sound like me.
There are writers out there who tell a brisk story — really propulsive plotters, that kind of thing — but they don't have much style. They are all about telling the story and not into creating crafty prose. I like tasty sentences. Though I've kind of moved on from Martin Amis, he crafted some beautiful prose. That seeped in.
BOOKGASM: I mentioned Brian Keene earlier. Last Thursday, he launched a campaign for writers, retailers and readers to boycott Dorchester/Leisure. Unfortunately, I have friends affected by this whole situation, and maybe you do, too. It's a raw deal and really shows the underbelly of publishing. Would you care to comment or offer some words of encouragement to those writers?
FINGERMAN: It sounds feeble, but of course, I totally feel for those writers. It's a lousy predicament they're in. And it looks, at least from an outsider's point of view, like Dorchester is being less than forthright when it comes to how they're handling their situation.
My friend Laura, also a writer, pointed out some of the language Dorchester's used — "In bankruptcy, but not actually filing for bankruptcy" — and decoded that as meaning reorganizing debt with no protection for creditors. So, yeah, my sympathies, big time. It's a precarious time to be doing anything creative and expecting to make a living at it.
BOOKGASM: Last but not least: Recommend a good book to me.
FINGERMAN: Just read a couple by R. Scott Bakker that I really enjoyed: DISCIPLE OF THE DOG and NEUROPATH. Also Walter Greatshell's latest, MAD SKILLS, which was really fun. Currently reading I KNOW I AM, BUT WHAT ARE YOU? by Samantha Bee. Very funny stuff.
Oops, that's not genre. Is that a no-no? And that was more than one. Fuck it, I'm a rebel.
Coming up in 'Cuga's Cuts: SHOCK TOTEM! —Joshua Jabcuga