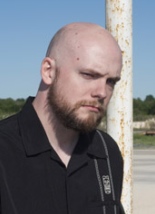 Author Joshua Jabcuga delves into horror, where every Friday is Friday the 13th!
Nate Southard is the author of RED SKY, now available for pre-order from Thunderstorm Books. It's the best novel I've read this year.
BOOKGASM: Elements of your soon-to-be-released debut novel, RED SKY, reminded me of early Jack Ketchum, visceral and gritty. It's also very cinematic. If I had to describe it, I might say it's THE TEXAS CHAINSAW MASSACRE if Ketchum had directed it, and not just because of the setting. It's also got a dash of Sam Peckinpah tossed in for good measure. How much of your writing is influenced by where you live?
SOUTHARD: Quite a bit, actually. I think it's pretty normal for a writer to be influenced by their location. For me, it comes down to small-town Indiana, where I was born, and this romanticized idea of Texas that keeps lingering in my head.
Not romanticized in a "cowboys on the open range" sort of way, but just the landscape and the roads that go on forever. There's some amazing depth to the Texas landscape. The place is big enough to be a country, and it's just as dynamic. I can travel 20 minutes outside Austin's sprawl and find these tiny little one-stop towns that time forgot, right on the edge-of-the-hill country. It's scenery that's really ripe for storytelling.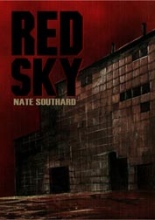 BOOKGASM: Do you ever feel like releasing limited editions is a double-edged sword, in the sense that it creates buzz, but that it also limits the amount of eyeballs who may be exposed to the work for the time being. Hopefull, there are plans for a second printing.?
SOUTHARD: I don't mind limited editions nearly as much as I mind the "print enough to cover pre-orders and no more" trend I've seen here and there. It can be frustrating for a writer who's trying to grow an audience, but it's not like a sold-out book can't be released in a new edition, either. With any luck, we'll see RED SKY released in a more affordable edition somewhere down the line. There are no plans currently, though.
BOOKGASM: I know you're a student of the game, and have listed influences ranging from Norman Partridge to comics writer Warren Ellis. But as I mentioned before, your style is very cinematic, and could lend itself to Hollywood adaptations very easily. Are there certain filmmakers who have influenced your approach to storytelling?
SOUTHARD: I have a degree in radio, television and film with an emphasis in screenwriting, and I was interested in comics scripting for a long time, so I've kind of trained myself to think visually. I can't really think of any filmmakers that I would call an influence, though.
There have certainly been movies that influenced me, especially some of your more horrific flicks that aren't promoted as horror movies. I always use THEY SHOOT HORSES, DON'T THEY? as an example, because it's just a movie about a dance contest, but it's one of the most horrifying things I've ever seen.
BOOKGASM: You like crime and gangster movies, don't you?
SOUTHARD: I do dig me some crime movies, but I'm not an overt gangster fan. A lot of Mafia films play like political thrillers with extra guns. I much prefer flicks about novices in over their heads, where the panic can be overwhelming. I guess you could say I'm less "I'll make him an offer he can't refuse," and a lot more, "Dude, we're robbing the bank!"
BOOKGASM: What are your thoughts on e-publishing and the future of the industry? Do you use an e-reading device like a Kindle or an iPad, or are you someone that prefers the tactile experience of holding a book?
SOUTHARD: No e-reader for me. I don't really have anything against them, but they're not at the level where I can justify dropping that much cash on one. I like that electronic editions are making such headway, though. It's good that there's any positive sign coming out of the publishing industry today. Here's hoping the momentum continues. Still, I like having a shelf full of books to look at and admire. I can't say the same thing about a portable hard drive.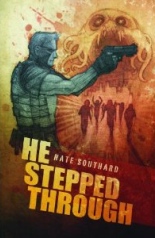 BOOKGASM: You've been busting your ass for years, honing your craft, and things are really taking off, with RED SKY; a re-release of HE STEPPED THROUGH; inclusion in Ellen Datlow's SUPERNATURAL NOIR anthology and Cemetery Dance's SHIVERS VI; the novella THIS LITTLE LIGHT OF MINE coming out soon from Burning Effigy Press; another novella, FOCUS, co-written with Lee Thomas; and a piece in an upcoming issue of BLACK STATIC. I get the impression you're going to keep hustling, full-throttle, no cruise control. What motivates and drives you?
SOUTHARD: I'm just hungry. I want to tell stories, and I want them to be read by lots of people. At this point, I've sort of made peace with the idea that making a living as a full-time writer could be nothing more than a pipe dream. That just doesn't happen so much for folks who write what I write. What I really love is just getting stories out there where they can be read by as many people as possible. The last year has been very exciting for that, especially with SHIVERS VI and SUPERNATURAL NOIR, which look like they've got the potential to gain a lot of readers. Exciting time, man!
BOOKGASM: We mentioned FOCUS, co-written with Lee Thomas. If you could collaborate with any writer, living or dead, who would be at the top of your list, and why?
SOUTHARD: Peter Straub. I don't really long to collaborate with anybody, because if I love a writer I want to read their work without another writer in the mix. That's just my preference. When I think about the sheer volume of things I could learn by working with Straub, however, I get a little slack-jawed. I can't imagine our styles working together at all, because I'm a foul-mouthed hooligan, and he's Peter Straub, but I'd do anything for that learning experience.
BOOKGASM: What advice can you give to aspiring writers?
SOUTHARD: Write every day and read every day. Read as much of every genre as you can. If you love something, try to switch it up and read things that aren't just paying lip service to your tastes. Challenge yourself. You don't have to write everything thinking about world domination, but you need to keep yourself interested. —Joshua Jabcuga