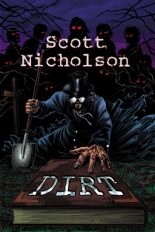 Didja know horror novelist Scott Nicholson now does comics, too? Read on to learn about that … and a chance at winning an Amazon Kindle DX!
My old college roommate used to introduce me this way: "Scott wasn't born, he just wandered out of a comic book somewhere."
It took a few years, but it's finally true. Or maybe it's the opposite. I wandered from real life into a comic book.
See, I am The Digger (and, yes, yesterday I was sweet, innocent L.C. Glazebrook — but as The Digger would say, "The page turns, and so does the worm.") The Digger is the narrator and occasional character in my series DIRT, illustrated by Kewber (CHAOS CAMPUS, SLEEPRUNNERS).
Comics were one of my early literary experiences and also one of my first creative endeavors, matching crude crayon drawings with word balloons and four-panel comics where strange characters did very little. I put away comics after puberty, though I never made a conscious decision that comics were "kids' stuff," because I saw clearly they had depth and magic.
I started reading comics again shortly before I started writing, mostly because I was dealing baseball cards and began trading them for comics. Then I ended up with thousands of comics I never read. A few years ago, I noticed everybody was making movies out of comic books, and I had the brilliant idea to turn all my screenplays into comics, get the comics purchased by Hollywood, and then — bingo — I sell the scripts. Yes, I often do things the most difficult way imaginable.
To warm up, I figured tackling short stories would be easy and also give me a chance to test drive some artists. I found Kewber on ComicSpace and we clicked instantly. We put together the first issue with an upside-down cover (on purpose), and planned a four-issue series. After 72 pages, I realized that it is very hard to sell comics and I'd have to enter an entirely new world, so I promptly started organizing comic book conventions. Remember what I said about doing things the hard way?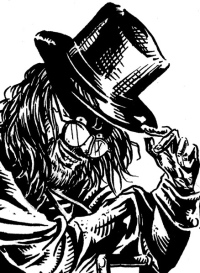 At any rate, The Digger is a cool old gravedigger storyteller (developed from photographs of me I sent Kewber) and he finds this book (called DIRT, of course) and shares the stories in it. He's not a horror punster like the Cryptkeeper or Cain or any of those hokey '70s hosts. Between the horror anthology shows and FANGORIA, I am quite sure no horror pun remains unearthed.
Since all the stories were adapted from existing work, it was a chance to explore a new medium and a new style of writing. I can't draw my way out of a paper bag, so I am very fortunate to have found Kewber, and reviewers say our styles go together. We did a zombie story, a girl and her dead best friend, some poignant supernatural tales, a funny dark fantasy, a haunted car tale. And more, adding sketches, a story and a script as bonuses in the trade paperback version. Digital issues of the comics (99 cents each), as well as the signed trade paperback ($6.95) are available from the Haunted Computer.
I hope to return to this series and finish the four-issue arc, because the original goal was to have The Digger (that's me) become a more active part of the story line and bring in the Second Chance angel and have them square off for a final showdown. In the meantime, Kewber and I have finished the first issue of THE GORGE, colored by his wife, Schimerys (artists in Brazil like to go by only one name). We're hoping to sell that through an agent and finish a four-to-six issue adaptation of my novel THEY HUNGER.
The best thing about comics is they stay fresh. Every time I flip through the book, I see some little detail Kewber added, or a visual effect that I missed. It's a totally different experience, and very satisfying.
Kewber also illustrates DIRT. The comic series. Dig it. —Scott Nicholson
Scott Nicholson is author of THE RED CHURCH, THE SKULL RING, SPEED DATING WITH THE DEAD, DRUMMER BOY, nine other novels, five story collections, four comics series, and six screenplays. A journalist and freelance editor in the Blue Ridge Mountains of North Carolina, he often uses local legends in his work. This tour is sponsored by Amazon, Kindle Nation Daily and Dellaster Design.
To be eligible for the Kindle DX, simply post a comment below with contact info. Feel free to debate and discuss the topic, but you will only be entered once per blog. Visit all the blogs on the tour and increase your odds. I'm also giving away a Kindle 3 through the tour newsletter and a Pandora's Box of free e-books to a follower of "hauntedcomputer" on Twitter.
For each book that cracks the Top 100 in the Kindle store, I'll throw in an extra Kindle 3 giveaway. So tell your friends and help out. Thanks for playing. Complete details at http://www.hauntedcomputer.com/blogtour.htm.