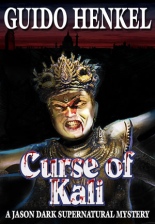 Guido Henkel writes the JASON DARK: GHOST HUNTER series of supernatural mysteries, in which Dark faces demons, vampires and other diabolical monsters. The latest is CURSE OF KALI, now just 99 cents for Amazon Kindle. Here, Henkel discusses why Dark's adventures often take him to Victorian England.
Writing period novels has a very unique attraction to me since they allow me to escape reality even more than when I am writing contemporary fiction. Both are extremely satisfying, but there's something about the research you need to do to write historical fiction. Something about diving into the past and explore events and people from a time long gone.
With my Jason Dark novels, I frequently get to visit Victorian England. In the occult detective's first mystery, DEMON'S NIGHT, I remember I was overwhelmed with the wealth of information I was able to dig up on the subject and it allowed me to add a good amount of historical spice to the story.
With every new Jason Dark supernatural mystery that I wrote, I was able to explore the times of Queen Victoria a little more, both in historical terms, as well as in fictional terms, as I often also include literary references and characters in these books.
Take Dr. Watson and Sherlock Holmes, for example, both characters from that period. I first made reference to Dr. Watson in the briefest of cameos in THEATER OF VAMPIRES, and brought him back for an encore in FROM A WATERY GRAVE, where he actually helped save Jason Dark's hide.
Holmes also made an appearance in FROM A WATERY GRAVE — very briefly, noticeable only to the most aware readers — but an actual meeting of these master detectives had never really happened. Of course, it had always been my plan to bring them together at one point and I felt that the 10th Jason Dark mystery would be the perfect story to celebrate it.
As a result, the latest adventure, CURSE OF KALI, is a supernatural case featuring both detectives as they try to pit their wits against each other, trying to crack the same case. While Holmes completely rejects the notion of supernatural beings and assesses the case purely from a logic standpoint — his forte — Jason Dark tries to find out if perhaps more sinister and preternatural forces were at work in the case. 
I am not going to give away more about the story here — you will have to read it for yourself — but I hope this shows you how a blend of historical and literary references can lead to exciting new stories surrounding beloved characters.
I've done a lot more work in that vein in the previous Jason Dark adventures, in case you are interested. Every one of these supernatural mysteries is filled with little cameos that offer a nice treat to readers familiar with the territory. Oftentimes it is necessary to read between the lines while at others the reference will be rather obvious, such as in THE BLOOD WITCH, for example, where the main character is based on Elizabeth Bathory, a notorious 16th-/17th-century serial killer.
Equally exciting are locations and I always take great pleasure in pulling up a historic map of London and looking for places I could use. I will then further research them to check their suitability and more than once have I found wonderful set pieces for my stories that way, like the grand opening of the London Museum of Natural History on Easter Sunday of 1881. This opening — and the crowd it attracted — played a major part in the "Dead by Dawn" mystery where it added credibility and the necessary dynamics for one of the story's crucial scenes.
But oftentimes, it can be much more subtle. In DEMON'S NIGHT, I make reference to the Ratcliff Highway Murders, which occurred in 1811. I decided to use the unmarked grave of the murderer as a temporary hideaway spot for the story's titular demon. I mean, how cool is that? 
The list is endless, and I could ramble on forever. As I pointed out earlier, each Jason Dark mystery is filled with numerous references such as these and part of the fun — at least from my point of view — is to read and discover these little gems as they are carefully embedded in the story. I always try to be subtle with this approach because I never want these references to stick out like a sore thumb or even turn readers off. It's not always easy and occasionally I had to drop references, for that very reason. The story always comes first, of course, and if it allows for a nice cameo, I will gladly accommodate it. —Guido Henkel