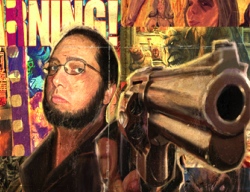 First gaining mainstream critical acclaim with his script for the debut episode of Showtime's MASTERS OF HORROR series, Stephen Romano rode the buzz(saw) straight to the grindhouse with his exploitation opus, STEPHEN ROMANO'S SHOCK FESTIVAL, which RUE MORGUE magazine heralded as its "Best Fiction Book of 2008." Romano is currently promoting the release of STARCRASH on DVD and Blu-ray, of which he serves as producer, and chief historian, providing a 12-page booklet of liner notes and some of the most insightful DVD audio commentaries you're likely to find on this side of the galaxy!
BOOKGASM: Stephen, in a conversation we had a couple of years ago, you were extolling the virtues of an Italian-made space opera from the tail end of the '70s called STARCRASH. Now you're the proud papa of the film's release on DVD and Blu-ray, as producer and commentator. But tell us about the book you were going to write on it.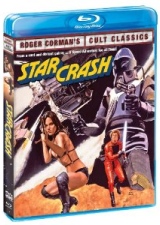 ROMANO: When I became a pro writer, I thought doing a book about the making of STARCRASH would be interesting. It was a really novel idea, writing this tell-all thing about a STAR WARS rip-off nobody seemed to remember anymore.
Kind of like canonizing the works of Ed Wood or something. Ever read NIGHTMARE OF ECSTASY? That's the book Tim Burton's ED WOOD is based on. Just amazing stuff.
I knew I could do something similar because STARCRASH had been a troubled production — it would be a really juicy story at any rate. I spent many years doing the research, and I covered the whole thing in a lot of depth. The book was actually written and finished.
But I decided for my own reasons not to publish it. It wasn't my destiny to be a film journalist. I wasn't prepared to be despised by all these people I truly admired for telling the unvarnished truth. Caroline Munro was particularly shocked by the details I revealed about her personal life in there. I just had to call the whole thing off and get on with my real career. I felt like I was jerking off.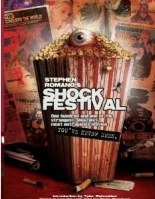 BOOKGASM: Producing the official release of STARCRASH is a natural progression for you, because of your exploitation opus, STEPHEN ROMANO'S SHOCK FESTIVAL. I fell in love, and awe, immediately with it.
ROMANO: There's always been an audience for SHOCK FESTIVAL. Everybody loves it. The damn thing never got a single bad review.
BOOKGASM: And you wrote a novelization of the film BLACK DEVIL DOLL. I read it and was floored when I saw a nod to THE FAN MAN by William Kotzwinkle. He has had quite an impact on you personally, hasn't he?
ROMANO: Yes, he has. The Kotz is my favorite living writer — a true magician with words. And THE FAN MAN is my favorite book of all time. So … um … I made a reference to Horse Badordties in BLACK DEVIL DOLL? Damn, I don't remember that at all. Then again, that was a pretty quick affair I did mostly for the money. I was stinking drunk the entire time I was writing it. You can probably tell, can't you?
I just now went over to the bookshelf and thumbed through BDD and some of it's still pretty funny. You know, bathroom humor. Really, really over the fucking top bathroom humor. Every writer should do that at least once, right? I think most of my other writing tends to be really, really over-the-top bathroom humor, only I ask you to take me seriously. And I'm in love with movie novelizations. It's the trashiest, most fly-by-night form of art in literature!
Anyhow, the Kotz. William Kotzwinkle is a man who has done everything there is to do as a writer. He's done drama, comedy, weird historical fantasy porn, horror, science fiction, crime fiction, and he even wrote one of the NIGHTMARE ON ELM STREET movies. And he does it all with the chameleonic, do-it-in-my-sleep expertise of a fucking Jedi Knight. He's so good he makes it seem easy, and for that reason is the best writing teacher I've ever had in my life. Just reading his books is worth several graduate courses in creative writing, man. His magic rubs off on you.
He's most famous now for a series of books about a farting dog. Just amazing. And he wrote the novelizations of E.T. THE EXTRA-TERRESTRIAL and SUPERMAN III. So this guy is my fucking goddamn hero. Some books of his that you must recommend on BOOKGASM are NIGHTBOOK, JACK IN THE BOX, THE GAME OF THIRTY and THE EXILE. Oh, and THE BEAR WENT OVER THE MOUNTAIN, too. That one is fucking incredible.
BOOKGASM: Will fans ever get to read JUST LIKE THE ANIMALS or have you shelved that for the time being in favor of something else. And will THE RIOT ACT ever get a deluxe reissue?
ROMANO: JUST LIKE THE ANIMALS was a very personal book and reflected a dark time in my life which I am just starting to come out of. I'm in no hurry to revisit that territory. But I'm sure I will be again someday. It's still there. I wrote it very quickly, in just 20 days, and it knocked my dick in the dirt. I'll publish it one day, just not now. I have other priorities. 
There's a new novel coming out via small press called SAFE IN THE WOODS, which is extremely dark pulp crime stuff — also very personal, but it's genre. JUST LIKE THE ANIMALS was not genre. It was dark drama. The new one is about people killing each other with guns and chainsaws. I wrote that one last year.
This year's literary project is something much bigger than anything else I have done in the print medium, even SHOCK FESTIVAL. I can't talk about it until we get the ink on the dotted lines, but it's been in development for most of 2010 and is just now becoming a reality. It won't come out until next year probably. It's kind of the final result of a long look at my life's work and a firm decision to veer in a more commercial vein, so I can start selling a few books and not worry about the rent so much. I've spent most of my life as an artist following my instincts and desires, which has led to some really great stuff.
SHOCK FESTIVAL was a project I developed personally, outside the system, which was also one of the reasons why it failed to fit into the system. Still, it is a project which I am extremely proud of. If I died tomorrow, I could take that book with me. I wanted to do it since I was a kid and had the opportunity to spend two years working on it and my vision is on every page. I went as far as I could go in terms of unadulterated personal commitment and artistic endeavor on that project. I answered to no one but myself. But I also nearly starved to death for my commitment — literally!
I'm just switching venues for a while. It is a great project with my own unique imprint. Just not as many exploding heads. I'm okay with that. Stuff like THE RIOT ACT and SAFE IN THE WOODS will still be available from the small press. In fact, I'll be republishing THE RIOT ACT myself at some point in the future. But that's really dark, nasty stuff, man. I think there's a lot of truth in that kind of writing, but it's not for everybody, and if you're not already famous or whatever, you won't get very far with it.
Coming soon: interviews with Mick Garris, Graham Joyce, Philip Nutman, Nate Southard and more! —Joshua Jabcuga