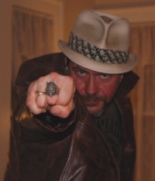 Author Joshua Jabcuga delves into horror, where every Friday is Friday the 13th!
Time for a candid, uncensored conversation with storyteller Philip Nutman: co-screenwriter of THE GIRL NEXT DOOR, author of ChiZine Publication's CITIES OF NIGHT and 29-year veteran of FANGORIA magazine.
BOOKGASM: ChiZine Publications published your first short story collection, CITIES OF NIGHT, last year. The opening, "Unearthly Powers: Prelude to a Nocturne," is quite trippy. It's set in the future, and it's written from the point of view of a character who bares a striking resemblance to you. When you were assembling this collection, which is very much like a greatest-hits, career-retrospective project, did you find yourself looking at the stories in a new light? Was it a bit like going through a personal scrapbook or a shoebox of photos?
NUTMAN: It was akin to digging up the dead and asking corpses questions. Sounds like a HELLBOY story, doesn't it? Yes, "Jamie Hurst" is my literary alter ego.
And, yes, I have seen the future … and it isn't pretty. I plan on leaving the U.S. of Assholes before the second American Revolution comes crashing down in a sea of bullets and blood. I have already "bought" my house on the edge of Dartmoor. I move in when I turn 60 years old in 11.5 years' time.

And just so you know: I am not a K-tel "greatest hits" collection of one-hit wonders, and CITIES OF NIGHT is certainly not that. Those stories are the stations of the cross as I move toward the final, greatest years of my life. To quote Harlan, "I curse the lesson(s) and bless the knowledge." I have never felt more alive or at the top of my game as far as being a storyteller is concerned.
It was … painful … to revisit my past. All those stories are inspired by personal experience. Some of them were very troubling to revisit.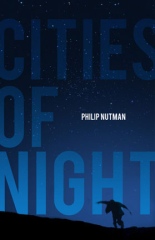 BOOKGASM: You've credited Clive Barker with teaching you to believe in yourself, during a time in your early 20s when you were going through, in your words, "a terrible period of self-doubt." Since then, you've had a lot of critical success. I've noticed that writers are similar to stand-up comedians in many ways: One moment, we can be very insecure, and the next moment, we can have very large egos, and then there's the aspect about using our pain and demons to create. Do you ever experience moments of self-doubt any more?
NUTMAN: Doubt? No. And God, that was a long-winded question! I thought only us Brits rambled like that!
No doubts whatsoever. I have been to Heaven and know I shall serve my time in Hell, because I'd rather reign over a lake of fire than suck … oh, never mind LOL! For the record: Without him, I wouldn't have the greatest, most talented filmmakers of their generation as friends and colleagues in my life — the "sons of celluloid," as I call them — and they know who they are.
I can't see the top of the mountain; I take every day one step at a time. Honestly, if I die tomorrow, please inscribe my memorial with "He led an interesting life." But the universe has a plan for me, and try as I might, I have this horrible feeling you lot are going to be stuck with me for a long, long time.
And yes, Clive entered my life at just the right point.
A sick, disturbed closet homosexual I worked with at the BBC spread nasty rumors that I tried to suck him off in the Gents. The retarded, working-class, homophobic scum I had the misfortune to work with, took this as truth: I was nearly beaten to death at the BBC TV Center at White City one Tuesday afternoon. Several people ended up going to the hospital. I wasn't one of them, for a change.
Ironic, then, that an openly gay man took me out to dinner and gave me the advice which has kept me strong for 25 years. Clive gave me a push in the right direction. And I've never looked back.
BOOKGASM: "Full Throttle" is included in CITIES OF NIGHT. Many will recognize it because it debuted in 1990 in the seminal SPLATTERPUNKS anthology. That was a pretty influential crew. Do you keep in touch with any of those guys, or have you all gone your separate ways?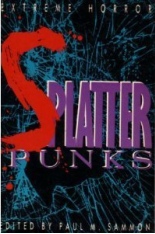 NUTMAN: Craig Spector launched my fiction career over 25 years ago by aggressively insisting I contribute a story to the John Skipp and Craig Spector Romero-inspired anthology BOOK OF THE DEAD. John Skipp was my editor on the "Wet Work" short story and pushed me beyond my then limits and helped me shape that sucker into what was published — my first short story.
I love John and Craig dearly, but John and I are a tad estranged these days. When we see each other, there is love and warmth, but I'm in my own orbit and John is like Saturn: He needs rings around him, and I am not ever any writer's ring on their finger. Craig and I just collaborated for the first time on a screenplay — breaking news soon — and we're closer than we've ever been. We finish each others' sentences and have some kind of Vulcan mind-meld going on.
Dave Schow is a whole 'nother story. Next question, please?
BOOKGASM: In the opening of CITIES OF NIGHT, you thank actor Malcolm McDowell. Can you elaborate a bit on how he inspires you in your work?
NUTMAN: Malcolm McDowell is my favorite actor. Period. That man has had more influence on my creativity then I can put into words. All I will say is IF …, O LUCKY MAN! and, of course, a certain movie about an orange.
But Malcolm wouldn't be in my life without the late, great Lindsay Anderson. Mr. Anderson rearranged my consciousness in regard to theatre and film, and Malcolm loves me for that. Kubrick would not have made A CLOCKWORK ORANGE if Anderson had not discovered, cast Malcolm, and made IF… Anderson and Kubrick totally fucked my synapses when I was 7 years old — a long story which I have no desire to share.
Malcolm and I met at a convention prior to my nearly dying, thanks to the shit-arse publicist on Rob Zombie's HALLOWEEN II. Malcolm hugged me and kissed me on each cheek — one from Alex DeLarge, and the other from Caligula, unless he was feeling a bit H.G. Wells that day.
BOOKGASM: Younger writers, such as myself, look up to you, and you've always had an open door for us, just like Jack Ketchum. You continually take time out of your schedule to offer guidance or act as a sounding board. Do you ever just want to tell us to fuck off, or are you just a really nice guy who can't say no?
NUTMAN: I am actually a nice guy who has no qualms about telling time-wasters to fuck off if I believe you have nothing to contribute to the cultural gene pool. I wouldn't have agreed to this interview if I thought you were a dumb cunt, would I, Mr. Jabcuga?
Next question?
BOOKGASM: HELLBOY completists will be interested in knowing one of your stories in CITIES OF NIGHT ("A Mother Cries at Midnight") takes place in Mike Mignola's sandbox. You're the quintessential writer, in my opinion, for working on Hellboy. I'd love to see you work on a miniseries or get a more substantial run there. Have you ever talked with Mignola about doing more? What do we need to do to make this a reality?
NUTMAN: Thank you. That means a lot. That story is my favorite piece I have written during the past 15 years. Actually, I didn't write it; Big Red did. I wrote that in one sitting, and I think my favorite big red hellspawn dictated it to me.
As far as your other question is concerned: Well, I think you need to address that to Mr. Mignola. I am totally in awe of Mike's creative powers. If I ever get to write a comic book/graphic novel again, HELLBOY would be my first choice. Then Dr. Doom, the Silver Surfer and try to reconfigure the Lee/Ditko Dr. Strange. Oh, and if Steve Gerber would grant me a "get out of jail free" card, I think the 21st century needs the return of Howard the Duck.
Oh, Buddha, I sound like a sad sack don't I, getting all emotional over a comic-book duck. Do you think there's any hope for me?
BOOKGASM: Having written screenplays, comic books, novels, nonfiction and now this collection of short stories, you've seemingly done it all. But you're dying to direct a feature film, aren't you?
NUTMAN: Er … hmm! Would you like to rephrase that? I don't plan on dying anytime soon — the fire of love is keeping me aflame. I will direct my dream Western within the next two years.
Now, before I piss off and go make another cup of Earl Gray. let me share this with you, a universal truth: Do not covet your ideas. Give away everything you know, and more will come back to you. —Joshua Jabcuga