Author Joshua Jabcuga delves into horror, where every Friday is Friday the 13th!
Novel of the Year:
RED SKY by Nate Southard
If you've been paying attention, Southard has been building quite the buzz over the last couple of years. It started with a short story here and there, and then — bam! — when he earned his way up to the plate, he just knocked that fucker right out of the park. Southard is clearly a student of the game, honing his craft, voice and talent through old-fashioned hard work, and there's no bullshit about that. I'd tell you to look out for this guy, but I think you'll be hearing plenty about him in the very near future.
Think of him as Quentin Tarantino, right before he blew up and became a household name. Yeah, this guy is going places, and he deserves it. My suggestion is you jump aboard this Michael Mann (vintage Mann) meets Norman Partridge thrill ride so you can witness a first-class talent on the rise. His prose is gritty and no nonsense, as if you've got sand in your teeth and nothing but tequila to gargle with.
I was so impressed, that after reading a PDF review copy, I dropped $60 to order the hardcover of the book for my personal collection. To butcher someone else's saying, I took the ride, so I thought it was only appropriate that I pay for the ticket.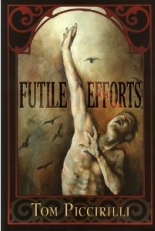 Short Story Collection of the Year (tie):
CITIES OF NIGHT by Philip Nutman and FUTILE EFFORTS by Tom Piccirilli
ChiZine Publications seemed to come out of nowhere in 2010, releasing some stellar books. They put together quite the catalog and became quite the name. In particular, Paul Tremblay's IN THE MEAN TIME garnered a lot of buzz. As a result, I think to some extent, CITIES OF NIGHT by Philip Nutman unfairly slipped under the radar for many readers. So here's your wake-up call and a chance to redeem yourselves. As Nutman might say, "Saddle up wankers, it's time to ride!"
Some of you die-hards out there might know his now-landmark novel, WET WORK. Nasty (and smart) stuff, that. Reading CITIES OF NIGHT, you may experience a sense of awe, like witnessing a mash-up of The Clash and Miles Davis (although Nutman notes: "The book was fuelled on Guinness, Sauza Tequila, Echo & The Bunnymen [very LOUDLY], and Monty Python)." It's a killing moon, indeed. CITIES OF NIGHT serves as both a career overview and a greatest-hits collection. The prose is elegant and dangerous, like a high-priced escort with a razor pressed against your balls.
You get "Full Throttle," originally published in 1990 in the now-infamous SPLATTERPUNKS, along with newer material exclusive to the collection, weaved in seamlessly. And for the uninitiated, if you're saying to yourself, "That name sounds so familiar," it's because Nutman was one of the brave souls (along with Daniel Farrands) who masterfully adapted Jack Ketchum's THE GIRL NEXT DOOR for film. I've referred to Nutman as the Lester Bangs of genre writing, and the folks at FANGORIA have lovingly given him the title of the Hunter S. Thompson of horror. Buy CITIES OF NIGHT, and just maybe the "evil Dr. Phil" will give you more of the bad medicine that makes you feel so good.
Four-time Stoker Award winner (and inaugural "'Cuga's Cuts" winner, ha!) Tom Piccirilli has become the king with a crown of barbed wire. FUTILE EFFORTS is monstrous, in terms of its disturbing content, and in sheer size alone: 17 stories and 45 poems with insightful intros from a highly respected cast of scribes including the likes of Ray Garton, Christopher Golden and Edward Lee. Just shy of 500 pages, this cinderblock of pulp is a no-brainer, bells-and-whistles must-have for any self-respecting horror fan. Brutal and beautiful.
There's not much I can say that would do it justice because it needs to be seen (and read) to be believed. Like Nutman, Piccirilli is a writer's writer, and the man has become a master storyteller, at the top of his game for quite an impressive stretch now. He's like a champion fighter who can't be beaten, one who sharpens his arsenal with each bout. And Piccirilli is a fighting champion. This book gets the deluxe treatment, and rightfully so. Bravo, Cemetery Dance!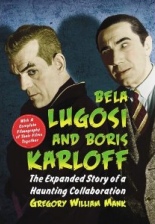 Nonfiction Book of the Year:
BELA LUGOSI AND BORIS KARLOFF: THE EXPANDED STORY OF A HAUNTING COLLABORATION by Gregory William Mank
Yes, technically, this book was originally released in 1990, but the revised edition is even more definitive and exhaustive (which is difficult to fathom if you've seen its previous incarnation). Quite simply, this is a text devoted to two legendary silver-screen icons. It's important that we preserve the past. Lugosi and Karloff certainly have their place in history, and I'm glad this book exists, to help reinforce and perpetuate the legends. It's funny how time slips away, isn't it?
Reprints of the Year (tie):
JOYRIDE by Jack Ketchum and THE BRIDGE by John Skipp and Craig Spector
Stop prowling around the used bookstore hoping to get your hands on these and grab fresh copies (or download them for that eReading device you scored for Christmas). JOYRIDE includes the ultra-disturbing novella WEED SPECIES.
Outstanding Project of the Year:
THE SECRETARY OF DREAMS: VOLUME TWO by Stephen King, illustrated by Glenn Chadbourne
Worth the wait, worth the money! That's it in a nutshell. But that's not fair. Why? Well, besides the fact that Cemetery Dance did a marvelous job with the production (as they did with the first volume), it's necessary to point out the contributions from Chadbourne. This is really his baby. I want there to be dozens of volumes from Cemetery Dance, and I want Chadbourne to perform his black-ink magic on all of them.
If you were to buy only one "collector's book" this year (you know what I mean: the kind where you say to yourself, "Do I not eat for a few days and purchase the book?), this is that book. Sure, it looks all purty on your shelf there with its slipcase, but this book begs to be read. Dive in. Open it up on your coffee table. Pour over every last detail in Chadbourne's stunning illustrations, and lose yourself inside not just the world of King, but the world of Chadbourne.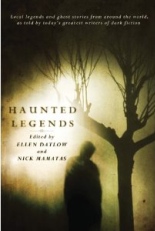 Anthology of the Year:
HAUNTED LEGENDS edited by Ellen Datlow and Nick Mamatas
Think of it as a concept album, with a bunch of rock stars covering folk songs. Trust me, it'll make sense once you pick up the book. And there's a Ramsey Campbell piece called "Chucky Comes to Liverpool" about an urban legend surrounding the CHILD'S PLAY films and video nasties (I'm not making this up!), and it's charming and it made me laugh and then it bit me in the ass. Quite clever, that Campbell. I think the lad's got a future. Same with HAUNTED LEGENDS. It begs for a follow-up. And here's a request for the band: Jack Ketchum covering the Jersey Devil. Please?
Zombie Book of the Year (this category will never die!):
PARIAH by Bob Fingerman
It's this year's zombie novel. Need I say more?
Horror Website of the Year
www.BrianKeene.com
Whether or not you agree with everything Keene says, in his often engaging, occasionally hilarious, sometimes bitter, always honest rants, the man never ceases to entertain. And his website is a portal to bigger things. It's not just about him. That's the thing: He gets it. Always has. His website is a community, and it's evolved into a much bigger universe, this Keenedom. As one industry vet told me, when it comes to promoting, "Keene is a machine." I admire that.
But you know what I dig the most? The part that gets overlooked, because critics or message-board trolls are too quick to point their fingers at him when things go wrong in the horror industry (granted, you live by the sword, you die by the sword), but that thing is a passion and a respect for this business that I dare anyone to match. Keene does more to promote the great things about the genre than almost anyone associated with it. He's got a soapbox and he's not afraid to step up and put his ass on the line. He'll go out on a limb and shine a light on up-and-coming writers that deserve props, when others don't want to take a chance, forgetting what it was like trying to break in. Keene has taste, and he's been in the trenches.
If you're smart, you'll tune in, shut up, listen and learn. He is a machine, but he's also a tireless, selfless ambassador. I try to visit Keene's website everyday, just to see what's up, and to get his take on things. The horror community is a better place because of him (and I may get some of his "haters" posting here as a result of that comment, but if I've learned one thing from reading Keene, it's that you shouldn't be afraid to stand up for something you believe in; everyone else can piss off). And with each passing day, the horror community and the Keenedom are becoming synonymous with one another. Bookmark that bad boy!
Magazine of the Year (tie):
CEMETERY DANCE and SHROUD: THE QUARTERLY JOURNAL OF DARK FICTION AND ART
Wow, one of the toughest categories, and that's a beautiful thing. Readers, writers, you owe it to yourself to buy these.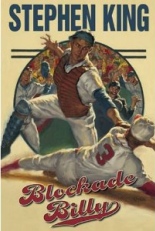 Publisher of the Year:
Cemetery Dance
The publishing industry is in a state of flux right now. Writers are scared. Royalties are late. Bookstores are closing down. What does Cemetery Dance do? Oh, they decide that 2010 is going to be their best year yet, even though they've been widely recognized as the most respected and reputable publisher for years. I mean, they went pedal-to-the-metal and never let up. Every month there was another astonishing release, right to the very end. There were months with multiple five-star-quality releases.
Besides some of the titles we've mentioned already in this column, honorary mentions belong to LAST EXIT FOR THE LOST by Tim Lebbon, BONE SOUP: THIS AND THAT AND BRIC-A-BRAC by T.M. Wright, THE SECRET BACK OF THINGS by Christopher Golden, an exclusive version of BLOCKADE BILLY by Stephen King, LILJA'S LIBRARY: THE WORLD OF STEPHEN KING by Hans-Åke Lilja and a free download of Brian James Freeman's THE PAINTED DARKNESS.
Hell, their magazine picked up steam, too. Cemetery Dance even announced a limited edition of Justin Cronin's THE PASSAGE, but good luck getting your hands on a copy of that, which sold out in about four hours (and no, I blinked and missed that sucker, sad to say). 2010 was the year that Cemetery Dance cemented themselves as the premiere heavy hitters in the industry. Well played!
Publisher to Watch Closely in 2011 (tie):
ChiZine Publications, Apex Publications and Thunderstorm Books
Apex has their finger on the pulse. I'm expecting them to really break out in 2011. I'm looking forward to seeing how ChiZine tops themselves in the coming year. Thunderstorm recently announced their Maelstrom line, in association with Brian Keene, which is a great concept and has proven to be buzzworthy. And quite frankly, the quality of their product is top-shelf.
Authors to Watch Closely in 2011:
Wrath James White and Christa Faust
So there you have it! As you can see, horror, speculative fiction, and thrillers are far from dead, my friends.
Please remember, this isn't a competition. Also, these are books and magazines that were published (or I received review copies of) prior to Nov. 1. Anything after that will be eligible for next year. These are just my picks, and I'd love to hear yours. Feel free to post away with feedback and recommendations of your own. (Note: Apologies in advance, but I won't be responding to any anonymous opinions. As the saying goes, "We card here.") —Joshua Jabcuga