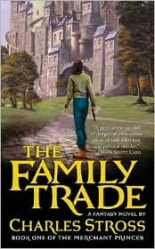 Charles Stross, somehow, in between putting out mind-blowing science fiction (like GLASSHOUSE and SATURN'S CHILDREN) and crazy, hilarious, Dilbert-meets-007-meets-Cthulhu "Laundry Files" novels (THE ATROCITY ARCHIVES and THE JENNIFER MORGUE), has managed to put out a volume of "The Merchant Princes" series on a more-or-less annual basis since 2004, from THE FAMILY TRADE to last year's sixth entry, THE TRADE OF QUEENS.
Obviously taking a few clues from Roger Zelazny's AMBER books and  H. Beam Piper's PARATIME sequence, this series starts with Miriam, an American journalist who discovers that she can travel to an alternate universe that stuck in basically a medieval level of society, and that, as a lost relative of a clan of world-hoppers, she's royalty of a sort.
This parallel world's geography is roughly congruent with our dimension, so her clan of dimension-hoppers has become enormously rich by, among other things, taking packages and letters in the medieval world, coming over to our side, and FedEx-ing the packages across the world in days, where they're transported back to the medieval dimension in which such parcels would take weeks or months to be delivered by coach, boat or horseback.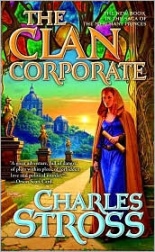 As Miriam becomes ensconced in the politics and mores of this new world and her place in it, it begins to unravel, and quickly. Other worlds are discovered, the Bush administration figures out what's going on and figures out a way to travel between dimensions to exploit the resources of this new world and cover up some other neocon secrets, and all the while Miriam is forced to play roles that she'd consider horrific in her previous life.
Each book in the series is a breezy, thrilling read, and Stross clearly has no intention of creating a "safe" fantasy series that can stretch to infinity without upsetting the status quo — when things go to hell, it's all-out. Nobody's safe, and there are no limits on his ideas of how the Bush-Cheney administration would handle the discovery of a parallel dimension or what a super-powerful clan of world-walking stealth assassins could do to stop them.
Meanwhile, as other dimensions are found and explored, greater questions societal development of are brought to light, such as how there seems to be no magic bullet for turning an "undeveloped" nation into a modern, stable, industrialized society.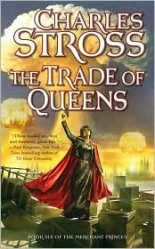 These really aren't standalone works, although intrepid readers could tackle them that way — the huge cast of characters, motivations and political machinations grows into such a complex web that readers will be totally immersed by the final chapters but newbies might flinch at the abundance of names, ranks, and allegiances.
As a whole, however, THE MERCHANT PRINCES saga combines the vividness of Stross' prose prowess and the old-school '60s/'70s sci-fi/fantasy themes of Zelazny and company and creates a new, modern fable that recalls past greatness while reminding everyone Stross is a modern master. —Ryun Patterson