Are you a fan of Sergio Corbucci films like DJANGO or THE GREAT SILENCE? What if someone put those in book form? That's the EDGE series in a nutshell, folks. It proudly calls itself the most violent Westerns and who am I to disagree? George G. Gilman's books are not for the fainthearted, and this is printed on the front of each book! So let's get this started with three early adventures of Josiah Hedges or, as he will be referred to from here on out, Edge. He's called Edge since he carries an old type of razor that would flip open, which he hides in a secret pocket in the collars of his shirts.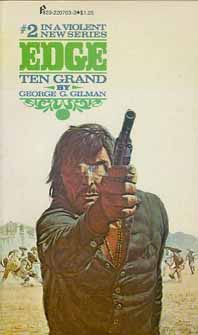 EDGE #2: TEN GRAND – Since this 1971 entry is the second in the series, the book opens with Edge working as a sheriff for a town called Peaceville, having ended up there after avenging his brother's death in the first book. Don't get too settled with the peace; it only lasts a few pages when the bank is robbed by a group of Mexican bandits led by a short man called the Matador. (Stereotypes galore in the descriptions of these thieves – we're talking Frito Bandito-level.) Before Edge can even make it to the bank, two of the bandits stop him in the sheriff's office and take his hidden stash of $2,000. This is not a good thing to piss off Edge like that.
Edge is taken as a hostage so they can escape town, and once they do, he heads back to get his rifle and go after him. (This is where we are told that Edge also is a wanted man; no real details are given, but since the series goes on a for a while, I'm not really concerned.) Edge is shot at by a female would-be bounty hunter and two marshals, none of whom live. We're also treated to the exploits of the bandits, who pretty much rape and kill anything that moves, except one old man who successfully hides.
Edge forces the old man to take him to their hideout, but the Mexican army is waiting for the bandits as well. As the story progresses, Edge meets up with them on a search for the TEN GRAND that the cover promises. I can't go further, since I'll ruin more plot points then I want to. I'm just mad at myself for discovering this series so late in the game.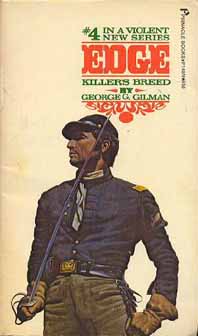 EDGE #4: KILLER'S BREED – Now here's a first for this type of series: a book that actually delves into the character's backstory. I'm not just talking about "oh, this happened so now he is The Punisher"-type stuff. This 1972 tale deals with the Edge's days in the Civil War. Actually, it starts out with Edge trying to make it to his boyhood home after a bullet has grazed the back of his neck. Once there, he passes out in front of the family that now lives there. From here, the book is told through flashbacks for all the Hedges history, while the mother and daughter try and save him from whatever is causing his fever.
As a history major in college, I can attest the author plays around with dates (which he even admits it in a brief note at the start), as our trusted hero takes part in three big events: Shenandaoah Valley, Bull Run and Shiloh, which would make him a mighty busy soldier. But these are the events that shaped Edge into the man he is.
First, he's a fresh lieutenant who comes across a young girl being accosted by a fellow soldier. Being an honorable man, he comes to her help by knocking the man unconscious. The girl, Jeannie, gives undying gratitude to our "hero," losing her virginity to the rough-and-tumble solider later in the book. From here, the violence takes a hold of him slowly, bearing witness to brutal killings of all kinds, from people's eyes being shot out and homes being set ablaze to seeing his own men kill their own commanding officer. I could go on and on, but just know it gets gorier as it goes.
We learn Edge is actually wanted for two deaths, one being a former Civil War veteran. I just wish more authors would have taken this approach. Think about it: What do you really know about James Bond, Matt Helm, Sam Durell or even Nick Carter? Yes, I do know there is a book about Bond's school days, but since it's not by Ian Fleming, it doesn't count.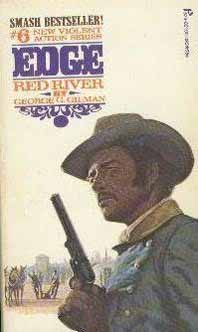 EDGE #6: RED RIVER – Another EDGE tell to whet my thirst for pulpy goodness, this 1972 title is actually a sequel to KILLER'S BREED, but with Edge having fever memories when he runs into someone. The story mainly deals with Edge being accused of killing the son of the wealthiest woman in San Francisco at a card game, even though he's innocent and is played for as a patsy.
While he awaits trial, the story switches between Civil War memories and the search by the deputy to prove Edge's innocence, as it seems the sheriff is a bit crooked. We are introduced to most of the crew from his company in the war, who are taking over a town in the deep south. Once that's done, they celebrate, but – guess what – a group of Southern raiders attack the party, laying waste to all and grabbing Jeannie as a hostage.
This drives our hero on a chase, finding her dead, having been tied to a tree and burnt alive. This is officially the last straw, sending him out on a killing spree more like a one-man war. His troop is then captured by the South and sent to Andersonville (which is probably one of the biggest low points in our history, as this "prison" is just horrific). The story continues with Edge and the boys trying to escape, and the deputy finding the one witness to prove Edge's innocence.
As with the others, RED RIVER is a great, breezy read in this amazing saga. These books have no first gear – they're all in fifth and overdrive. To reveal more would just take away all the fun for you. –Bruce Grossman
Buy them at Amazon.
Discuss it in our forums.
MISS EARLIER INSTALLMENTS OF 'BULLETS, BROADS, BLACKMAIL & BOMBS'? REGASM THESE:
#9: Me Tarzan, You Remo
#8: Spillane … 'Nuff Said!
#7: Still No Martini Drinkers Here
#6: No Martini Drinkers Here
#5: Cheese 'n' Sleaze