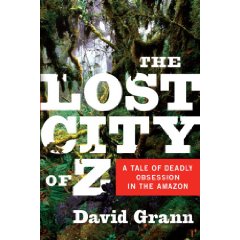 Another year, another year-end best-of list. Or several, actually, as a few BOOKGASM reviewers throw their proverbial two cents on the best — and some of the worst — that reading for pleasure had to offer, in fiction and nonfiction.
ROD LOTT'S BEST OF 2009:
THE LOST CITY OF Z: A TALE OF DEADLY OBSESSION IN THE AMAZON by David Grann — Grann reconstructs the 1925 adventure of explorer Percy Harrison Fawcett, who sought El Dorado, the fabled lost city of gold. In trying to solve one of mankind's greatest mysteries, Fawcett inadvertently created another. This is the best kind of nonfiction: that which thrills like its fictional counterparts.
HOLLYWOOD MOON by Joseph Wambaugh — Bucking the law of diminishing returns, this is the third in Wambaugh's series about the LAPD's Hollywood Station, yet just as strong as its older brothers. For my money, this is the best crime series going.
THE TOON TREASURY OF CLASSIC CHILDREN'S COMICS edited by Art Spiegelman and Françoise Mouly — This master anthology of kids' comics culls dozens upon dozens of terrific tales from the 1930s to 1960s. Pound for pound, page for page, penny for penny, you won't find a more thoroughly enjoyable book all year than this collection.
WORST NIGHTMARES by Shane Briant — This is one of the best horror and suspense novels in years, and Lord knows I've read enough of them. Dermot Nolan suffers from a near-terminal case of writer's block when an unusual manuscript lands at his door: the diary of a serial killer known as the Dream Healer. The book delivers on its thrilling high concept — imagine the SAW franchise minus the nihilism and infused with actual tension.
THE MAN WHO LOVED BOOKS TOO MUCH: THE TRUE STORY OF A THIEF, A DETECTIVE, AND A WORLD OF LITERARY OBSESSION by Allison Hoover Bartlett — Among the many crime novels I've read this year, precious few have held a grip on me quite like this nonfiction tale of a collector of books who rips off rare book dealers, until he's pissed off one too many. The book doubles as a first-rate piece of long-form journalism.
THE MAGICIANS by Lev Grossman — With its main plot boiled down to "student goes to exclusive school, learns magic," comparisons to HARRY POTTER are inevitable. Except that in Lev Grossman's novel, the boy conjurer gets laid and ingests drugs. There's magic in it, in more ways than one.
THE NEW HORROR HANDBOOK by A.S. Berman — Berman looks at the state of scare cinema in the 21st century, through a slew of interviews with the people whose job it is to frighten you, for your enjoyment. I lapped this up as if it were a plate of pancakes bathed in butter, and I was trying to prevent a hangover.
SUPERFREAKONOMICS: GLOBAL COOLING, PATRIOTIC PROSTITUTES, AND WHY SUICIDE BOMBERS SHOULD BUY LIFE INSURANCE by Steven D. Levitt and Stephen J. Dubner — The "rogue economists" put their unconventional spin on a variety of topics — involving monkey prostitution, kangaroo farts and mosquito assassination — and the result is equal parts sociology experiment, trivia trove and front-to-back fascinating.
THE DEATH PANEL: MURDER, MAYHEM, AND MADNESS, edited by Cheryl Mullenax — Thirteen stories are included, many from young upstarts rather than established vets, and this is a rare case where there's nary a dud among them. However, that assumes you have a strong stomach and a mind that's not easily offended. And if that sentence causes an eyebrow or two to twitch, are you in for a treat.
LEVEL 26: DARK ORIGINS by Anthony E. Zuiker and Duane Swierczynski — A cop chasing a serial killer — sigh, again? Yes, but never quite like this. In this "digi-novel," the authors take their villain to the dark, disturbing corners to which you wouldn't expect a mainstream novel to go … and make SAW's Jigsaw look like a pussy. In short, it has balls, and swings them around.
QUARRY IN THE MIDDLE by Max Allan Collins — Of the three Quarry novels Hard Case Crime has published thus far, this is my least favorite, but that doesn't mean it isn't all kinds of awesome. Pick up any of them and you're guaranteed a read that is fast, loose and start-to-finish "love it." No one — and I mean no one — does this kind of thriller better today than Collins.
THE FUTURIST: THE LIFE AND FILMS OF JAMES CAMERON by Rebecca Keegan — This bio is as likely a complete portrait as we're going to get of the visionary directory of AVATAR. Like most of his movies, it's exciting, fascinating and difficult not to consume in a single sitting.
ROD LOTT'S WORST OF 2009:
THE MURDER OF KING TUT: THE PLOT TO KILL THE CHILD KING by James Patterson with Martin Dugard — Leave it to Patterson to rewrite history — and I don't mean that in a good way — attempting to solve one of history's great mysteries in three alternating narratives: King Tutankhamun in 1330s BC; archaeologist Howard Carter in the early 1900s; and Patterson himself in the present day, where he plugs his other books and series. His level of arrogance is astounding.
PYGMY by Chuck Palahniuk — I give the author credit for being original, for being daring, for writing whatever the hell he wants with no regard for potential controversy. But sometimes that freedom comes at a price: $24.95, to be exact, which is how much this would set you back. It might have worked as a short story.
SKINNERS: BOOK 1 — BLOOD BLADE by Marcus Pelegrimas — This is a nerd-culture horror-fantasy geared toward hardcore gamers — a segment of the population that generally does not read, so I'm afraid his core audience may ignore it completely. If Spike TV and MAXIM co-sponsored a novel-writing contest, this might place third.
101 WAYS TO KNOW … YOU'RE A GOLDDIGGER and 101 WAYS TO KNOW … IT'S TIME TO GET OUT OF YOUR MAMA'S HOUSE by Marlon, Shawn and Keenen Ivory Wayans — Imagine the worst Wayans brothers movie you've ever seen. Guaranteed, that flick has more laughs in it than the boys' foray into books. Among two titles, they couldn't come up with a single good joke. —Rod Lott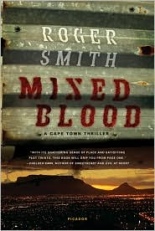 ALAN CRANIS' BEST OF 2009:
MIXED BLOOD by Roger Smith — An impressive and criminally overlooked debut. A tense, suspenseful story of secrets and vengeance in Cape Town, South Africa.
 
PATIENT ZERO by Jonathan Maberry — Maberry takes the audacious concept of zombie terrorists …and makes it work! A breakthrough novel for him.
 
TOWER by Ken Bruen and Reed Farrel Coleman — A violent and heartbreaking twice-told tale of two friends that manages to display the best of these two superb contemporary noir crime authors (with a shout-out to SANCTUARY, Bruen's latest Jack Taylor novel).
 
PALOS VERDE BLUE by John Shannon — The latest in this outstanding series has missing-child finder Jack Liffey tangled in a turf war and culture clash in the posh Southern California peninsula of Palos Verde. C'mon, people — it's time for Shannon to stop being one of the best-kept secrets in crime fiction.
 

BURY ME DEEP by Megan Abbott — Abbott uses the true story of the "Trunk Murderess" of the early 1930s in her most obsessive novel to date, and proves again that she is among the very finest noir writers working today.
 
RICHARD STARK'S PARKER: THE HUNTER by Darwyn Cooke — Cooke's excellent start in what, with luck, will be a long series of graphic adaptations of Richard Stark's Parker series set this year's Comic-Con on its ear, heralded a renewed popularity in crime comics and, sadly, reminded us all what a tragic loss the death of Donald E. Westlake was shortly after 2009 began.
 
VAMPIRE A GO-GO by Victor Gischler — If this loving, literary spoof of the horror genre didn't exceed Gischler's crazed and masterful GO-GO GIRLS OF THE APOCALYPSE of last year, then at the very least, it stands equally tall next to it. He is a treasure, in case you haven't heard.
 
FROSTBITE by David Wellington — Werewolves will finally get their contemporary due, if this series debut from this ultra-talented author is any indication.
 
SLAMMER by Allan Guthrie — Trust me: Years from now, everybody's going to regret they weren't reading Guthrie while he was in the midst of redefining noir fiction for our times. —Alan Cranis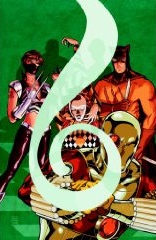 ALLAN MOTT'S BEST OF 2009:
Anything by Gail Simone — Throughout 2009, the comic medium's most consistently entertaining writer spent most of her time working on WONDER WOMAN and SECRET SIX. On the former, she continued to do what so many others could not: turned DC's most iconic female superhero into a genuinely interesting and relatable character, while also celebrating Princess Diana's checkered past (in one issue there's actually a visual shout-out to the terrible Cathy Lee Crosby TV-movie so many of us worked so hard to forget). On the latter, she and artist Nicola Scott turned a group of amoral, C-list villains into the most compelling cast of characters in the DCU. How good is Simone? She not only made me want to read a book with Bane in it, but made me like him as well.
EATING THE DINOSAUR by Chuck Klosterman — The popular opinion seems to be that Klosterman jumped the shark years ago, but I remain convinced he is the Susan Sontag of our pop-culture-obsessed generation (and I personally can't wait for his inevitable essay on the whole concept of "jumping the shark" itself). The problem is that as he continues, his subjects cannot help but get more obscure, which is a detriment to some readers, but a boon to ephemera lovers such as myself (although I could have done with one less sports essay).
AMERICAN ON PURPOSE: THE IMPROBABLE ADVENTURES OF AN UNLIKELY PATRIOT by Craig Ferguson — Leno, Letterman and O'Brien may be getting all of the attention these days, but the best late-night talk show on right now is being made by a recovering alcoholic/former Scot who got his start as a drummer in punk bands before stumbling on a career in comedy, eventual sobriety and American citizenship. Unlike so many other celebrity autobiographies, Ferguson's works for two reasons: He can actually write (having already previously published the novel BETWEEN THE BRIDGE AND THE RIVER) and he's actually led a life worth reading about.
CLOSING TIME by Joe Queenan — Before the Internet made it an oversaturated commodity, there was really only one good source for inspired, vitriolic, smart-assed commentary, and that was the magazine articles and books of Queenan. Reading his writing, you couldn't help but wonder, "Why is this guy such a flaming asshole?" CLOSING TIME, his memoir of growing up poor with a violent father, is the answer to that question, and it moved me far more than it had any right to,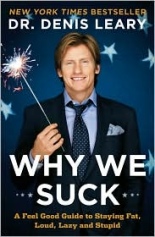 WHY WE SUCK: A FEEL GOOD GUIDE TO STAYING FAT, LOUD, LAZY AND STUPID by Dennis Leary — While he may have stolen the act that made him a star from Bill Hicks, Leary has worked his ass off to redeem himself since then. Having given us THE JOB and RESCUE ME would seem atonement enough, but by also giving us a book written by a comedian that's genuinely hilarious and not just a blatant rehash of old stand-up material, his contrition continues to work for our benefit.
I DRINK FOR A REASON by David Cross — See the above, but replace "stolen the act that made him a star from Bill Hicks" with "starred in RUN RONNIE RUN!, SCARY MOVIE 2 and ALVIN AND THE CHIPMUNKS" and "THE JOB and RESCUE ME" with "MR. SHOW and ARRESTED DEVELOPMENT."
DETECTIVE COMICS #854 to present by Greg Rucka and J.H. Williams — If ever there were a reason to not "wait for the trade," Rucka's current run on DETECTIVE COMICS is it. With Bruce Wayne having "died" at the end of FINAL CRISIS, a new hero was needed to fill the vacancy left by his absence. Insert Katherine Kane, a lesbian heiress with a dark past who prowls the streets as the new Batwoman. Rucka's writing is compelling, but the true star is Williams' amazing art, which transforms each turn of the page into an exciting event.
BATMAN & ROBIN #1-#4 by Grant Morrison and Frank Quietly — The dream team that made ALL-STAR SUPERMAN one of the best comic-book works of the decade returned to inaugurate a new era in the Bat-chise. Dick Grayson is now the man behind the cowl and Bruce Wayne's young son, Damien, is the world's surliest Boy Wonder. The result is dreamlike and frequently terrifying … and definitely the best Bat-book in years.
SHOOTING THE SH*T WITH KEVIN SMITH: THE BEST OF THE SMODCAST by Kevin Smith — Actually, the book isn't that great, since it's a written collection of material that was much funnier in its original spoken form, but since it remains the first and only free book I've received in all the time I've spent writing for BOOKGASM, that alone makes it worthy of being on the list. —Allan Mott