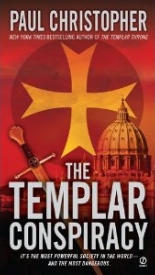 THE TEMPLAR CONSPIRACY is Paul Christopher's fourth novel in best-selling "Templar" series, in which former Army Ranger John Holliday must unravel a deadly plot by the Templars to extend their influence to the highest power. Where does an idea like that come from? Christopher tells us below. (A word of warning: If you haven't yet had your Celebrex today, don't read past this sentence.)
I've always been a fan of dystopic novels from George Orwell's 1984 to John Wyndam's novels and most particularly and most affectionately to DEATH OF GRASS by John Christopher. On the movie side, it's been a long love affair with flicks like Wyndam's THE MIDWICH CUCKOOS, known in the U.S. as VILLAGE OF THE DAMNED, and on the "realistic" side, SEVEN DAYS IN MAY, THE MANCHURIAN CANDIDATE and FAIL-SAFE.
One way or the other, all of those stories inform and inspire the "Templar" series, particularly the latest, THE TEMPLAR CONSPIRACY, which, in many ways, despite what PUBLISHERS WEEKLY, said has more to do with SEVEN DAYS IN MAY than THE MANCHURIAN CANDIDATE.
I've had a growing sense that with the advent of the Patriot Act and the very 1984-style Homeland Security (the word "Homeland" rings a bell very much like the German Fatherland and the Russian Motherland), we have been steadily stripped of our basic human rights to the point where life, liberty and the pursuit of happiness may very well depend on what you look like, the sound of your name, your religion and the possibility of having your name accidentally put on a "No Fly" list.
THE TEMPLAR CONSPIRACY is really more about the ease with which enormous events can happen and how lives can change direction on the turn of a dime. Of all the themes in my writing, that has always been one of the most important. As time passes, I've also come to the regrettable decision that the Internet, in all its fundamental richness and freedom, will probably be the death of culture, truth, history and everything else I find important.
One of these days, some future, bigger and nastier entity in the WikiLeaks mold is going to appear and the whole, fragile thing is going to collapse in a Babel of Tweets, Twitters, Skypes, texts, e-mails and E-trades, putting us all back in the Stone Ages.
Oh, yes, and Happy New Year. —Paul Christopher